The Providence Granola Project
They face language barriers, separation from their families and economic chaos as they struggle to build a new life here. But Rhode Island's refugees enrich us far more than we know.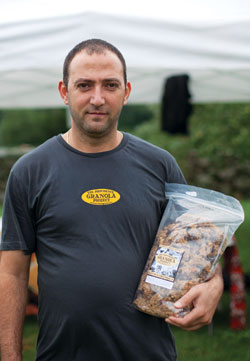 In a cavernous Stop and Shop, somewhere in Providence, his cell phone rang. It was "teacher." Teacher got right to the point: Would you like to work tonight? Zaid Wadia didn't hesitate. He'd been in the United States for two months and needed a job to get going, to make a life, to support his family.
Back in Iraq — before the bloody war that took the life of his brother-in-law and almost killed his own brother — Zaid worked, first in his father's bedding store, then in a bookshop. Work helped define him. Work paid the bills. Now teacher was giving him an opportunity to be whole again.
"Yes," Zaid said firmly, and he put aside his grocery cart and waited in front for teacher. Minutes later, Keith Cooper, a bespectacled man in baggy jeans and a rumpled button-down, pulled up in his old Volvo station wagon. Off they went through the city's gritty streets until they came to the Amos House soup kitchen, where Zaid stepped out and into a new world to make a food as foreign to him as American pop music: granola.
He stirred the pot that night — the oats, the spelt, the sesame seeds — with Keith looking over him and offering instruction in that gentle, easy way he has with people who have less in a country of abundance. By the end of his shift, Zaid knew he would be coming back.
"Without teacher," Zaid says, "I have no job."
To read more of this story please visit your nearest newsstand or click the link below.