Is the Rhode Island Promise Scholarship Working for Local Students?
Last year, Rhode Island became the fourth state in the nation to offer free college to recent high school graduates. Is it an unsustainable giveaway or a boon for local students?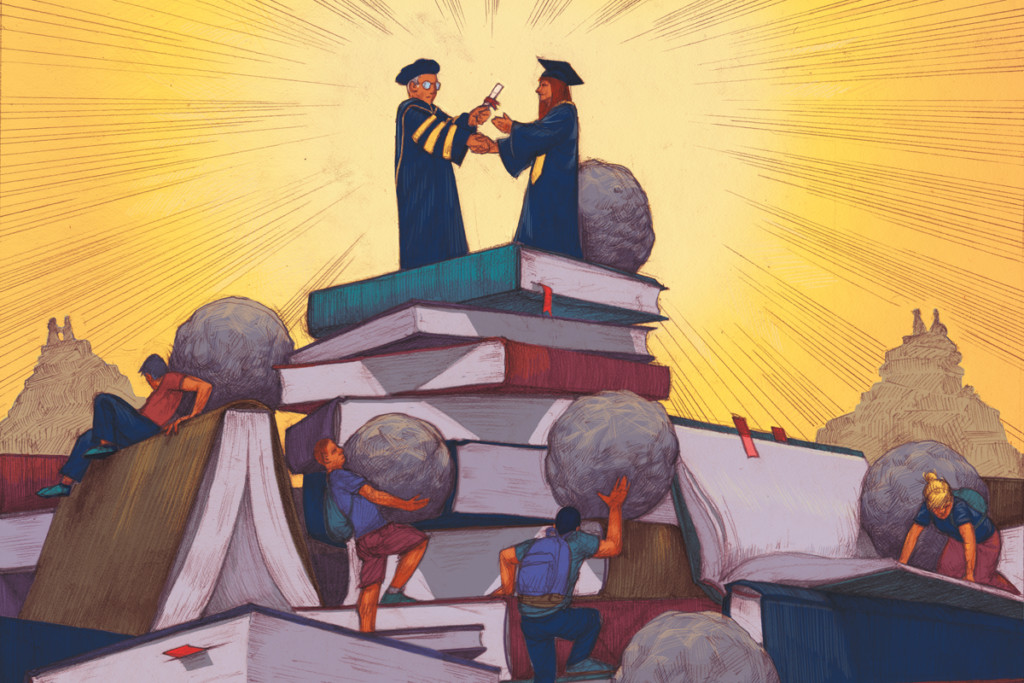 Allie Grenier can pay for college without the burden of debt. But her means of affording it is cruelly ironic.
The seventeen-year-old competitive cheerleader, who wears Buddy Holly eyeglasses that complement her long, dark, straight hair, was poisoned by lead paint in her childhood apartment in Warren. From ages three to six, Allie ate iron-rich greens with every meal to get her levels down from a staggering fifty-five micrograms per deciliter to a normal range of less than five. During that time, her parents sued their landlord and won.
Even low levels of lead in a child's blood can cause brain damage, developmental issues and learning disabilities.
"It made me struggle with reading and writing all throughout school," says Allie, who lives with her three sisters and parents in a white Cape near the parade route in Bristol. "I was a step behind everyone else in that aspect."
She's also plagued by anxiety, and the biggest decisions of her young life — where to go to college and how much to spend — kept her up at night. Allie has a trust fund from the lead poisoning settlement, which she'll receive in bits and pieces over the next decade. The first big payout of $30,000 hits shortly after college graduation.
"We're just a working family," Allie's mom, Lisa Medeiros, tells me. "We couldn't really afford school otherwise. But I want them all to further their educations so they can have better lives. I try to get them to see me and their father: We have what we need and sometimes a little extra. I'd rather they have something better so they don't have to worry."
Allie says she'd like to be a psychologist, either in adult corrections or with teenagers still in school; she hasn't decided yet. But she doesn't want to exceed that $30,000 figure to get her degree. She doesn't want to carry big loans with her into adulthood, even if she knows she'll eventually be able to pay them off. Allie wants a college experience that's within her means.
Rhode Island Promise felt like the best way to do it. Passed last summer, the four-year Promise pilot is the fourth statewide free-college initiative in the nation. The program offers two years of free tuition at the Community College of Rhode Island (CCRI) to resident students, regardless of family income, immediately after they graduate high school or complete a GED program before age nineteen.
During her last few weeks of high school, Allie filled out her CCRI application and completed her Accuplacer assessment test. She picked her classes, which she'll take at the commuter college's Newport campus.
"My friend was doing it with me, so we helped each other along in the process," she says.
After CCRI, Allie hopes to transfer to Rhode Island College (RIC) to take her major requirements in psychology.
"I've always liked helping people, and I feel like I can really reach them," she says. "And with my trust fund, I'll have enough money to pay for all of RIC after Rhode Island Promise."
According to a 2016 report by the Institute for College Access and Success, 61 percent of students at Rhode Island universities will graduate in debt, carrying an average of $31,217 in loans with them when they leave.
With Allie's plan, she won't be one of them.
Roughly 70 percent of new jobs in Rhode Island require postsecondary credentials, and only 43 percent of residents have them. Not everyone wants to go to college, but a degree or certificate is a surefire way to make yourself useful in the twenty-first century.
Problem is, wages aren't keeping pace with the cost of college, which has ballooned, over the last forty years, by 150 percent for public institutions and 171 percent for private ones, according to the public policy think tank, American Enterprise Institute. Household incomes for middle-class Americans have increased only 15 percent in the same period. Parents can't afford to foot the bill. "Working your way through college" is more out of reach than ever. But a college degree is more important than ever.
Students are paying attention. In the first year of Rhode Island Promise, CCRI saw a 43 percent growth in enrollment of first-time, full-time local students, with 1,577 taking advantage of the scholarship. The community college is tracking towards a 25 percent increase in Promise student enrollment this fall.
"It's introduced a new energy within this institution and it's really built on a sense of momentum," says Sara Enright, CCRI's vice president of student affairs and chief outcomes officer. "Having nearly 1,600 brand new first-time students, you feel that energy."
The Promise scholarship is just that: a scholarship, academic conditions included. In their first year, students must maintain a 2.5 grade point average — between a C-plus and a B-minus — and complete thirty total credits, or five classes per semester, to earn the second year of free tuition.
"I do think thirty credits and a 2.5 GPA is a high bar to achieve in one's first year of college, whoever you are," says Enright. "Wherever you went to high school, it's a big shift and adjustment. That's the biggest piece where we probably think there's further discussion to be had."