The Passion of Peter Pan
Forget endless summer. One hardcore surfer believes that freezing temps and biting winds are the best time to search for the perfect wave.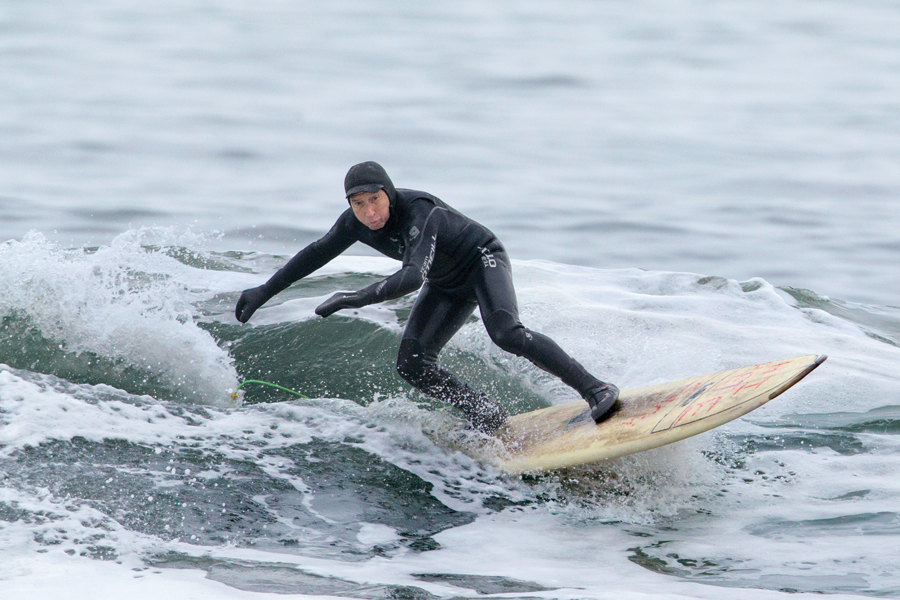 Winter Storm Cato, all howling winds and biting sleet on a dismal day before Thanksgiving, whips around the shuttered oceanfront houses in Breakwater Village, a modest neighborhood in Narragansett.
A lone fat seagull sits nonchalantly on a giant rock just offshore. To the left are four rubber-clad surfers, sitting in the chop, waiting for waves. To the right, very much alone and preferring it that way, is Peter Pan, born Peter Panagiotis, surfing legend in Rhode Island and far beyond.
The four surfers seem to be where most of the waves are, decent one- and two-foot swells that they occasionally ride. But they mostly sit on their boards, talking to each other.
Pan's solitary slice of the sea looks placid by comparison, tiny waves rippling under him. But then, out of nowhere, a wave undulates thicker and he reads it, springing to his feet for a blissful ten-second ride to shore. He paddles back out to do it again. And again. And again. "My dad's like that," daughter and fellow surfer Tricia Panagiotis says later. "There's nothing, and all of a sudden he's riding this shoulder-high wave and you wonder where he got it."
He got it from surfing much of his sixty-four years. The New York-born, Rhode Island-raised Pan lets nary a day go by, no matter the season, without hitting the ocean, battered board in hand. He lives in Pawtucket but stays a lot in Narragansett in the family home where his ninety-two-year-old father still lives.
On February 21, the Forty-Seventh Annual New England Mid-Winter Surfing Championship takes place at Narragansett Town Beach, the oldest mid-winter surfing contest in the world. Pan launched it in 1968.
He's started many things, including the surf club at the University of Rhode Island when he was getting his degree in art. He started surf shops in town; his daughter runs the family store, Narragansett Surf and Skate. He started giving lessons in surfing and stand-up paddle boarding and karate and aerobics. He started designing gear for Hobie and BIC Sport Surfboards and still does; Hobie's bestselling board is dubbed "The Peter Pan Slug" for its designer who says, "it was so ugly they named it after me."
He has cobbled together a living doing exactly what pleases him, none of it, he laughs in what can only be described as a nasally high-pitched cackle, "making me very rich."
But watching him skitter like a human water bug across the sea on a brutally cold November day, you better believe it's making him awfully happy.
Pan was born in Manhattan, his Greek immigrant parents decamping to Rhode Island when he was one, first living next to Rhode Island Hospital, then Cranston, where he went to Cranston East, and eventually buying a modest house on Othmar Street in Narragansett. Pan graduated from URI in 1971, in the then-new art program. He had a flair for drawing and design, and though he'd surfed since he was thirteen, he thought art would provide a stable lifestyle.
"A professor told me I was a good artist and should move to New York," Pan says with a shrug. "I spent eight years there."
He worked as a designer for several magazines, including Car and Driver. Then he and his wife, Jane, and their two kids, Tricia and Ted, moved to Connecticut when the children were little because, Pan deadpans, "I didn't want to bring them up in New York; they'd be criminals. It's insane there."
They returned to Rhode Island, Pan opening a surf shop. It wasn't long before it was all he did, surfing daily, fitting in work around it.
Peter Pan on the beach in Narragansett.
Pan discovered surfing from the Othmar Street house in Narragansett — an area he says now is surrounded by McMansions — and loved being able to look out from his house to check the waves. "Me and my friend Russell Norman tried the town beach," Pan says. "Howie Goldsmith was renting boards, so we went out and messed around. We heard it was the perfect place to meet girls."
He started surfing nonstop, learning, getting good, winning contests. He did stints as a dishwasher in local restaurants at night, surfing all day. "People ask how I got good," he says. "You surf every day and don't work much."
He distinctly remembers truly catching his first wave as a boy. "It feels really good, it feels like you're flying on the water, it's weird and addictive," he says. "And it still feels the same now."
Much is said about finding the perfect wave. It doesn't exist, says the man who seems to ride every wave perfectly.
"Ah, it's in your mind, there's no perfect wave," he cackles, shaking his head. "The best thing to do is put your wet suit on at your house, go to the beach and get out on the water. You'll always find some waves. There are a thousand excuses not to go out, so you just gotta go out."
And that means in all weather. Which includes hurricanes. Which he and other buddies did in the mid-'60s, according to Norman.
"It was brutal, just crushing out there," Norman recalls of one rough day off Point Judith. "I never saw Peter. Another guy lost it; we found his board, then found Peter's board."
No one died or got hurt, but Pan was plucked out of the churning seas by a Coast Guard cutter, the authorities not happy that people were dumb enough to surf in a hurricane. "They didn't like it," Norman says, laughing. "Cops were arresting people out there. It was not good."
Norman prefers sailing now over surfing, but says of his diminutive five-foot-five, 130-pound friend, "Peter's never stopped. I call him the little Greek god."
Goldsmith has known Pan since he was a kid. "He used to come into my surf shop and drive me nuts," he says. "He was there all the time, asking questions. He's still that way."
Goldsmith started surfing first, which he still does at seventy-three. "There weren't a lot of us out there. Now in summer, it's mobbed. Everyone knows about Rhode Island surfing and a lot of that is due to Peter."
Something of a legend himself, Goldsmith was inducted into the East Coast Surfing Hall of Fame nine years ago; Pan was inducted in 1996. "And it was because of Peter," Goldsmith says. "The majority of people instrumental in it are from Florida, so they constantly pick people from there. He presented my name and pushed for it. That I am in the Hall of Fame is all due to Peter."
Pan has been regional director of the Eastern Surfing Association for forty-three years, and his mid-winter tournament in Narragansett is under its auspices. But the event isn't as lofty as it sounds; it's as laidback and low-key as the man who created it in 1968.
"I started it for the people who stick around here and surf," Pan says. "It pissed off people who left the area, but hey, if I have to stay here and freeze my ass off, I'll do it for other people who do, too."
The rules are simple. Show up, pay twenty-five bucks and surf. If you win, you get a cheesy trophy with a hockey player, not a surfer, on top. Pan laughs that crackling laugh talking about it.
"Hey, it's a novelty event, so why not?" he says. "No one runs a contest in midwinter."
But run it does, with surfers coming from as far away as California to take part, be it sunny and warm or blowing a blizzard. "One year I took my jersey off and it froze in the air," Pan recalls. "The coldest year was about twenty below with wind chill. If it's mild, we'll get maybe fifty surfers, if it's cold, twenty or so. What you see is what you get."
Surfing in general is gaining in popularity, according to Michelle Sommers, executive director of the Eastern Surfing Association, based in Ocean City, Maryland, and that applies to the cold weather variety as well. "Every winter, more and more people are surfing year round than they did ten years ago," she says. "The old saying is 'it doesn't matter what the conditions are as long as you have the right clothing.' The waves are better in winter and the crowds fewer."
Surfing has become more mainstream, she adds, due to major sponsors like Nike and more televised coverage of the sport.
The Narragansett contest is unusual, she says, because "the majority of our districts holds contests in the other three seasons and takes a hiatus. You guys up there are more hardcore than the Outer Banks or Florida."
She surfs in winter, with some exceptions: "not when it's sleeting or raining or blowing hard. It has to look fun out there."
There's not much money in it, especially on the amateur level. "The most you can make is maybe a thousand bucks. It doesn't justify traveling around," Pan says. "Most in the pro circuit are rich white boys. Their parents feed them money to fly all over the place," he adds in his trademark, upfront manner.
Pan has little patience for those turning their nose up at winter surfing. He calls them, "a bunch of soft bellies, geeks who'd rather surf the Internet. But that's great, means less people in the water and I like that."
He shrugs when asked if he's a harsh teacher. "If they want a serious lesson, I torture them," he says. "A lot of instructors babysit. I don't."
Wendy Terra of New York agrees. The forty-six-year-old had Googled surf instructors so she could buy her sister in New Hampshire some lessons. She found Pan, and once the sisters starting taking them, Wendy was hooked. "It was far more intensive than I thought it would be," says Terra, a yoga instructor. "It takes a lot."
She sees Pan's toughness as passion, and has learned more from him than other instructors she's had, driving up from New York just to be taught by the legend. "Hands down, he's the best instructor. You can see his passion for surfing, he wants his students to do well," she says. "He takes it very seriously. I want someone to call me on what I do wrong. I don't want someone to cheerlead me. He gets it; he actually wants you to learn."
To Pan, there's no better place to teach or surf than his beloved Narragansett with its smaller waves. "Big waves, you don't learn on them. I know people who have and come here and freak out when they see rocks," he says. "They won't go out. We're used to rocks. I love rocks, they don't move. People move. The only time you get hit in the water is by people who don't know what the hell they're doing."
And forget about social media. Pan thinks little of it. "A lot of people try to outdo each other to get on YouTube," he cackles. "Kooks with GoPros. It's funny, most of them can't stand up. If you have to take pictures of yourself, well, I question that. If someone else takes pictures of you, fine, but you take them of yourself, you got a problem."
I check YouTube. Pan is on there. Has he seen any of it?
Pan the 1968 Winter Championships in Narragansett (left).
"No," he says with that nasally laugh. "But I'm not looking."
No one knows better what a tough teacher Pan is than his daughter, Tricia Panagiotis, who also goes by Pan. Her brother, Ted, is a surfer too, and now runs Half Way Tree, a Jamaican restaurant in Providence.
"He's persistent, that's for sure, but he makes it fun," she says of the man who first taught her to surf when she was about eight. "He's so full of energy, so wild about it, so pumped up he makes you excited."
He is still her favorite surfing partner and recalls a favorite moment from her childhood. "We went to a rocky beach in winter, it was so cold, all the water between the rocks was frozen," she says. "And there's my father, throwing slush at me and just giggling. No matter how cold it was, he still made it fun."
Growing up in the Ocean State, she thought she knew all the beaches. Her dad knew them better.
"One day he takes me to a place by Scarborough Beach I'd never seen before," she says. "He knows them all."
Her dad used to take her out of school to join surfing contests. "How cool is that?" she asks. "There's nothing more exciting, you're surfing and out of school at the same time."
She's done it all over the world, as has her father, and shares his enthusiasm for home surf.
"He's a Rhode Island diehard," she says. "No matter where he goes, he prefers home."
She's not surprised he's as legendary as he is. When she's at faraway surfing events and says she's from Rhode Island, the first response is: Have you heard of Peter Pan?
"Wherever I am in the world, they always ask," she adds. "I lie and say, 'Yeah, I worked for him.' Some people love him, some people hate him, but I just love to hear the stories."
Pan has won tons of surfing contests. Ask him how many, he shrugs and says, "Who cares?"
But Norman, his longtime friend, estimates at least 1,000. "He's got a room that's full of trophies, the entire freaking room, shelves full of trophies," Norman says. "So what does he do? Starts peeling off the labels to give them to other people. He doesn't care, he just gives them away."
"Yes, there are a lot fewer than there used to be," says Jane Panagiotis, who's been married to Pan for forty-two years. They met at a Greek dance at the Biltmore Hotel. "He has kept certain ones. He's very low key, but is very competitive and prefers to win."
She laughs when asked if she's a surf widow. "He calls and tells me what's going on," she says. "He called today and said, 'I'm just driving around looking for waves.'
"I surfed with Peter before we had kids; it was almost a prerequisite," she says. "Now I don't. I just go to contests and wave from the beach."
To look at Pan, you might not think a guy that small could be so big in the world he loves. But he's a physical-fitness nut who works out daily and looks younger than his age. This is a guy, his friend Norman says, who ran all three track seasons in high school and college and is still seemingly bulletproof.
"I hurt myself recently, took a fall, and was telling him about it," Norman says. "He laughed and told me he just fell off the back of a truck, bounced back up like it was nothing. He's tough as nails. He'll go until his heart gives out. And that won't be for a long time."
Pan cackles when he's asked if he'd ever give up the sport. "Nah, I'll go until I'm dead."
At Breakwater Village, the weather gets worse, but Pan lingers an hour and a half. About the only thing ever stopping him is darkness.
Another surfer ambles down to the rocky shore, and Pan greets him. In the small fraternity of Rhode Island surfers, everyone knows everyone else — and all of them know Pan. They slap palms together, laugh, and paddle out on the icy sea.
Pan's friend, a pretty good surfer himself, catches a decent wave. Pan, seeing things differently, cuts to his left, riding a small crest 100 yards down the beach, milking the dying wave for everything it's got before his board sinks into the sea, and he heads back for more.
As the fat gull on the rock faces away from the biting, wet wind, Pan paddles by. One lives on the ocean, the other lives by it. And both are very much at home.