The Other Side of Anne Boleyn at the Gamm
The production makes Henry VIII's beheaded second wife a martyr for religious reformation.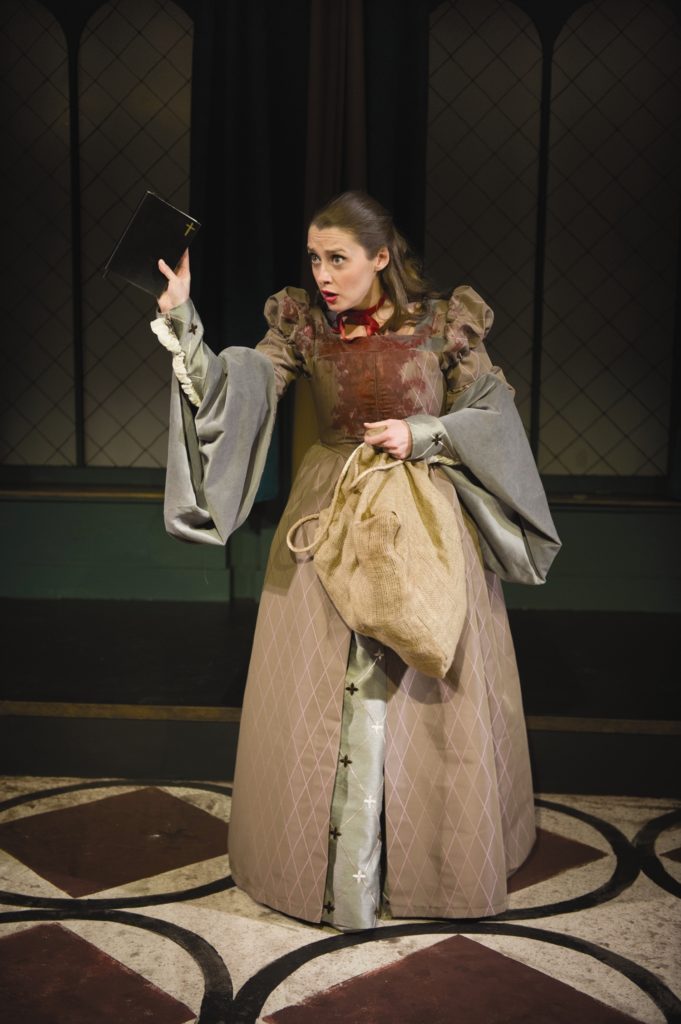 I became intrigued by Anne Boleyn after visiting the Tower of London while studying abroad as a college student. Seduction? Adultery? Execution! My ears perked up. Who knew history could be so scandalous. Then I learned about Henry VIII's six wives and the difficulty the first few queens had producing a male heir to the throne. The king seemed cursed, and as I wandered the area outside the Tower of London, I could feel Anne Boleyn's haunting presence (she was beheaded after failing to produce a son). My curiosity led me to watch the movie The Other Boleyn Girl, which focused on how Anne's sister, Mary, also had a romantic relationship with the king. Two sisters. One man. There was even more drama to the story. It was a sisterly rivalry, and I was hooked even further.
It was with this interest that I appeared at the Gamm Theatre, thrilled for an opportunity to view Howard Brenton's live-action play Anne Boleyn on stage. It is the U.S premiere of the British playwright's production, and it was a hit for two consecutive seasons at Shakespeare's Globe Theater in London. The opening scene drew my attention as Anne, played by actress Madeleine Lambert, parades about carrying what looks to be a bag concealing a severed head. Her childlike effervescence fulfills the role incredibly, yet she also proves she can be as manipulative as a contestant on The Bachelor. A serious subject is made humorous through her character, and many lighthearted scenes follow.
While the audience gets to know Anne, we are also introduced to another intertwining storyline that takes place nearly a century later, involving King James and the eventual creation of the King James Bible. King James I is played by a bearded Tony Estrella, and I had to look three times to believe it was him. Captivated by the story of Anne Boleyn after finding her heretic reading material hidden in an old trunk, he launches a crusade. Estrella provides the most comic relief in the production with his funny mannerisms and cocky demeanor, but it is this part of the play that began to lose me.
The focus then turns to religious reformation, and backs away from romance. While many of the scenes feature the relationship building between Henry VIII and Boleyn, I felt that they fell flat and failed to deliver any real passion. This is through no fault of Lambert and Steve Kidd, who plays a wonderfully entitled Henry VIII, it is simply the way Brenton wrote it. Boleyn was shown to be quite a prude, holding out on her desires for the king for seven years. While I am sure this is true to history, it is not what I expected. The play makes a martyr out of Boleyn to show her other side. For those who are most interested in historical context and the intellectual debate that occurred during this tumultuous time, surely, this is a play for you, but for those seeking scandal, you might leave wanting more.
Anne Boleyn is onstage at the Sandra Feinstein Gamm Theatre through February 24. Tickets are $36 to $45. Call 723-4266 or visit gammtheatre.org for more information.