The Opioid Crisis in Rhode Island
What is the state doing to help stem the tide of overdoses?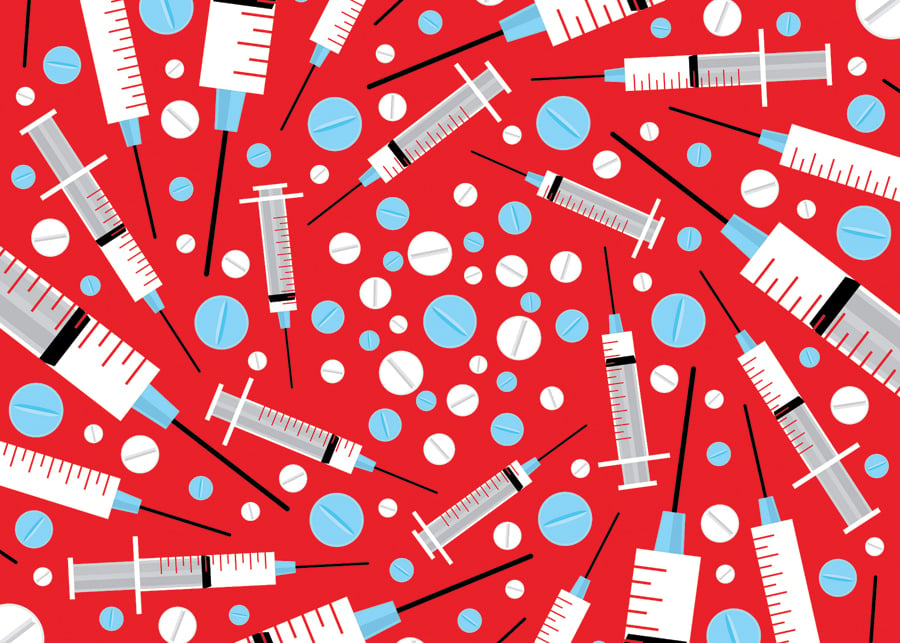 Jonathan Goyer cruises to a stop at the Huntington Avenue underpass. The morning is overcast, and the wind sends a shiver through the plastic bags and paper wrappers tangled in the chain link fence beyond the curb. Not 200 feet away, clients stream in and out of the CODAC methadone clinic, but no one stirs in the tents pitched on the concrete pad under Route 10. There are many fronts in Rhode Island's recently declared war on opioid addiction. Anchor Recovery's outreach team fights theirs on the street.
Goyer, program coordinator for the peer-based recovery nonprofit, and his outreach team, Donna Price and Michael Fry, regularly scour the homeless shelters, soup kitchens and bus stations for those who are ready for rescue. They approach the small encampment.
"There's three kinds of people," explains Goyer. "Those who don't even know that recovery exists, those who have relapsed and feel too guilty to try and those people who are on the fence — those are the people we hunt every day. Anchor Recovery is a bridge to treatment and a net — to catch people in between treatments."
This morning, however, the bridge is out. A muffled voice informs Fry and Price that he doesn't want to be disturbed. They leave a Narcan kit and move on.
In 2013, Rhode Island had the highest rate of illicit drug use in the nation. And not surprisingly, death has followed. Last year, 248 Rhode Islanders lost their lives in accidental drug overdoses, a slight increase from 2014's toll of 239. According to the Governor's Overdose Prevention and Intervention Task Force's November report, Rhode Island topped New England in the rate of drug overdose deaths.
"This is a national epidemic," says Dr. Nicole Alexander-Scott, director of the Rhode Island Department of Health. "We have to be able to tackle this until numbers are down to zero. The effort we are putting in every single day, the multiple strategies, with all the right people at the table pushing it, gives me great confidence we are going to reach our goal."
The immediate plan is reduce opioid overdose deaths by one-third within three years. The task force identified four paths to get there: increase the number of opioid addicts receiving medication-assisted treatment; ramp up the number of people administering naloxone, marketed as Narcan; reform opioid prescribing; and expand peer-
recovery services.
What the Centers for Disease Control and Prevention has called the "worst drug overdose epidemic" in United States history has been more than a decade in the making.
"The medical community was under fire for not doing an adequate job treating pain, and at about that same time, opioid-based painkillers began to show up in the marketplace," says Steven R. DeToy of the Rhode Island Medical Society. "The pendulum began to swing from not doing enough to treat pain to doing too much, and the pharmaceutical industry did not make prescribers aware of the addictive qualities of these new painkillers. Basically the medical community and other prescribers unwittingly introduced a whole lot of people to opioids."
When they ran out of doctors to write scrips for their oxycodone or Percocet, some turned to heroin, which is cheaper and easier to get. The borders of addiction — long centered in the urban core and at the rural fringes — dissolved across geographic and demographic lines. In 2006, drug dealers boosted the overdose death rate by cutting heroin and cocaine with the potent painkiller fentanyl. In 2015, 50 percent of the state's overdose deaths involved fentanyl-laced drugs. Doctors and other prescribers who treated patients with opioids and benzodiazepines, such as Xanax and Klonopin, also contributed. Benzodiazepines were involved in a third of the overdose deaths that occurred in 2014 and 2015.
In the last two years, the state started chopping the heads off this hydra. To arrest the overdose rate, officials have made naloxone more accessible and affordable. This session, the General Assembly swiftly passed a newly expanded version of the Good Samaritan Law, which grants criminal immunity to anyone who calls for medical aid for an overdose victim. The state distributed 2,500 doses of naloxone between January 2014 and May 2015, and required public schools to keep some on hand. In addition, Governor Gina Raimondo set aside $40,000 to supply police departments with this costly antidote. In September, Attorney General Peter Kilmartin negotiated a $6 rebate with Amphastar Pharmaceuticals for each of that company's naloxone syringes.
"We still need to stop [heroin] at its source and law enforcement has a legitimate role in preventing drug dealers from peddling their wares and in many cases killing their customers," Kilmartin says. "But this is a classic case of where health advocacy and law enforcement intersect, and if there has ever been a problem you can't arrest yourself out of, this is it."
To encourage responsible prescribing, the state in 2012 launched the Prescription Monitoring Program (PMP), a database containing every prescription written for controlled substances filled at a state pharmacy. Intended as a tool to allow prescribers to catch patients doctor-shopping for pills to abuse or sell, the PMP is still not widely used.
In 2014, registration became mandatory, but only an estimated 40 percent of the 7,300 prescribers actively use it. Other states are enacting prescription limits, but Rhode Island is working on voluntary protocols. Hospital emergency departments have already agreed to limit painkiller prescriptions to three days. And between 2014 and 2015, the number of prescriptions for painkillers decreased by 8.6 percent.
But addiction experts Dr. Traci Green and Dr. Jody Rich, both Brown University epidemiologists, say that the traditional treatment models — detox and residential treatment (often hard to come by) — followed by abstinence are dangerous because there's higher risk of overdose on relapse, and they're not as effective as medication-assisted treatments. Methadone, which is dispensed at a clinic, and buprenorphine, a promising drug that patients can take daily at home, can, in combination with therapy and other supports, keep recovering addicts stable and functional. Raimondo's proposed budget includes $2.5 million for medication-assisted treatment, but few doctors want to dispense it.
"We have excellent methadone availability in Rhode Island, but we have lousy buprenorphine availability," Rich says. "We have failed to get the physicians to do it."
Dr. Walter Curtice is one of the roughly 100 primary care doctors who have obtained the federal waiver to use buprenorphine. In 2009, when he was recruited here by Westerly Hospital, "I was blown away by all the people narcotics-seeking for any reason," he says. But he decided that he couldn't ignore "one of the biggest community health problems in the area." Today, he is a solo practitioner with 500 patients, about a fifth of whom are recovering addicts.
"I've spent a lot of breath on local doctors here to please consider it as an option," he says. But he hasn't persuaded one yet, and that's a shame. "It's a great feeling when you save a life. I've seen so many patients go from misery and hopelessness to normal and happy."
In contrast, Anchor Recovery aims to be a one-stop recovery shop, deploying former addicts throughout the state to build relationships with current addicts, offer support groups and job counseling, and serve as liaisons to detox and residential treatments. More recently, Anchor added twenty-three on-call hospital emergency department recovery coaches who are dispatched when a patient is admitted for an overdose, to "offer recovery support and follow them outside when they are discharged," says Thomas Joyce, associate director of recovery support services.
Goyer, Price and Fry end the morning in Kennedy Plaza. Their advocacy and sheer ubiquity has afforded them a minor celebrity among street folk, and they hail familiar faces, smoke and exchange news: who got kicked out of the shelter, who's using, who looks healthy.
An amiable man clad in grimy layers buttonholes Fry. Yesterday was tough, and if he had had any money, "you know where it would have gone," he says ruefully. But today, he's ready to try detox, and Fry starts making calls to find him a bed. The man's eyes brighten, and he pumps a fist.
"Maybe it's my lucky day!"