The New England Revolution Kick Off the Season with New Kit
Revolution stars unveiled the new uniform design in front of hundreds of excited fans at Gillette Stadium.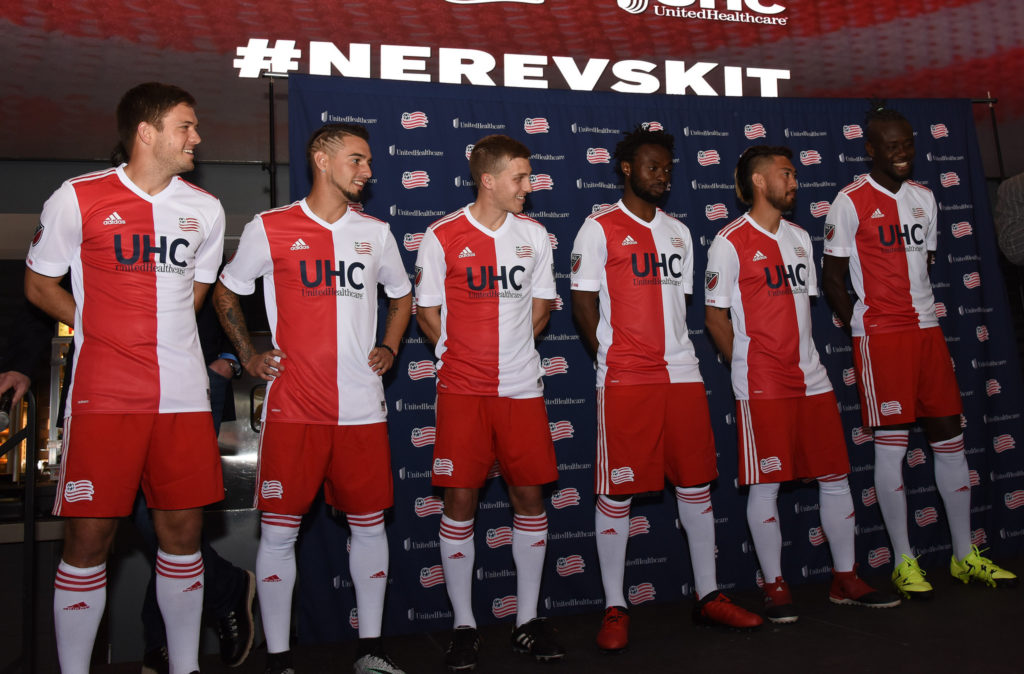 The wait is finally over. After teasing a new secondary kit for a week on Twitter, the New England Revolution unveiled the new uniform design in front of hundreds of excited fans inside the Gillette Stadium Optimum Lounge on Sun., Feb. 12.
Revolution stars Lee Nguyen, Kei Kamara, Diego Fagundez, Kelyn Rowe, Zavier Kouassi and Scott Caldwell all modeled the new kit — the most recent uniform in a six-year partnership with UnitedHealthcare. After their turn on the runway, the footballers fielded questions from media, mingled with fans, signed autographs and took countless selfies.
Bold and eye-catching, the newest uniform channels the unwavering patriotism of New England. The red-and-white striped pattern on the shoulders and socks pays tribute to the thirteen stripes on the American flag representing the original American colonies. The new kit's classic feel highlights the Revolution as one of Major League Soccer's original ten teams. Authenticity and patriotism are incorporated with UHC's contemporary logo, creating a jersey that's not only aesthetically pleasing, but well-received by both players and fans alike.
Before the selfies ensued, I spoke with forward Kei Kamara and midfielder Lee Nguyen of the Revolution about the new kit, the upcoming season and what it's like to share Gillette Stadium with a dynasty like the New England Patriots. Here's how it went down:
Dillon: What do you enjoy about events like this that allow you to interact with fans?
Lee: I think it's great to be able to let them in on the action. They supported us all year long, and it's great to have an event where they can come out and feel special.
Kei: Interacting with the fans is what I'm all about. That's been me my whole career. I love the fans because I was a fan, and I still am a fan.
Dillon: What are your thoughts on the new kit?
Kei: I love it. Looking good is something that's really important to me personally. The two different colors and shades, it's perfect.
Lee: I love the colors and I love the fabric. I'm excited to wear it for the new season.
Dillon: How would you describe the Revolution fan base?
Kei: For me, I'm still getting used to everything, but it's a fan base that's strong and it's a city that loves sports. All the sports teams in this town, they love them. The support is there.
Dillon: Do you have any individual or team goals for the 2017 season?
Lee: I don't have too many individual goals. I've accomplished a lot of things I want to do individually, and now I just want to win the MLS Cup. That's my team and individual goal right there.
Dillon: Last one. The Patriots just won their fifth Super Bowl. What is it like to share a stadium with them? Is there any added pressure?
Lee: Yeah, you always feel that pressure. This is a sport where you have to win. That's why we play the game, and we really want to bring another trophy back to this city.
Kei: I can't say there's pressure. I have to say, there's motivation, to be honest, because we share a stadium with the best team in American history in football. We have to use that as motivation. We can't compare ourselves to those guys across the locker room from us. We just need to use what the fans give us to motivate us and win a championship.
The Revolution finished the 2016 season with an 11-14-9 record, seventh place out of ten teams in the Eastern Conference. They look to climb the ladder as they kick off the 2017 season in Colorado against the Rapids on March 4. Can't make it to Denver for the season opener? Their first regular season home game is Sat., March 11 at Gillette Stadium. Go to the New England Revolution website for ticket and schedule information.