The Mysterious Disappearance of Danny LaPorte
Danny LaPorte was a friendly guy from Burrillville who moved out west searching for the good life. Then one day, south of the border, he met a grisly end. Was he a victim in the Mexican drug wars? Or was he a player?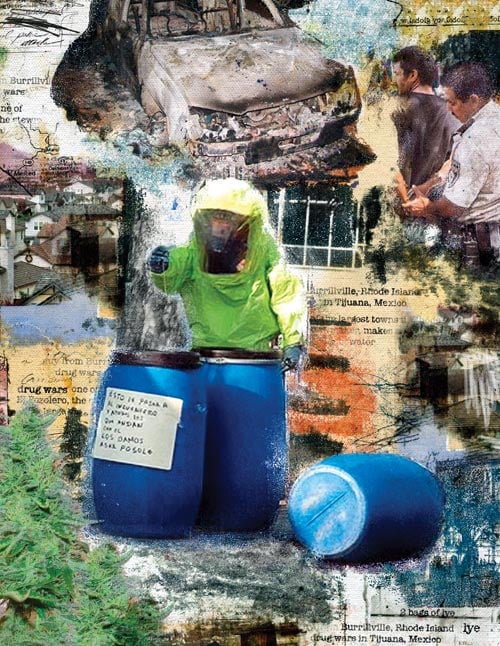 The scene is a cinderblock compound somewhere in Mexico, late January of this year. The camera focuses on an unshaven, middle-aged man whose eyes show nothing but cold indifference. He stands with hands clasped behind his head, the position of a prisoner. Lined up behind him is a phalanx of cops, but they're outfitted for combat, not a neighborhood beat. They wear helmets and Kevlar vests and grip automatic rifles with both hands. Masks conceal their faces. Gathered in the foreground is a gaggle of newsmen, waving microphones and shouting questions. This YouTube video is a police press conference, one unlike any held in the United States. The cops are announcing the capture of one of Tijuana's most wanted, Santiago Meza López, alias "El Pozolero," a moniker that translates as "The Stewmaker." An officer prods him with a gun, and he begins to brusquely describe his crimes.
This is Mexico as revealed on the Internet. Turn on MTV and you'll still see umbrella drinks and spring break beach parties. But go online, and you'll find a country ripped apart by a vicious street war, one that has claimed more than 8,000 lives in two years' time. The combatants are underworld 
cartels vying for control of the multi-billion-dollar business of moving marijuana, cocaine, heroin and methamphetamine across the border. And two years ago the Mexican military stepped into the fray, joining forces with the federal police in their effort to stamp out the enterprise. In the Digital Age, anyone can record and report the violence, and so the blood spilled in the street often splatters onto computer screens. You'll find pictures and clips shot in the aftermath of street gun battles and assassinations, and mp3s of folk songs celebrating the ferocity of a drug lord. (Often, the criminals commission these tunes.) Crime buffs and amateur video-graphers are responsible for many of the postings, but in this war even hit men carry cameras and laptops. What better way to intimidate the next possible target? One notorious online video (sometimes posted with the title "Lazcano, You're Next") shows gangsters taunting and beating a victim bound to chair, and then beheading him with a wire garrote. Countless viewers watched or downloaded the clip before it disappeared from YouTube.
Filmed by journalists, the footage of El Pozolero's press conference contains no graphic violence, but it is nonetheless the stuff of nightmares. While the suspect speaks only Spanish, the post includes written text in English, and there are several more accounts elsewhere on the Web. He's employed, he says, by Teodoro Garcia Simental, an underworld upstart who's waging a vicious campaign to take over the Tijuana end of the drug smuggling trade. The suspect's nickname — El Pozolero — is a tribute to his handiwork. His job is making stew. The recipe: a large vat of boiling water, two bags of lye, and the bodies of those who have somehow offended his boss. When the cooking is done, very little remains beyond teeth, fingernails and a few slivers of bone. This is sometimes done to hide evidence of murder; more often, it's done to make murder more terrifying. Plastic industrial barrels of the human broth are left in public places, with notes that mock and threaten the enemies of Garcia Simental. El Pozolero says the number of corpses he's 
disposed of this way tops 300.
After several minutes of questions, the police abruptly end the press conference. They lead the suspect to an armored van and shove him inside. He leaves without naming a single victim, and their identities remain unknown. With perhaps one exception.
Spread out across fifty-seven square miles, 
Burrillville is one of the largest towns in Rhode 
Island, and one of the most rural. It's a blue-collar paradise free of snob pretensions. The streets are lined with millhouses, cottages, ranch homes, and here and there a regal Victorian chopped into apartments. You'll see Harley Davidsons and fishing boats parked in driveways, and deer antlers are an accepted item for decorating a home. It's a long way from the bloody chaos unfolding in Mexico and most folks here would likely know little about it — if Daniel LaPorte had never left town.
Ask around, though, and despite the tragedy most still smile when they hear his name. LaPorte, it seems, was a small town character straight out of Mayberry, the big kid with a wisecrack for everyone. All the same, when townies talk, their answers are usually brief, and they speak with a prickly tone that makes clear they're not entirely comfortable with the questions.
"He was no monster," one friend says defensively. "He loved to joke, loved to laugh. He was a ball buster, that's for sure, but always in a good spirited way. You'd get the shirt off his back if he thought you needed it."
At George's Pizza, where LaPorte worked for several years, the cashier points to a computer print-out that includes his picture. "We put up this poster for a benefit for his family," she explains. "The show was months ago, but we'll probably never take it down."
"He was well liked, had lots of friends," a local merchant adds. "I guess he was just more willing to take chances than most of us."
When Dan LaPorte disappeared while on a mysterious weekend trip to Mexico, there were big headlines on the West Coast. In New England, however, news outfits have yet to report a single word. Nor are they likely to do so, as his family and many of his friends are now refusing to be interviewed. No matter. The story has already traveled up and down the townie grapevine. Bargain Buyer, the local shopper that advertises Bob's Rototilling and Pigs! All Sizes!, was full of notices when his twenty-eighth birthday rolled around last February. At least one friend stepped into Pascoag Tattoo to have a small remembrance etched onto his forearm. And as happens in Mexico, the local gossip has been splashed across the Internet, on MySpace and Facebook and online message forums, the true information sites for the generation that's abandoned newsprint. Fit the pieces together, and a horrifying picture takes shape. "It's movie stuff," one of LaPorte's high school buddies wrote on MySpace. "But 
it really happened."
LaPorte — Big Dan to pals — stood six feet, one inch, and weighed nearly 300 pounds when he played defensive lineman for the Burrillville High football team. When he graduated in 2000 he was still casting about for some direction. In the yearbook he left a simple question mark in the spot where others listed their ambitions, and for several years that seemed to sum up his life. Former classmates left for college, joined the military, or found jobs far away from 
Burrillville, but he stayed put, living in his parents' house and working at George's Pizza, just a half mile away.
He became something of a clotheshorse. A cashier at George's remembers the ribbing he endured over his shoe collection. And football remained a passion; he joined a flag league for adult players. Another favorite activity was smoking pot — but that hardly set him apart among his peers. In Burrillville there are other kids who flaunt their appetite for weed. The same tattoo shows up on a lot of skin: a red silhouette of a dwarfish maniac wielding an axe. That's the Hatchet Man, the logo of the white rap band Insane Clown Posse, whose lyrics celebrate drive-in movie gore and extol the consumption of marijuana.
Getting high and hanging out — thus did Dan LaPorte pass his days, for awhile. Then, in 2005, he did an about-face and announced his plans to escape the small-town treadmill. He moved to San Diego, where several friends from Rhode Island had already relocated. He found a girlfriend. He took up weight-lifting. In phone calls to his folks he boasted he was making big money at a restaurant job, while also working nights as a club bouncer. When he returned home for a visit, some long-time friends could hardly recognize him. He'd dropped close to 100 pounds, the result, he said, of a daily regimen of swimming and running on the beach. Despite his new California lifestyle, he still enjoyed spending time with his buddies from "the 'ville." At one point he joined a group of them for a Las Vegas weekend. Someone posted pictures of the trip online: One shot shows LaPorte fanning crisp $100 bills in the classic all-about-the-Benjamins pose of a gangsta rapper.
In early 2008, however, an entirely different kind of Internet post appeared — a missing-person notice that popped up on a number of sites. LaPorte had dropped out of sight. According to the online circular, he was last seen in late February, driving toward the border. There were descriptions of the man (age twenty-seven, six feet tall, 190 pounds, no tattoos or piercings) and his car (a 1999 Cadillac STS, col-
or green, in mint condition). The Rhode Island authors urged Californians to send them tips.
"THIS IS NOT A JOKE PLEASE HELP SPREAD THE WORD," one online message read. "EVEN IF YOU DID NOT KNOW HIM AT ALL AT LEAST HELP BY REPOSTING THIS BULLETIN! HELP OUT AND DO SOMETHING GOOD TODAY!!!"
About the same time, strangers began contacting young people in northern Rhode Island. LaPorte's parents are not wealthy people — his dad works for the town's Department of Public Works, and his mom is a clerk for the Pascoag Utility District — but they'd reached into their savings to hire a California agency to search for their son. Private detective John Eppick and contractors in his employ were asking LaPorte's hometown friends some disturbing questions: Did they know if he'd been involved with drug trafficking? Who were his partners? How much was he selling?
"When those investigators talked to us, they wouldn't take no for an answer," one friend recalls. "We knew nothing about that, and that's what we told them, but they just wouldn't believe us."
The first news came in mid-May, when the NBC affiliate in San Diego reported LaPorte's Cadillac had turned up in Rosarito, Mexico, a beach resort near Tijuana. Three local men had stumbled on the vehicle while hunting rabbits in the desert. They also found four corpses, two in the car's back seat, and two sprawled on the ground nearby. All had gunshot wounds to the head. There was no sign that LaPorte was ever at the scene.
The report identified the victims as three Mexican men and a California woman of Mexican descent. All had criminal records, including the woman, who'd spent time in the Tijuana jail on a weapons charge. They'd been cruising the streets in the green Cadillac for weeks. None of them were known to associate with LaPorte, and how they got their hands on his car remains a mystery. The station's online post included grisly images of the 
bullet-riddled vehicle and its blood-stained upholstery.
As with most news websites, readers were invited to leave their own comments. Californians, who've had their fill of the violence at their doorstep, responded with derision. "More bums off our streets!" wrote one. "Hope they can clean the blood off the leather in that Caddy," another added.
The tone changed, though, once Rhode Islanders found their way to the site.
"It was my friend's car that they're driving," reads one message. "Where is he? . . . Where is Dan Laporte?"
"Please come home Dan," another pleads. "We love you."
In September, 2008, seven months after 
her son disappeared, Linda LaPorte sat down with a Los Angeles Times reporter. Given her reluctance to talk about the case today, she most likely spoke then with the hope of generating tips. She told about the frantic telephone call back in February, when her son's girlfriend told her he'd gone missing. He'd left for the border on some sort of business trip — he gave no other details — and days later had not returned. Linda in turn called his Rhode Island friends, but got no information. She told the reporter some of them seemed evasive.
Eppick, the California private eye, gave the paper an interview as well. He'd talked to police sources in Tijuana and San Diego, and LaPorte's pals on both coasts. Eventually, he said, he got some answers: Dan LaPorte had no restaurant job; he'd never been a bouncer; his business was marijuana. He'd become a top pot connection between Mexico and northern Rhode Island, moving several tons of contraband each year — a multi-million-dollar enterprise, and one that apparently proved overwhelming for a young man whose financial experience was limited to working the cash register at a pizza joint. By Eppick's account, he wound up $140,000 in debt to his supplier.
Eppick also revealed he'd picked up a lead in Mexico, a horrifying, heartbreaking one. Just a few days after LaPorte turned his Caddy toward the border, Rosarito police received a call about a plastic industrial barrel left near a housing development. A car struck the barrel, spilling a caustic chemical and small fragments of what looked like human bones. Authorities cleaned up the remains and stored them, and several months later, someone thought to tell Eppick about what had been discovered.
DNA testing would determine whether the remains were Dan LaPorte's, Eppick told the paper. The young man's parents had provided samples of their own genetic material, obtained by rubbing cotton swabs inside their cheeks. A crime lab could then study the test results for a match. The detective speculated the process could take weeks, perhaps months.
On close examination, some of what 
Eppick told the LA Times seems hard to swallow. Because marijuana is an underground commodity, an accurate estimate of its value is impossible, but it's a safe guess several tons of the stuff would be worth many millions of dollars. How could a crew of Burrillville slackers swing a deal like that? And where did their profits go? LaPorte never ended up Bill Gates rich, nor did any of his friends. What's more, Eppick said the pot reached Rhode Island by mail, in bags of two or three pounds. That would mean LaPorte made at least a dozen mail drops a week, risking a bust every time. If the story sounded in the least bit plausible, cops in Burrillville would no doubt be sniffing around; instead, they're skeptical. "Don't believe everything you read," says Lieutenant Kevin San Antonio, the department's press spokesman.
Perhaps Eppick's informants never had the full story, or maybe the detective exaggerated some details to get better exposure in the press. As a private investigator, he's sworn to guard his clients' privacy, which means no explanation can be expected from him today. If LaPorte and some friends were moving pot, it was probably a much smaller amount than the detective described. And most likely they would have sent it across the country in the trunk of someone's car. Or possibly there was no marijuana at all. LaPorte may have been lured to Mexico, and then kidnapped. Some of the country's drug gangs have made the ransom business a lucrative sideline, and by some estimates, the number of kidnappings south of the border may now top several hundred a month, with many victims never seen again. LaPorte, a frequent visitor to Rosarito beaches, sometimes told people he planned to open a surfboard factory in Mexico. That talk may have been his cover story, or his daydream, but either way, it made him look like a businessman — and a target. Only one thing is certain: He found himself on the wrong side of a stone-cold killer in Tijuana.
In any case, once the LA Times story hit the Internet, Burrillville was no longer a place where world problems seem far away. Mexico became the hot topic at lunch counters and watering holes. Townies were reading news reports that made atrocity look like a game of one-gunmanship, stories about decapitations and assassinations and bodies dumped in schoolyards. There was also plenty of guessing as to which of LaPorte's friends might have been his partners.
"You go into any bar around here, and you'll still hear all kinds of talk," a close friend says with a tone of disgust. "Gruesome stories about how he got his head cut off, or whatever, and the ones who are talking — they're the ones who don't know. As for the pot, maybe he was, and maybe he wasn't. There's a lot of finger pointing around town. Sometimes it feels like it's more than the town. It feels like the whole world."
In January, California news outfits confirmed the worst: The DNA tests were positive; Danny LaPorte was dead. His family made arrangements for his remains to be returned home for a memorial service. Expressions of sorrow, addressed to friends and strangers alike, appeared on sites across the Web. At www.shroomery.org, a forum for those who relish psychedelic mushrooms, a Rhode Islander posted a few cautionary words concerning the fate of an unnamed friend, very likely LaPorte. "He was a nobody who saw an opportunity in the war on drugs," the poster wrote. "Sadly, he lost."
In February, Rhode Island's rock and rap devotees held an Irish wake of sorts at Lupo's Heartbreak Hotel, the Providence nightclub. The event was a benefit concert, the proceeds going to LaPorte's parents, who'd spent more than $115,000 and depleted their savings in the year-long search for their son. Several hundred young people turned out, whittling at least a few thousand dollars from the bill. Many had never met LaPorte; the bands were the real draw. YouTube videos show the crowd cheering Mastamindz, led by a Burrillville native who'd posted an Internet message announcing he'd "lost a little brother." Rap emcee Sara Loiselle — stage name: ill e. gal — took the stage with a song called "Mary Jane," a self-penned hip hop screed calling for marijuana legalization.
"It's a plant and no one's ever going to stop it from growing," the dread-locked singer later said. "Making it legal would save so many people so much hassle."
Increasingly, political leaders in both Washington and Mexico City began wagging fingers at American pot smokers when they discussed the drug war violence. "Our insatiable demand for illegal drugs fuels the drug trade," Secretary of State Hillary Clinton said after a diplomatic mission south of the border last March. But most of LaPorte's peers seem oblivious to all that. The government, they argue, and its drug policies were the reasons Mexico has erupted in violence, the reason why so many people had to put up with so much hassle. None of them dare consider that as consumers, they might share some responsibility for the deaths and the horrors.
In Mexico, meanwhile, the press quickly linked LaPorte's fate to El Pozolero, though with no confirmation from authorities. As for the other victims, no information was available. At his press conference, the ghastly chef said only that all were men; in a weird show of gallantry, he claimed he had refused to throw women into his pot. He also insisted he was strictly a disposal man, not an executioner.
In the days that followed the press conference, wire services reported that more than a hundred people had come knocking at the federal police offices in Tijuana, all of them seeking answers about missing relatives. Many carried photographs of their loved ones, sometimes with heart-rending pleas scrawled in the margins. They hoped to show the pictures to El Pozolero, to convince him with their tears to name some names. None were able to meet with him; he'd already been relocated to Mexico City. The police collected the photographs, with promises they would be passed on to the suspect. They also promised to send a forensic team to an area where he'd sometimes dumped his stew, to scour the earth for any human remains. No matter what they turn up, though, it will be a long time before any victims are identified. To do so would require DNA tests on scores of people, and the authorities in Mexico don't have the resources and equipment to process that workload with any degree of speed.
Just who are the victims? Some, obviously, were involved with the drug trade, but a good number likely were not. In the lawless, chaotic cities along the border, people from all walks have disappeared — businessmen, students, even cops. For their families, the waiting and the heartaches continue, as does the mystery of what happened to at least one of them, Daniel LaPorte.