The Modern Homesteader
A jam session and forest feasts at URI's Fall Garden School.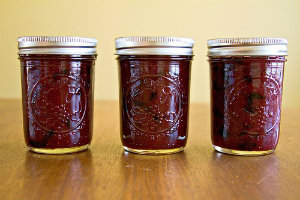 Last year, I wrapped my first trial-by-water-bath canning season with a few broken jars and some spoiled green beans only the compost pile could enjoy. I learned how to preserve my fresh summer produce the hard way — read: solo, sweating over an ancient Ball Blue Book, wondering why in the world I need paraffin for food preservation — but you don't have to. On September 20, learn all about water-bath canning and edible gardening straight from the experts at URI's Fall Garden School, held at the Botanical Center at Roger Williams Park in Providence.
Sessions on honeybees and backyard chickens have already sold out, but these two great courses, a bargain at $20 apiece, are still open. Read on for details, and sign up quick if you want in.
The Jam Session: A Food Preservation Demonstration
Instructors: Sejal Lanterman and Nicole Richard
9–11 a.m.
"Today more people are choosing to grow their own produce and purchase locally grown food. A wise way to enjoy the bounty during the 'off season' is to put food up for the winter, otherwise known as preserving. While some home food preservation techniques are more difficult than others, it is important to know how to preserve food safely. During this demonstration, Sejal and Nicole will show you how to safely use a water-bath canner to make jam and, if time allows, will discuss other methods of preserving."
Edible Forest Garden at Roger Williams Park Community Garden
Instructor: Kate Venturini
11 a.m.–noon
"Are you looking for new and unusual edible plants and design techniques for next year's garden? The term 'permaculture' is a combination of the terms 'permanent' and 'agriculture.' It is a concept that brings together elements of ecology, organic farming and sustainable design to provide food for people while protecting the natural environment. Join Kate Venturini at the Roger Williams Park Edible Forest Garden to learn more about incorporating elements of permaculture into your landscape."