The Metropolitan
For this gathering, we envisioned our guests raising a glass at a refurbished Downcity loft—sleek, sophisticated and unquestionably urban—with a modern yet approachable menu to match.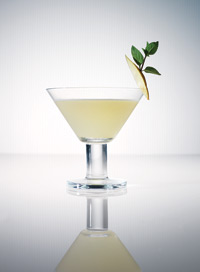 For this gathering, we envisioned our guests raising a glass at a refurbished Downcity loft—sleek, sophisticated and unquestionably urban—with a modern yet approachable menu to match. The result was fare that spans the globe (marinated olives meet lobster tamales meet mini hot Italian grinders) and an ingredient list as diverse as the pocket-sized presentations. To toast, we opted for a chilled pear libation made with a wintry spiced syrup and a shot of locally made rum.
Golden Pear Cocktail
1 1/2 ounces Thomas Tew Rum*
1/2 ounce spiced syrup
1 1/2 ounces pear nectar or pear juice
1 sprig chocolate mint or spearmint for garnish
1 Bosc pear, sliced into thin wedges for garnish
In an ice-filled martini shaker, add rum, spiced syrup and pear nectar. Shake well and strain into chilled glass. Place pear wedge on the edge of the glass and pierce with a toothpick and a sprig of mint to garnish.
*Named after a Rhode Island pirate and made by Newport Distilling Company, the producers of Newport Storm beer.
Spiced Syrup
Makes enough for 16 cocktails
1 cup sugar
1 cup water
2 teaspoons cinnamon
1 teaspoon cardamom
1 teaspoon ground cloves
1/2teaspoon nutmeg
Heat sugar and water in a saucepan at medium heat. Add spices. Once sugar has completely dissolved, remove from heat and allow to cool. Syrup can be stored for up to 3 weeks in refrigerator.

Mini Hot Italian Grinders
Makes 15 portions
2 loaves ficelle bread*
1/4 cup roasted garlic puree
1 1/2 pounds imported Italian cold cuts,* two or three types (salami, prosciutto di parma, hot capicolla)
3/4 pound imported Italian cheeses (sharp provolone or fresh mozzarella)
1 bunch wild arugula
1 of each roasted sweet red and yellow peppers, julienned
1 medium white onion, shaved
extra-virgin olive oil as needed
red wine vinegar as needed

Preheat oven to 450˚.
Cut the ficelle bread almost in half, lengthwise. Spread with roasted garlic. Fill the cavity with meats, cheeses, arugula, peppers and onion, and season with olive oil and vinegar.
Place grinder on sheet pan and bake in the oven until hot and crispy. Press sides together, cut to desired cocktail size and serve immediately.
Lobster Tamales with White Truffle and Aged Cheddar
Makes 15 pieces
1 pound fresh, cooked lobster meat, tails/knuckles/claws, large dice
1 1/4 cups whole milk
1 cup masa harina*
1 cup aged white cheddar cheese, grated
1/2 cup cold butter, cut into small pieces
1/2 cup roasted mild green chile, finely chopped
2 tablespoons imported white truffle oil*
lemon juice, salt, and white pepper to taste
20 dried corn husks,* soaked in warm water to moisten
olive oil to moisten
Preheat oven to 400º.
For the dough, bring milk to a boil to scald. Place masa harina in a mixer with paddle attachment. On low speed, slowly pour half the milk into masa. Stop machine and check consistency; it should be soft, moist and holding shape, not runny or dry and crumbly. Add more milk as necessary. Increase to medium speed and mix for two minutes to remove steam. Reduce to low speed and add in the cheese, and then add the butter one piece at a time until well incorporated. Add in the green chile. Season with truffle oil, lemon, salt and pepper. (For bolder taste, add more cheese or truffle oil.) Let cool completely in refrigerator.
Place a dollop of the masa dough in corn husks. Place one chunk of lobster in middle of dough and wrap mixture inside of husk. Take remaining husks and pull apart into thin strips to use as ties. Tie each end of tamales tight to the filling. Place on a sheet pan and bake approximately 10 to 12 minutes. Let rest a few minutes and then serve immediately.
Note: If you want the entire appetizer to be edible, wrap the dough in buttered phyllo pastry instead of husks and bake until golden brown.
Shallot Petals and Goat Cheese
Makes 15 portions
canola oil
15 shallots, cut in half and outer leaves reserved
buttermilk to cover
Fis-Chic Wonder Batter (Drum Rock)*
1/2 pound unripened goat cheese (chevre)
kosher salt and black pepper to taste
micro greens to garnish
Preheat oven to 350˚.
Heat enough oil for frying in a deep pan to 350˚.
Soak shallots in buttermilk for half hour.
Divide goat cheese into 15 even portions.
Pull shallot petals from milk and toss with Fis-Chic in a bowl. Place in hot oil and fry to golden brown. Drain well and season, while still hot, with salt and pepper. Put some cheese inside each petal and warm with micro greens and serve immediately.
Olives Diavolo
Makes 15 portions
red chile hot sauce as desired
2 tablespoons extra virgin olive oil
2 tablespoons white balsamic vinegar
cracked mixed peppercorns as desired
15 Itrana olives*
15 Picholine olives
15 Kalamata olives

Mix chile sauce with oil, vinegar and pepper. Combine with olives and let marinate several days. Drain and serve.
Dried Mission Figs and Gorgonzola
Makes 15 portions
15 dried black mission figs
1 pound imported Gorgonzola,
hand crushed
Butterfly the figs (cut two-thirds open). Fill with cheese and squeeze gently to close. Serve slightly warm or at room temperature.

Winter Squash and Apple Soup
Makes 15 portions
2 medium-size sugar pumpkins (or other winter squash), cut in half and deseeded
1/2 cup autumn spice mixture (equal parts light brown sugar, chile powder, ground sage, cinnamon, nutmeg, cardamom and ground coriander)
1/2 cup whole butter, cut into four pieces
2 cups white wine
1 medium white onion, peeled and diced
6 cloves garlic, minced
2 Yukon Gold potatoes, peeled and quartered
1 cup dry white wine
1 cup apple cider
1 quart chicken stock
1 pound grated aged white cheddar cheese
lemon juice, salt, white pepper and light brown sugar to season
2 tart apples, cored and small diced
Preheat oven to 350˚.
Place pumpkins cut side up on sheet pan. Sprinkle the cavities evenly with spice mixture. Fill cavities with butter pieces and the 2 cups of white wine. Cook pumpkins in oven until very tender, 45 minutes to an hour. Cool slightly and reserve any liquid from the cavities; peel off the outer skin.
While pumpkins are roasting, saute the onions in a stock pot until lightly browned. Add the garlic, cook for two minutes and add the potatoes, wine and cider. Reduce wine by half. Add chicken stock, bring to a simmer and cook until potatoes are tender.
To finish the soup, cut the cooked pumpkin and place into simmering soup base; add the reserved roasting liquid. Reduce heat to very low. With an immersion blender running, add the cheese and puree the soup until smooth. (Or puree in an upright blender.) Season with lemon, salt, pepper, brown sugar and spices if needed.
When ready to serve, quickly saute the diced apples in a hot skillet. Portion soup into demitasse cups or an Asian-style soup spoon and garnish with diced apples.

Spicy Apple and Vermont Cheddar Pies
Makes 15 portions
1 pound pie dough (recipe below)
5 baking apples, peeled, cored and diced small
1/3 cup granulated sugar
1 tablespoon spice mix (New Mexico chile powder, ground mustard, ground cinnamon, ground nutmeg)
1 tablespoon all purpose flour
kosher salt to taste
1/4 cup unsalted butter
2 cups aged cheddar cheese (Shelburne or Grafton), grated

Preheat oven to 350˚.
Using mini pie or tart pans, line bottom and sides with pie dough.
Toss the apples with the sugar, spice mix, flour and salt. Distribute apple mix evenly into pie pans and put a pinch of butter in each pan. Sprinkle with cheddar cheese. Bake until golden brown. Serve warm.
PieDough
3 cups all-purpose flour
1 egg yolk
1 whole egg
pinch of kosher salt
1/2 pound cold butter, cut into small pieces
1 tablespoon cold water
In a food processor, place flour, egg yolk, egg and salt. Begin to process and immediately add butter gradually. When butter is incorporated, add enough of the water to bind the dough, forming a ball. Remove from processor. Cover with plastic wrap and chill for 2 hours.
When ready to use, remove dough from refrigerator and let sit at room temperature for at least 30 minutes before shaping. To make dough ahead of time, wrap well and freeze for up to three months.