The Master Builder
Set Designer Eugene Lee Is Not Slowing Down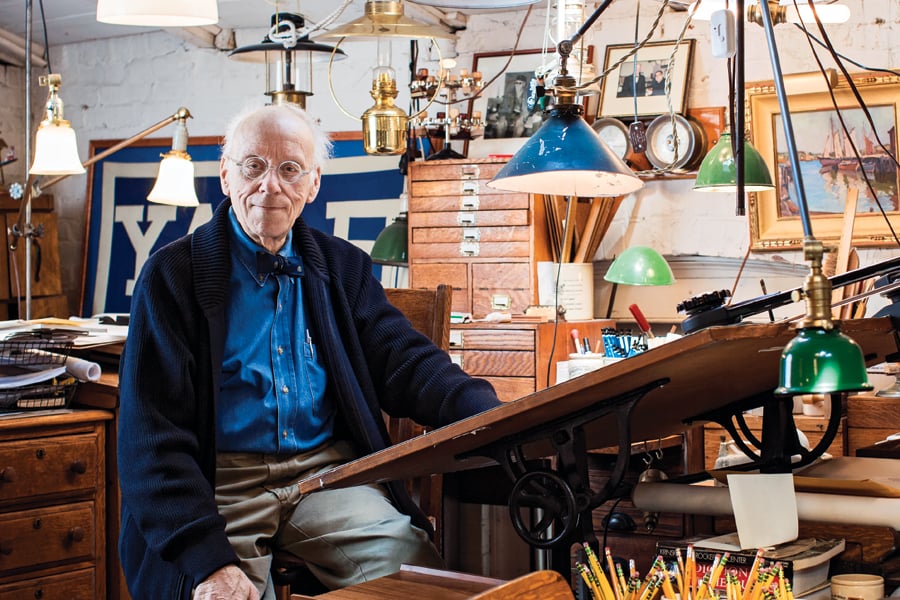 Eugene Lee designs brain-bending theatrical sets for Trinity Rep, Wicked and Jimmy Fallon, and is one of the few original SNL staffers still working on that iconic late-night show. After forty years, his restless talent shows no signs of slowing down.

If a play were written about legendary set designer Eugene Lee, it might take place on a sailboat. Sailing and restoring boats is a passion and is metaphoric of his worldview, for a sailor adapts to the environment and steers by sleight of hand. When the wind is calm, he reins in the sheets. When it howls, he lets them breathe.
Lee's resume would read like a run-on sentence — if he had a resume. He doesn't seek work; it finds him and he rarely says no to a project, which has admittedly gotten him into some trouble. Some ideas are too enticing and others, well, his Midwestern roots make rejection seem impolite. At seventy-six, he's earned three Tonys for Best Scenic Design of a play: for Candide in 1974; Sweeney Todd in 1979; and Wicked in 2004, yet he considers awards a "meaningless marketing tool." He was admitted to the Theater Hall of Fame in 2006 and has been the resident set designer for Trinity Repertory Company since 1967. And he's been the production designer for "Saturday Night Live" (SNL) since its 1974 inception.
When Lee first moored in Providence, he lived in Trinity's scene shop and later, aboard Stormsvala, a fifty-foot wishbone ketch. Not one to back burner a dream, he hatched the romance of living aboard in boyhood. Born in Beloit, Wisconsin, in 1939, he spent fecund summer days at Hi-Lee, a lakeside cottage built by his grandfather. Lee made pilgrimages to the dump, and he and his twin brother were always building something: a tree house, a soapbox car, a paddleboat. The Eagle Scout gained skills by studying books on a subject, which was how he learned to sail. His father was a mechanical engineer while his mother worked as a registered nurse.
"The general thought around our house was that if you read all the Harvard Classics, that would be as good as a college education," Lee says.
Yet he did seek out a college education — at four institutions, no less. He spent a year at each one: the University of Wisconsin-Madison, Carnegie Mellon, the Art Institute of Chicago and the School of Drama at Yale University.
Lee first attended the University of Wisconsin-Madison, which had a theater but no theater department. The summer before sophomore year, he saw Helen Hayes on television talking about the drama department at Carnegie Tech (now Carnegie Mellon). It was long past due for applications, but Lee packed his VW Beetle — his grandmother's high school graduation gift — with some design samples, drove nine hours to Pittsburgh and said, "Hi, I'm here."
Although he only stayed for a hiccup, Lee was grateful to be accepted into the program, where they drafted in ink and class was held in an old aircraft hangar. These days, the designer sometimes launches his process with a sketchpad rather than a computer, favoring isometric as opposed to a measured perspective sketch before constructing a paper collage type of model for his sets. He creates a storyboard to explain scene transitions; he considers such transitions to be paramount and insists they be seamless.
Lee creates set doors and windows that actually open and close. He prefers to build sets from real things "because there is some humanity to it, some kind of history to the planks." "Saturday Night Live" sets are still constructed from scratch and Lee laments that set designers are in danger of becoming obsolete because so much is computer generated now. Many props land at (or are loaned from) his College Hill home, the 1911 Mary Balch Lippitt Steedman Colonial Revival he shares with his wife, Brooke, a painter. According to his two sons, it's taboo to give their parents anything new; however, the challenge is finding something they don't already own. His younger son, Ted, jokes about re-gifting something from their parents' house. "They'd never know it," he told The New York Times. "And they'd be thrilled to have another one."
The lower level of the property's carriage house contains Lee's vehicular collection, including a 1965 Land Rover, his powder blue Beetle with the SNL license plate, and a lemon yellow Vespa. The second floor serves as his studio. As he climbs the stairs with prudent steps, Lee apologizes that his "knees are giving up; I either need a cane or to get them fixed." The steps lead to Alice in Wonderland whimsy: Bentwood bistro chairs dangle below the skylights and vintage bicycles are slung upside down. Every morning around nine, he winds the clocks. Lee and Patrick Lynch, his assistant of fifteen years, will work without stopping until five, with the soundtrack of NPR or Cat Country in the background. The designer concedes that living in New York City would be more pragmatic given his profession. But he prefers the quirkiness of Providence, knowing his members of Congress and seeing familiar faces when he's out and about.
The Providence residence — with its array of vintage typewriters, globes, canes and other ephemera — is juxtaposed by the couple's minimalist Jamestown home. It might be called the house that Wicked built: Lee is the scenic designer on what remains the highest-grossing Broadway show. (His other indulgence was hiring a driver to ferry him from Manhattan back to Providence on Saturday after he leaves the SNL studio).
The couple refers to their Jamestown residence as the Osprey house because, like an osprey's nest, the property sits high up on pilings and offers the best vantage point possible. Designed by Jim Estes, the gorgeous waterfront home is moored miles from Lee's early days. After leaving Chicago for New York City in the 1960s, Lee was so broke that he sold the Beetle and pawned his clock radio on Eighth Avenue in order to eat.
"With certain people you have to return calls," says Lee. Francis Ford Coppola is one of those people. They met when Coppola was a guest director on SNL, but Lee's assistant thought it was a prank when the legend first phoned. Lee has historically shied from movies because he "can't do five things plus a movie." When his two sons were younger, he preferred to stay close; he considers family "the most important thing." Now that his children are adults, he's more open to considering a film and has begun working on sets for Coppola's script "Distant Vision."
Categorized as live cinema, the digital film will screen over the Internet rather than in theaters and is optimistically planned to debut in spring 2016. The first draft opens with Alexander Graham Bell in his laboratory and stretches until the moonlanding in 1969 with sets depicting scenes from Vegas to 1890s Italy. Outside his SNL office (more of a wing of offices), rows of images depicting the range of settings are taped to the wall. When Lee was in California on business, he visited Coppola at his Sonoma estate. When Coppola's assistant said, "We want to pay you for your time," Lee told her not to worry; he was out West anyway. She indicated they'd also like to send him some wine from Coppola's vineyard to which Lee responded, "We'll take the wine." Soon after, a selection totaling six cases arrived in Providence.
The project appeals to the maverick Lee for its unconventionality and the problem solving involved with that magnitude of sets. Lee has a foggy dream of recreating the voyage described in Henry N. Plummer's novel, The Boy, Me, and the Cat. The trip follows a father and son's sailing adventure from Massachusetts to Key West, Florida, and back in a twenty-foot Cat boat. A Wickford boat builder found him the perfect vessel — except it was unrestorable. Lee purchased it, saying, "Perfect! I'm looking forward to the challenge!" There are so many rules now, says the man who, after he was chastised for not getting a union stamp of approval for one of his drawings, chucked the stamp out his office window on the seventeenth floor of the RCA building in New York.

Above, Tom Jones performed at Trinity Rep in 1975, directed by Larry Arrick. Lee designed the lighting and the set. Top right, Son of Man at Trinity Rep in 1970, written by Timothy Taylor and Adrian Hall, directed by Adrian Hall, with set by Lee. Bottom right, musical guest D'Angelo performs on SNL on January 31, 2015.

Besides sailboats, Lee loves windmills. When his wilder ideas hit a gauntlet, this Don Quixote can usually charm his way; the naysayer chews on the proposal until its brilliance dissolves any obstacles. Oskar Eustis, former stage director of Trinity Rep and current artistic director at the Public Theater in New York City, calls Lee "a man of many contradictions: an old hippie who loves joining elite New England clubs." The set designer is brazen enough to get his boldest visions green-lighted, yet doubt gnaws every week that "Saturday Night Live" is produced. Each week, Lee worries that he has failed and Lorne Michaels, the creator and executive producer, won't like his sets. "That's just the way I am," says Lee. "The worst part of the job is not knowing exactly how it will be until you walk in and see the set finished. Then I think it could have been done differently; I long for it to be more perfect."
Yet Michaels has called Lee the only actual genius he's ever worked with (the superlative makes Lee cringe) and the true heart of the show. When Lee tried to resign at the age of seventy-two, Michaels wouldn't let him and pointed out that the show's lighting designer was ninety-three. As he reflects on the few theatrical flops during his career, Lee is pragmatic: "If you let it get to you, you just have to quit this business where you get to fail very publicly. You can only do the best you can, so I tend to forget the failures and remember the successes. I always try to remember Andrew Carnegie's motto: 'My heart is in the work.' For me, it really is."
Lee's prolific schedule mimics the marathon of prepping a live comedy show twenty-two weeks a year. The writers, cast members and others get into a manic rhythm of all-nighters that breed creativity. Lee hops the Acela train from Providence on Wednesdays in time to arrive for the afternoon table read. After a pitch meeting and all-nighter to develop the skits, the resulting read-through is when he and the art director brainstorm the sets and necessary props, though they still don't know which skits will be finally approved.
There is about forty-eight hours to build everything; sets are often constructed at a space in the Brooklyn Navy Yard and painted at the SNL studio. "We come in on Thursday and finish dressing the sets [adding props and such]," says Lee. "Then we do a technical run-through on Saturday afternoon followed by a dress rehearsal with an audience. If something isn't funny, it gets cut and we tear up the set. At 11 p.m. my driver picks me up, but there are other people around in case of emergency."
The "Saturday Night Live" studio occupies several floors at 30 Rockefeller Plaza in New York City. The master control room looks like something out of NASA as dozens of screens show the Saturday afternoon rehearsal. Lee explains what must be done before the fortieth anniversary show, which aired in February: Seating capacity must be doubled, which means extending it further on the floor in front of the several stages. (Scaffolding now bolsters the balcony, a grandfathered arrangement that Lee says, "you'd never get away with now.") When SNL was in its infancy, he conceived of a courtyard-type set; instead of one stage, the long shoebox studio would have multiple ones. All of the players could be ready for their scenes without the need for set or costume changes that a single stage show would require.
Even after four decades, Lee's enthusiasm for SNL hasn't ebbed. "It's the kind of show you don't see anymore," he says wistfully. "When it goes, it goes. I love it; I mean, who has this kind of job?" Lee has received several Emmy nominations for his numerous SNL set designs. For its 100th show, he created a subway station mosaic as its backdrop. When Lorne Michaels was in Rhode Island to present Lee with a Pell Award in 1999 (Trinity Rep's award for the best in Rhode Island arts), he observed that Lee's SNL work resembled Providence. Lee depicted New York's underbelly — the pre-Giuliani era: graffiti on subway cars and porn theaters around Times Square. "That Disney stuff doesn't work for me," Lee has said, once telling a producer, "You know I don't do cute." Last year, for "The Tonight Show Starring Jimmy Fallon," he designed a new set featuring a wood-carved Manhattan skyline as the backdrop.
Premier Exhibitions is even planning a historical exhibit about "Saturday Night Live" that is slated to open this summer. Housed in a building near the Empire State Building in Manhattan, it will offer viewers a glimpse behind the scenes as it recreates an insider's experience of the comedy show. The layout is planned so guests will follow what happens each day at the studio, from a Monday at Lorne Michaels's office to a Saturday night taping from the control room. It will also feature prominent skits such as "Wayne's World." According to Lee, the exhibit will be staged for at least five years and might also become a traveling show.
A casting director fishing for an eccentric genius would choose Lee. He resembles a sage wizard from a Harry Potter tale, with a shock of splayed white hair and benevolent cornflower-blue eyes behind spectacles. He favors khakis bolstered by suspenders and boat shoes. Depending on the occasion, his button down shirt might be punctuated with a bowtie and his hands are often ink-smudged from drafting.
Lee is a man of few words. The playwright for his biopic could be Sam Shepard, who lets silences breathe. During his downtime when the 2007-08 Writers Guild of America strike meant no new SNL broadcasts, the prolific designer tapped an autobiography, The Adventures of Eugene Lee, on his Selectric II typewriter. The book is laced with minimalist and sanguine refrains: Eugene you dreamer you; I am hopeful but that is my nature; I always say less is more except when more is better; What could be better? What could be more perfect?
At the SNL studio, as he punches the elevator button hours before the show will air, supervising producer Ken Aymong echoes the genius superlative. "Eugene has always been wise beyond his years," he observes. "We'll have a meeting and I'll have no idea what someone just said but Eugene will say, "I know what they want."
When Oskar Eustis first became artistic director at Trinity Rep, he asked Lee what the designer envisioned for their production of Long Day's Journey into Night. Lee invited him to go sailing at Edgewood Yacht Club; as they bobbed along, he told Eustis, "Don't worry, I think I've got it."
"That was our design meeting," says Eustis. "He understood the heart of the play without even putting it into words."
Lee hates scenery but loves theater; he believes that actors are always more important than the scenery. "When I meet someone," he says, "it lasts a second or forever." His relationship with Adrian Hall, the first artistic director of Trinity Rep, who guided it from 1963 to 1989, is one of the latter cases. Lee considers their collaboration some of his best work. He says the two never had an unkind word, plus it was the fresh, young and hazy 1970s: Designers had a canvas of latitude since buckled by restrictions spawned by a litigious era. He bemoans how most regional theaters — and even SNL — have gone corporate.
"Some of us on SNL say the 1970s were the funny years," he told a Design Week RI audience last fall. "Because you could just have the drugs delivered like pizza. I'm living, so in retrospect it wasn't so bad. It was a very different show then; it's gotten very corporate now. But that's okay — things change." During the fortieth anniversary show, Tina Fey joked: "Also joining us, one of the show's original producers: cocaine."
He laments that due to current fire regulations, theaters with all their production managers would not be adventurous enough to do what he did decades ago. "Almost no one will let me light anymore," he says. "Now lighting is all computer grids filled with lights and no soul." For Billy Budd at Trinity Rep, they "blew things up; there were cannons and fire detonation." They staged The Visit in an abandoned Providence railroad station with passengers moving around the audience getting in and out of trains. He feels more at home when the actors can touch the audience and vice versa. For Slave Ship, he built a platform that reproduced the motion of a boat at sea and placed the audience beside actors who were being tossed about and tortured. For a production of Alice in Wonderland, audience members had to crawl through miniature doors to enter the theater, like Alice trying to wiggle through a tiny opening.
Lee prefers walking into the blank canvas of an empty space and then often redesigns the theater by repositioning exits, lighting booths, even walls. He says, "I like any theater you can drive a crane into." His audience frequently find themselves inside, on top or under sets that are not fixed.
At the Long Wharf Theater in New Haven, Connecticut, Lee wanted to dig a grave but the Long Wharf stage was a concrete slab without any traps. "We'd have to either cut a hole in the concrete floor or raise the stage," he says. "Of course they said no but I kept at it like a dog holding a sock, and I finally got my hole." The designer has said, "Nothing makes me happier than an impossible space and an impossible project." (And an impossible deadline, given how he juggles numerous projects simultaneously around the country.)
He doesn't envision retiring, but Lee, who has been an adjunct professor at Brown University and other institutions, did imagine that as he got older, he could focus on teaching — ideally at Brown. "Students spend a lot of money for a theater degree, and the one reliable job they can get when they graduate is teaching," he notes. "So [theater] professors don't have as much professional experience. Students should be working and designing; they could be involved with the projects I'm doing so it would be a working studio and famous people would be coming to the school." So far, he says, his proposal has been turned down. A disappointment; however, with Lee, the show must go on and there is no dearth of projects. As he would say, "Life is not perfect, but it's all I got."