The Making of a Fashion Mogul
StyleWeek Northeast's Rosanna Ortiz Sinel rocks Providence with runway shows from hot emerging designers, but her dream is to take it national.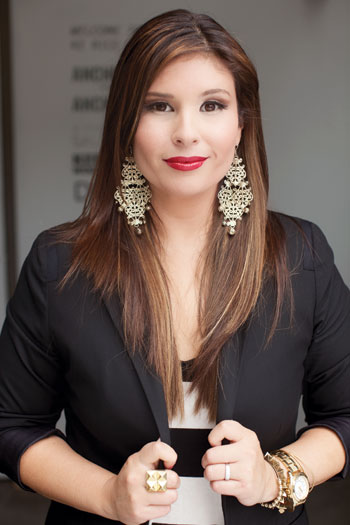 It's StyleWeek PR's first ever Buyer Collective.
Rosanna Ortiz Sinel is front and center in the chic Bullfinch Hotel lounge in Boston on a warm evening in April. She's surrounded by designers, retail buyers, press and friends. Even though it's 6 p.m. on a weekday, everyone's dressed to kill. Cocktail dresses. Four-inch heels. Hair expertly coiffed. For the men, trendy jackets and impeccably tailored suits. Some of the designers wear their own creations, including Avni Trivedi in a naturally dyed tan cotton dress that complements her full pregnant belly, and Marcel Plante in slashed black leggings and a pink fringed scarf that nearly reaches the floor.
The most prominent guests — an eighty-four-year-old Boston fashion icon, a stylish blonde anchorwoman and a handsome city councilman — are perched in front on leather armchairs, followed by designers and their friends in plastic chairs. Behind them are Rosanna's closest friends and colleagues standing at the back of the room. A few people are sipping cocktails from the nearby bar.
The crowd fixates on Rosanna as she speaks. Her long flowing hair — sometimes it looks auburn, sometimes black — cascades down her shoulders over a simple navy reptile-print shift dress. She completes the look with nude high-heeled booties. As always, her lipstick is bright and freshly applied.
Rosanna welcomes everyone. She's here to introduce emerging designers, showcase three of their best looks and evangelize their brands. Rosanna's quick to credit designers Kent Stetson, Avni Trivedi, Marcel Plante, Jonathan Joseph Peters, Jessica Abernethy and the other innovators who will present that evening, but in the middle of her opening remarks, she's interrupted by a woman seated nearby.
To read more of this story please visit your nearest newsstand or click the link below.