The Lyons is Wickedly Funny
A dark tale about dying and family dysfunction.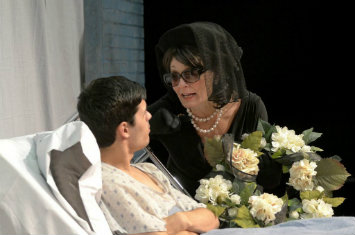 When it comes time to depart our earthly existence, most of us would probably like to be surrounded by family.
Unless of course you're one of the Lyons family. A bitingly funny and ultimately poignant production called The Lyons now playing at 2nd Story Theatre shows that no matter how dysfunctional, family ties endure, for better or for worse.
The play opens in the hospital room of Ben Lyons. His body is riddled with cancer and he's dying. As he contemplates things like whether he's going to hell, his wife, Rita, sits nearby, flipping through House Beautiful, planning the renovation of their living room.
They've been married for forty years, but their sparring quickly shows they're no comfort to each other. Ben, played by Vince Petronio, unleashes strings of invective and exasperated facial expressions, as Rita (Paula Faber), considers assorted icy shades for the living room she's envisioning after he's gone.
"This cancer eating away at you has put you in a terrible mood," Rita tells him.
"You think?" Ben replies.
They've kept their children, Lisa and Curtis, in the dark about Ben's illness, but eventually summon them to their father's bedside. The strained relationship between their parents has clearly affected the children. When Rita asks Lisa (Lara Hakeem) to recall happy memories from her childhood, she can't come up with any. As an adult, she's an alcoholic tangled up with an abusive ex.
Her brother, Curtis (Kevin Broccoli), has avoided the family for years, inventing pretend relationships as an excuse to stay away. Ben makes clear that his son has been a great disappointment to him. They slash away at each other, revealing each other's secrets. But when Ben is alone, he admits he still loves Rita. His wife, meanwhile, has felt trapped in a marriage to a man she never loved.
The play, written by Nicky Silver, is full of zingers and moves very quickly, but scenes with Rita and Curtis are particularly poignant. The actors do a great job of making characters who are often unlikable simultaneously sympathetic.
The Lyons is playing DownStage at 2nd Story Theatre, 28 Market St., Warren, through February 9. Tickets are $25 and you can get them at the box office, by calling 401-247-4200 or through the website at 2ndstorytheatre.com.