The Life is Good Tour Stop: Newport
Learn about the Life is Good mantra at a book signing and meet-and-greet with founder Bert Jacobs.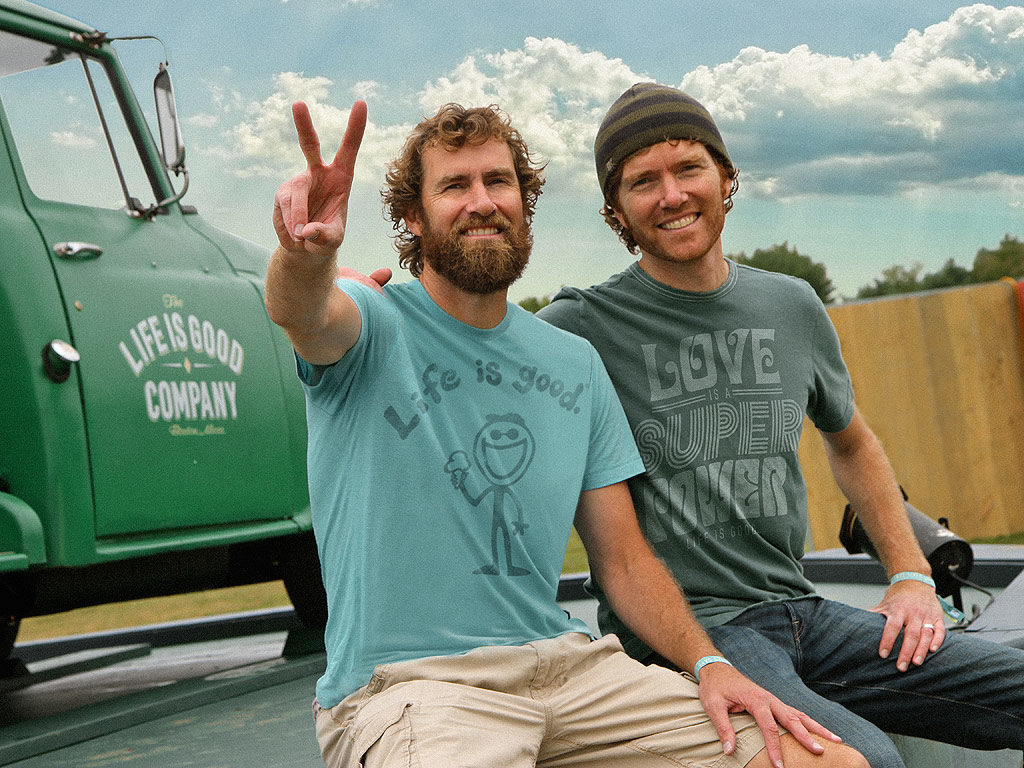 "Life is not perfect. Life is not easy. Life is good."
Bert Jacobs, co-owner of Life is Good, will be at the Thames Street store in Newport today from 5−6:30 p.m. for a book signing and meet and greet. Life is Good is a New England-based company that promotes optimism through inspirational messages and artwork on shirts, scarves, hats and a variety of other accessories. The most recognizable design is the stick figure, Jake. You know it's a Life is Good creation when you see Jake's happy face smiling back at you. What began as two brothers trying to sell T-shirts on the streets of Boston in 1994 snowballed into a much larger company that not only encourages a better outlook on life, but changes lives as well.
This fall, founders Bert and John Jacobs launched the eight-week Life is Good Tour to promote happier, optimistic living and to raise funds for children in need (through the Life is Good Kids Foundation). The hashtag #GROWtheGood was created for the tour to encourage the public to snap photos of any good things happening to them and share them on social media. Up until Halloween, every photo shared was a dollar that the company donated to kids in need. The hashtag is still being encouraged to keep the good vibes going.
The tour spanned the fall season and Life is Good visited more than forty communities across America. During the tour, the Jacobs brothers interacted with various programs and fundraisers. In New York they teamed up with Pencils of Promise and the Gansevoort Hotel to host a private evening celebration to raise awareness for their efforts to make life for all children "good." In Los Angeles, the tour made an appearance at a fundraiser for the Alex's Lemonade Stand Foundation, which raises money and awareness for childhood cancer. These are just two of the stops the Life is Good Tour made.
The goal is to encourage the public to notice the good things that happen every day, even if they're small, and embrace them. "Each one of us has a choice," says the company's website, "to focus our energy on obstacles or opportunities. To fixate on our problems, or focus on solutions. We can harp on what's wrong with the world (see most news media), or we can cultivate what's right with the world. What we focus on grows."
Bert Jacobs will be at the Life is Good Newport shop from 5–6:30 p.m. for a meet-and-greet, a short book signing for Life is Good: the Book, and a discussion. The book details the story of the Jacobs brothers from their rough beginning to gigantic success, and it shows different ways to embrace the good and overcome the bad in life. Light refreshments and fun activities will be available at the event, and the first twenty-five guests will receive a free copy. The event is free to attend.
The Details: Nov. 6, 5–6:30 p.m. Admission: Free. Life is Good Newport, 160 Thames St., Newport, 401-849-6666, facebook.com/lifeisgoodnewport.