The Independent Man
Punk Activist Ted Leo wants to know: Where have all the rude boys gone?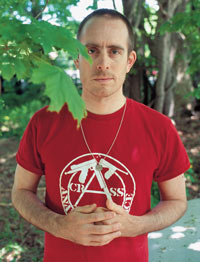 Just the basics, but very well done. And with a little bite.
Pop-punk troubadour and recent Rhode Island transplant Ted Leo may as well be talking about his music — tightly-wound guitar/bass/drums tracks with his band, the Pharmacists — but in fact, he is sharing his recipe for red sauce. The basics: tomatoes and olive oil; the bite: garlic. If the subject were his music, however, the basics might be hooky melodies and smarty-pants lyrics; the bite: his in-your-face lefty politics.
Largely hailed among music mavens as a mod-punk savant, a rebel without a pause, and one of the most innovative and hardest working figures in the East Coast rock scene, Leo has spent much of his life along the Interstate 95 corridor ("I think I could drive from Boston to D.C. with my eyes closed," he jokes), calling New Jersey, Washington, D.C., Boston, and now Wakefield, Rhode Island, his home at various points over his thirty-six years.
"I guess, ultimately, the role of protest music is to keep things rolling."
Domiciled, if not settled (occupational impossibility, Leo says, due to his aggressive touring schedule), just minutes from Narragansett Bay, Leo is gradually making Rhode Island his home, taking periodic jaunts to B-Sharp Music in Providence for guitar gear and contemplating surfing lessons from his wife, Jodi, whom he met when they played together in a band.
Originally from New Jersey and boasting an English degree from Indiana's Notre Dame University, Leo first emerged on the hardcore punk landscape in the late 1980s in the bands Citizen's Arrest, Animal Crackers and Chisel. In 2000, he joined with bassist Dave Lerner and drummer Chris Wilson (now the Pharmacists) to release an EP Treble in Trouble. The group's breakthrough album, 2001's The Tyranny of Distance, offered a pastiche of Celtic, folk and jam-rock that quickly gained the band a cult following. Four additional albums and a spate of single releases followed in the ensuing six years.
2007's Living With the Living, Leo's fifth album with the Pharmacists, also symbolizes his connection to the Northeast corridor: it brought together Leo from Rhode Island, Lerner from Manhattan, and Wilson from Philadelphia, for production in Worcester, Massachusetts, and Washington, D.C.
Revealing influences as diverse as Curtis Mayfield, the Clash, East Coast hardcore punk and Celtic folk music, Leo's new release offers an almost nonstop antiwar screed. Whether he's addressing current United States action in Iraq ("Army Bound") or a CIA coup in Guatemala in the 1950s ("Bomb. Repeat. Bomb."), Leo's songs are driven by tight, jittery punk energy; sharply chiseled, catchy melodies; and an overwhelming desire to make a difference.
Rock critics and fans have lauded Leo's particular brand of politically charged indie-rock as taut, lean and cerebral: protest music for the modern age and a mirror of the man himself. "I'm pretty unconvinced that there's any immediate effect that a song can have on the world," Leo says. "However, where it does have an effect –– and a greater importance –– is in our own communities. This goes to the core of why
I continue to make music."
And he demonstrates great commitment to his musical community. His live shows always feature a skewering or three of the current political leadership amidst his often throat-shredding, physically intense performance. He spent his summer on a nearly nonstop tour in the United States and abroad, exuding his trademark nervy conviction and elastic voice. (The voice, however, also has its limits. Leo's website once featured photos of his vocal chords: a visual explanation to disappointed fans after he cancelled a tour due to larynx strain.)
"The music brings people together, and by reaffirming that there is a community of people who are like you –– like us, really, because I certainly include myself in this –– we can all take some comfort and then get re-energized," Leo says. "I guess, ultimately, the role of protest music is to keep things rolling."
In a respite from the running musical diatribe, Leo's lushly melodic "La Costa Brava," comes mid-album on Living With the Living and features the lyric, "Everyone needs a Sunday somedays; everyone needs to take some time away." The song expresses his desire, Leo says, to step back and understand what it is about the beauty of the world that makes any of us want to continue to fight the good, and often difficult, fight.
For the last two years, Leo has made his home base in Wakefield with Jodi Buonanno, an artist from Rhode Island. He spends his non-touring days writing songs. "I get a little mad scientist about it," he admits. "Sometimes I'll spend days in the basement fiddling with a song. I might forget to eat."
"I hope I'm not preaching. I'm more interested in talking to people about important issues."
Living With the Living has already garnered positive reviews from such music bibles as Spin and Rolling Stone, as well as a passel of online music magazines, for both its raucous dissension and its moments of introspection. In the album closer, "C.I.A.," Leo takes issue with the eponymous government agency ("[They say] that history's race is run, but we know it's just erased by those who won."), while on "Colleen," one of the album's poppier tracks, he chooses a gentler approach ("Machines break down, but you can't break with them."). Spin calls the album "an hour-long Rolodexing of sounds and visions." The Bos-ton Globe proclaims, "Leo manages to skip from tender, unadorned romantic pop crooning to full-throttle punk yowling to Celtic-flavored folk-rock without losing the listener, the beat, or the message." And, for those who don't share Leo's political views, The Austin Chronicle promises, "you don't have to like Leo's politics to move to the music."
Also with this album, Leo has switched record labels to the Chicago-based independent music powerhouse Touch and Go Records, whose artist roster reads like the cool-kids club of cutting-edge music. Touch and Go recently celebrated its twenty-fifth anniversary, an eon in the independent music scene. "I grew up a big fan of the bands on this label," Leo says. "It's been an awesome move for us, and making this move has generated a lot of discussion that I never really anticipated." One issue that Leo and several of his labelmates have recently supported, Rock the Net, states as its goal the preservation of "a free and open Internet." The movement's guiding principle, net neutrality, seeks to protect musical Davids, like smaller artists, labels, and businesses, from being dominated by corporate Goliaths with larger financial means –– for example, In-ternet service providers that would charge content providers for having their websites load faster, giving preferential treatment to those who are willing to pay for it.
In keeping with his finger-wagging rep, Leo dishes up a steady diet of frank editorial posts on his website, www.tedleo.com, where his stream-of-consciousness quasi-rants level invective toward everything from the United States House of Representatives to MTV's "My Super Sweet 16," defined by Wikipedia as "a reality series depicting the travails of teenagers planning over-the-top parties and balls." But there's some love doled out as well: in addition to his infatuation with the Portuguese national soccer team and his kind words for Latin pop star Ricky Martin, Leo showers nothing but praise on the thousands of fans who sing along at his shows and visit his online neighborhood.
In addition to his own material, Leo has drawn accolades for his contribution to This Bird Has Flown, a Rubber Soul-centric Beatles tribute record, on which he per-formed a reggaed-up version of "I'm Looking Through You," and is infamous among plugged-in indie music fans for his cover of Kelly Clarkson's "Since You Been Gone," delivered in true punkish do-it-yourself style, with just an acoustic guitar and a chuckle.
In an era where music is increasingly about emoting and less about doing –– especially in comparison with the politically intense American music of the late 1960s or the British punk of late 1970s, Leo carries the mantle of populist protest music toward the next national election. Does he ever fear — given his left-leaning fan base — that he's preaching to the converted?
"Well," he says with a laugh, "I hope I'm not preaching. I'm more interested in talking to people about important issues." The talking, he emphasizes, hastens the goal of protest music, which he sees as "energizing participants in the protest. Shaking the foundations of society. Getting people who are involved into the voting booth. And, hopefully, effecting change."
Change, in Leo's book, might mean a new administration, an end to war, and increased concern for the environment and animal rights (a vegan, Leo's done public service ads for PETA2, an Internet arm of People for the Ethical Treatment of Animals that promotes vegan and vegetarian lifestyles).
And what else does Leo hope for the future?
"I'm looking forward to having a dog," he says. "Maybe going back to school.
Being a member of our local co-op. I love cooking, and when I'm home I cook a lot. I grew up surrounded by Italian food, and I'm hoping to do more of it."
Political activist, workaholic, vegan –– does the man have any guilty pleasures?
"I've been listening a lot lately to Bobby Brown's Twentieth Century Master's The Millennium Collection. I've been groovin' pretty seriously to 'Roni.' "
Pre-Whitney Bobby Brown doesn't ex-actly push up the needle on the cool meter, but Leo says he doesn't really care. It seems yet another independent man chooses to make Rhode Island his home.