The Ice Storm
Ann Hood writes about how life's scariest moments can sneak up when we least expect them.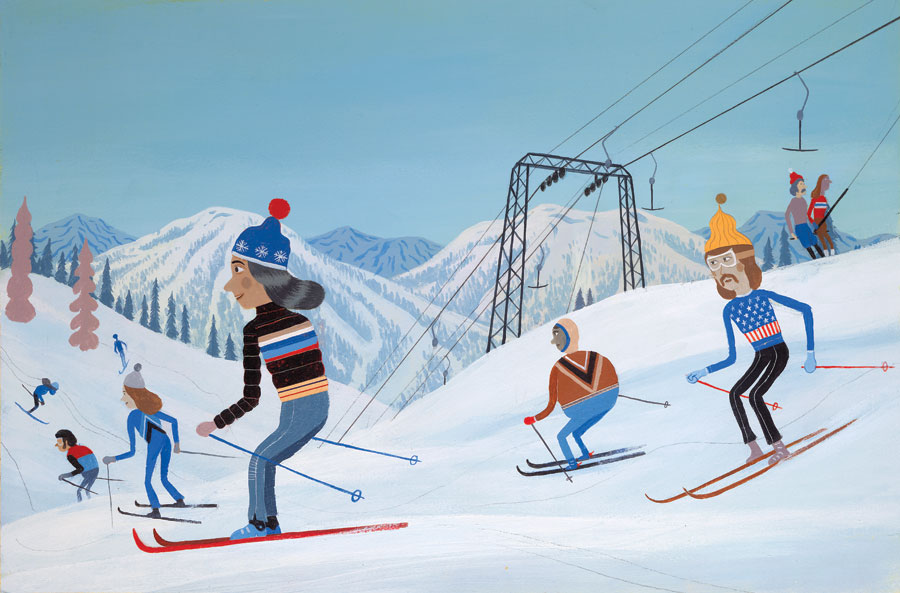 I am not athletic.
I spent most of my childhood running from balls — kicked balls, batted balls, bouncing balls. Afraid of my glasses breaking, unable to hit those balls back to someone's waiting hands, I spent recess sitting alone on the asphalt playing jacks with the only ball I could handle. Although I knew how to swim, and enjoyed riding the waves at Scarborough Beach, I had no technique or endurance. My worried, overprotective mother forbade me from ice-skating because what if the ice was too thin and I fell through it? One summer, she got a misguided idea that I should learn to play golf and signed me up with two cousins (in my family there are always cousins involved; we never do anything alone) for lessons at Goddard Park. I was hot and bored, lost as usual in my imagination. When the instructor ordered me to Swing already!, I swung. Hard. And smacked him right on the knee. Needless to say, that ended my life as a golfer.
With my history in sports, I was surprised that in college I learned how to ski. Mostly, I did this for the same reason I did most things in college: to hang out with my friends, drink beer and meet boys. The day Sue Liveright appeared in my dorm room and invited me to go on a ski trip to Mount Snow in Vermont, I didn't hesitate. My best friend, Mary-Ann, and I decided we would take lessons while Sue slalomed down black diamonds. We promptly drove to the Alpine Ski Shop and bought the bib overalls with matching jackets that were all the rage then, with thick black gloves and pompommed hats. I remember staring at the shiny skis lined up there, and the clunky boots on the shelves. For the first time, I could imagine myself outdoors doing something athletic. Me! Zigzagging down a snowy mountain in Vermont!
Sue, a good skier, a real skier, got a new pair of K2 skis that Christmas, and with those and her blue ski jacket that perfectly matched her dazzling blue eyes, she looked as if she could be in the Olympics. Back then, in 1976, short skis were all the rage. As you improved, you wore longer skis. Mary-Ann and I, with our tiny skis and Michelin Man overalls and jackets, looked more like a cartoon of skiers than real skiers. I spent most of that week falling — off chairlifts and rope tows, down the easy slopes marked with big green circles like a Candy Land card. I had a bruise on my thigh in the perfect shape of the tip of my ski. My skiing also looked like a cartoon as I wedged my way downward. Despite all this, I left Mount Snow in love with skiing. Or, perhaps, I was in love with the life around skiing — the sun shining on the white snow, the chili with oyster crackers in the lodge at lunch, the camaraderie, the hot toddies, the late nights dancing with cute boys. The next Christmas, I got my own pair of Rossignol skis. Still short, I admit, but fast. And in the year between when I learned and when I got my own skis, I took day trips to Mount Sunapee and Butternut, skiing all day for $10 with a student discount.
When Sue appeared in my room that December of 1977 and proposed another ski trip during winter break, I didn't hesitate. Our winter break at URI was ridiculously long, well over a month. We could go home for Christmas and stay long enough to satisfy our parents and still go skiing for a week, all before school started again. This time, the trip was to Sugarbush. We would leave our cars at URI, and take a bus to and from Vermont, then drive back home when we returned.
I don't remember much about that trip to Sugarbush. I know I had fun, because I always had fun in college. I think that I graduated to intermediate slopes, relaxed my wedge, became a better skier. I'm sure too, that we laughed a lot and danced a lot and probably kissed a few boys. What I do remember was what happened on our way back from Sugarbush, and for the week that followed.
Lost in conversation on the bus back to Rhode Island (we were always lost in conversation back then because there was so much to figure out and confide and dream about), I didn't realize for quite a while how long it was taking us to get home. But when the bus driver began swearing under his breath, I looked up and saw…how do I describe what I saw? Power lines dangling. Fallen power lines crackling in the street. Trees bending in a harsh wind. Although there was snow on the ground, it wasn't snowing. Instead, an icy rain pelted the bus and everywhere I could see.
Everyone remembers the Blizzard of '78, of course. But that blizzard was still several weeks away from happening. What we were driving through that January night was one of the worst ice storms that ever hit New England. We didn't know that then. We only knew that the bus was slipping and sliding its way back to Rhode Island, arriving at the parking lot where our cars waited for us hours late. I had to crack the ice off the lock on my car door to get inside, and then make my own slow way from Kingston home to West Warwick. I gripped the steering wheel so tight that my fingers ached for hours after I let go. The Beatles' tape in my eight-track played over and over because I couldn't let go to turn it off or change the tape. With that soundtrack playing, I inched my way up Route 1, then 4, then 2, all of them so icy that if I tried to stop, I skidded. Luckily, I was the only one on the road, everyone else no doubt warned off before the storm got so bad.
Around me, the world began to transform. Like one of those kits I used to love as a kid that you add water to a paper scene and slowly colorful crystals appear on it, the trees and fences and telephone poles turned into icy sculptures before my eyes. Branches glistened in the moonlight. The hood of my car appeared to crystallize. At the bottom of Prospect Hill, I abandoned my car and walked slowly home, ice and wind stinging my face. By the time I reached my house, the pompom on my hat was frozen solid.
No hot chocolate or churning furnace greeted me. We had lost power. Everyone had lost power. The house was cold and growing colder. When I spoke, I could see my breath. "Get in bed with us," my mother suggested. I was twenty-one years old, a college senior and normally this would have embarrassed me. But I was cold and tired and still frightened from my drive. I climbed in bed with my parents.
We didn't get our power back for days. Every night, shortly after darkness fell, we climbed into bed in our long johns and mittens and hats and talked for hours. I can still smell my mother's Chloe perfume, my father's Old Spice, and the cigarette smoke they wore on their skin. I can feel our heat even now, and I can still feel our love, as we laughed about our predicament, my father's beer belly jiggling like Santa's. An aunt in Cranston got power first, and invited everyone to her house to eat a hot meal. She made polenta with kale, and my aunts and uncles and cousins all gathered, eating and laughing and basking in, finally, being warm.
As an adult, I worry about winter storms. I worry about everyone being inside somewhere. And warm. I worry about the food in the freezer if we lose power. I worry about getting my car out of the snow. But back then, during that long ago January ice storm, it seemed like a great adventure. As I huddled at night in my parents' bed, talking together in the dark, I didn't feel scared at all. I felt safe, safer than I've felt in years. Because what I know now is that we aren't ever safe, not really. My father died just six months after he was diagnosed with lung cancer. All of those aunts and uncles who sat together eating polenta are all dead too. My own little girl died when she was five — and aren't we as parents supposed to keep our children safe?
Sometimes, in the dark and cold of winter, that sadness and hopelessness can take over. But I say this: When January winds blow hard and snow and ice assault us, think of that ice storm of 1978. Imagine the trees encased in ice. Imagine our entire little state turned into a crystal world glistening in the sunlight. Imagine your family, feeding you, holding you, keeping you warm during the long winter night.