The House on the Rocks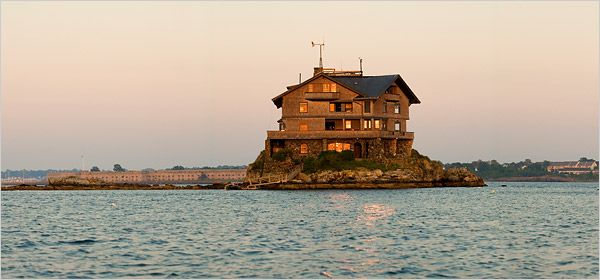 As part of a story I'm working on for the magazine, I spent a good chunk of last weekend out at Clingstone. The huge house — which got its name because it quite literally clings to an outcropping in Newport Harbor — is legendary. Boaters gawk, tourists marvel, and everybody wants an invite. My story won't be out until next year, but here are a few things I learned during my stay:
The current owner bought the house for a mere $3,600 back in the early sixties.
Jackie Kennedy once visited the house.
The house has ten bedrooms and five bathrooms.
It's a longstanding family tradition: any time a tourist boat meanders by, everyone drops trou. Yes, that includes the QE2.
Strangers have been known to just swing by. "Oh, I went to a party here back in the '80s" was one person's reason for coming ashore.
The views from the roof deck are second to none, though please heed the house rules posted on a hand-written sign: "No entry after three drinks or 86 years of age.