The Herreshoff S Class Boat Races On
The fleet will compete in several events in June in Rhode Island.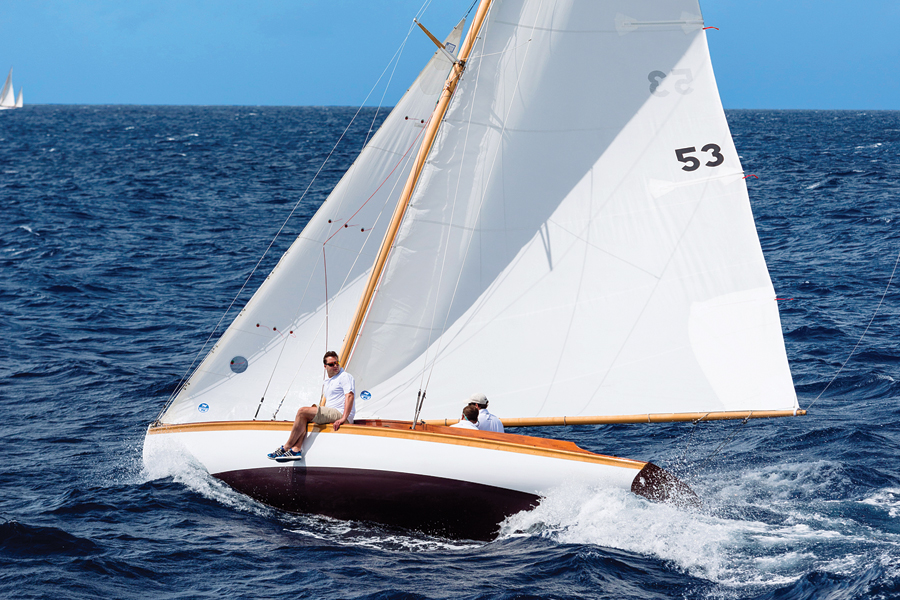 Cory Silken Photography

Designed by Nat Herreshoff in 1919 and built by the Herreshoff Manufacturing Co. (HMC) in Bristol, the vintage S boat is the oldest one-design American sailboat class still actively sailing and racing the original boats in competitive regattas and cups.
"S boats hold an incredible place in history and it was a remarkable design concept," says Alan Silken, rear commodore of the Narragansett Bay Herreshoff S Class Association. "It was the first Marconi rig Nat designed, with a striking curved mast for a more efficient sail shape. The result is a beautiful silhouette that is recognizable miles away."
Many S class events can be viewed from vantage points on shore such as Fort Adams, Newport and Jamestown. The fleet has a full summer schedule, including the NYYC Classics One-Design Regatta, which takes place June 4 and 5, and Bacardi Race Week on June 24 and 25. For a full list, visit nbsclass.org.
Fun Facts
Designed for racing, the Marblehead Yacht Club ordered the first eighteen S boats. In total, ninety-four S boats were built between 1919 and 1941, which kept HMC busy through the Depression.
The boats were built from a range of woods chosen for their different properties; the mast is flexible spruce, the frame is rigid oak and planks are rot-resistant cedar.
Ahead-of-its time design features let it compete against contemporary sailboats, including a more concave shaped keel and rudder attached to the keel for remarkable steering ability.
It boasts a resilient performance in light and heavy air, and it can point better and sail closer to the wind than most boats, while turning on a dime.
A large sail area (426 square feet) is balanced by a 3,500-pound lead keel.