The Good Doctor at 2nd Story Theatre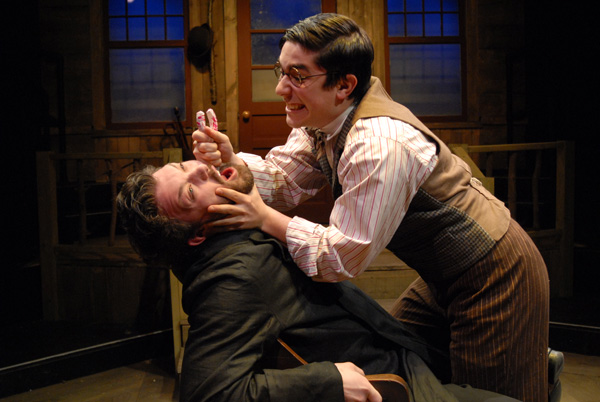 Your high school Chekhov this isn't. The Good Doctor, a slight, bright comedy playing at 2nd Story Theatre in Warren through April 10, couldn't be further away from Uncle Vanya and the Cherry Orchard.
What it is: a succession of brief, bravura performances as a large cast tackles nine skits based on short stories and biographical material from the Russian master, aided by expert direction from Pat Hegnauer and Ed Shea and introduced by Chekhov himself, as depicted in a fictional moment of his later life. The play offers moments of wonderful physical comedy, touching insight into Chekhov's life and the deliciously observed humor found in his earlier writings, without the sense of ruin that characterizes much of his later work, particularly the major plays. Those plays may be more widely read here now, but Chekhov honed his skills writing short stories for newspapers to help support his family, and he's regarded as one of the short-story greats. The Good Doctor, written thirty years ago by Neil Simon, shows why.
It's funny, as you'd expect from Simon – the playwright was staged most recently at Trinity Repertory Company last year in one of his most famous pieces, The Odd Couple – and it's also occasionally sad or poignant. But don't look for deeper meanings or thought-provoking twists in this play, which runs a little under two hours with intermission. While the characters on stage experience minor revelations that still resonate with modern audiences, this isn't a work of any great depth. It's light-hearted literary fun that will have you laughing, and occasionally squirming, in your seat.
The play's name is based on the fact that Chekhov practiced medicine all his life, often treating the poor for free. He slowed down only in his late 30s – he died at 44 – when a diagnosis of tuberculosis meant spending time on one of the country estates his success as a writer allowed him to buy.
A country setting is masterfully conjured in the first moments of the play, with 2nd Story's usual spare but atmospheric set design and lighting (kudos to Trevor Elliot and Ron Allen), as John Michael Richardson strides on stage to show us Chekhov in his writing lodge, musing alone at dusk. It's a quiet but authoritative moment, broken when Richardson realizes he has an audience and addresses it directly to talk about his writing and how his characters force themselves upon him. This opening moves quickly into the first skit, The Sneeze, a hilarious and psychologically acute look at how an aspiring civil servant torpedoes his own career by becoming obsessed over a lapse in etiquette and repeatedly apologizing for it to his boss.
Richardson, the anchor of the performance, is on stage for the entire evening, playing Chekhov as both writer and occasional participant in the sketches that follow. He's as handsome, likeable and literate seeming as Chekhov himself, easily commanding the stage, but his performance left me wondering whether Chekhov, who married late and was notoriously averse to serious relationships, might have been gay – and whether the suggestion by 2nd Story is deliberate or unintentional. Whatever the case, it's impossible not to respond to the twinkle in Richardson's eye as he riffs on Chekhov's famous reluctance to supply a tidy ending: "But wait! There's an alternate ending!" he cries with delight, one that involves a sudden inheritance and complete abandonment of the story's internal structure. Like so much in this play, it's a smart point, smartly made, and played for fun all the way.
Two stand-out scenes in the first half deserve special mention. In The Surgery, dentist Andrew Iacovelli is manic but determined as he clambers all over his much larger patient, played by Nicholas Thibeault, trying to pull out a rotten tooth. It's as funny and cringe-worthy a scene as you'll see – forget A Million Little Pieces, this is much more self-aware – and both actors deliver fearless physical performances.
And at the end of the first half, Jeff Church is unctuously arrogant as Peter in The Seduction, in which the "most famous lover of other man's wives" finally meets his match – the excellent Laura Sorensen – in a deliciously clever denoument. This skit alone is worth the price of admission.
The play runs out of steam somewhat in the second half, although many great moments remain, in particular those that involve F. William Oakes as a con man and Will Valles as an awkward boy who may or may not be the young Chekhov. In all, it's a welcome glimpse at a man who's often known only for his longer, more serious work, but who remains an acute, funny and yet kindly observer of all that's ridiculous in human nature.