The Gift of Oysters
A local farmer grows shellfish deserving of their hefty provenance. Cleaners of the bay, economic powerhouses, the latest in livestock…oysters are also just damn good to eat.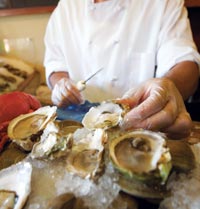 A wild oyster's existence owes much to chance, or perhaps miracles. A free-floating egg and sperm find each other in the vastness of open water, then fuse to form a microscopic larva. For three weeks, this Lilliputian mollusk-to-be floats on summer tides. It feeds on equally miniscule plankton, escapes the predators that would swallow it whole. If it survives to reach the size of a grain of pepper, the infant oyster extends a tiny, nascent foot. It seeks a home.
If shards of shell are within reach, it attaches, extruding a pinpoint of adhesive to stick firm. And like a Roman emperor at bacchanalia, the oyster leans to its side—always the left—recumbent and now forever immobile. It grows, slowly, over several years. In good waters it develops a deep bottom shell, hinged tightly closed with a flattish lid. Within resides a creature as oceanic as life can be, redolent of salt, mineral and algae. Its three-chambered heart beats colorless blood, it breathes as a fish does, and feeds from the water passing through its cautiously opened shell.
Until it is time.
And time it is, this August day, for one oyster—although this one's existence owes much to Perry Raso, twenty-nine, who is standing shirtless under the hot Narragansett sun, midmorning, mid-pond. It's an oyster he has grown from seed in the bins and bags that belong to his company, Matunuck Oyster Farm, which sits on a crescent of the sort of brackish water that oysters particularly like, in this case pristine Potters Pond off the southern arc of Route 1. He's kept it off the sea floor to prevent the flavor from becoming muddy, protected it from sea stars, turned it to help create deeper cupping.
"I can't even count how many times I've touched this oyster over its four years," he reflects, looking at the oyster in his hand. For a moment, his attitude appears as much paternal as it does agricultural. Or aquacultural.
First thing every morning, Raso opens trap doors built into one of his docks, sprawls deftly on beams suspended at water level, and reaches shoulder-deep into submerged bins of baby oysters. From above, he looks like a guy who's dropped his phone off a dock. He stirs thousands of fledgling oysters to maximize their contact with the pond water he pumps around them. He's growing them here, in what he calls the Nursery, to a size that can handle life in the middle of the pond.
After half an hour, Raso boats to the shimmering, aqueous acre that is the heart of his farm. Surrounded by summer homes and pleasure boats, he wades its thigh-high waters to tend his sixty lines, each tethering 100 sturdy mesh bags of adolescent oysters. He scrapes flow-inhibiting algae from the bags because the more water an oyster has access to, the bigger, prettier and tastier it can grow to be. It can be an oyster that fetches ten dollars a dozen at a farmers' market, or three dollars a piece at a restaurant raw bar, an aesthetic prize with a rugged, prehistoric exterior and smooth, white postmodern interior. And it can deliver a rare culinary event—something slick and foreign, tender and buttery, exotic yet down-home. Something sexy. Something raw. One of the very few creatures we eat alive.
And eat them we do, at places like Providence Oyster Bar on Atwells Avenue. "We sell 400 to 500 oysters a week," says manager Brendan Moran, "and they just keep growing in popularity." Locals hold their own against well-known cousins such as Wellfleet, he says, not to mention classic competitors from Canadian waters. Most guests like to try a sampling of the fifteen or so oysters on the menu on any given day, and end up with favorites.
We are hardly the first to enjoy them. Ancient Romans discovered Britons cultivating them, fell in love with the rich taste, and set up their own aquaculture that included feeding oysters wine and pastries. The Romans also made a monetary unit, the denarius, equal in value to one oyster.
Centuries later in North America, the wild and abundant oyster was symbolic to white settlers of riches to come. One of the least-acknowledged Native American contributions to the first Thanksgiving feast? Crassostrea virginica. Oysters.
In Rhode Island, oysters remained a lucrative component of maritime life for centuries. In 1908, Rhode Islanders hauled 1.4 million bushels of live oysters from the water, a catch worth 500 million of today's dollars. But pollution and the Hurricane of 1938 choked oysters out of Narragansett Bay. By 1952 the last farm, Warren Oyster Company, gave up its leases. It would be twenty years before modern mariculture would make its way, slowly, to healing local waters.
And now Perry Raso, who founded his business in 2002 and is also president of the grassroots Ocean State Aquaculture Association, stands in the midst of a revival that combines technology, environmental concerns and old-fashioned shellfishing.
In 2007, the state's oyster farmers sold almost $1.6 million's worth of bivalves, while related industries such as shipping and engineering were worth another $4.3 million; small figures, but growing fast. Renewable energy is untethering maritime farms from landward power grids. Roger Williams University maintains a hatchery while URI offers an aquaculture major. Researchers there work on disease-resistant strains, spurred both by the potential for economic growth and by the fact that the bivalves' natural filtering abilities help clean the bay, restoring habitat for flounder and lobster.
But for Raso, it comes down to this: standing at a plywood table on a float tethered in the center of the pond. With two employees, he hauls up a line's worth of bags, dumps them one at a time on his weathered podium, and sorts oysters by hand. Ready for market? Black basket. Still too small? Back in the bag. Oysters fly through his gloves. A small radio washes the shuffle and clack of the work with
tinny Latino music. He'll be here most of the day.
His cellphone, sealed in a grubby Ziploc bag, rings, and he manages to answer it and talk through the plastic. The sorting rhythm now interrupted, he remembers there's a visitor on the float.
"Time to have an oyster," he says, and pulls a dangerous-looking small knife from his shorts. I know this guy spent his young life diving wild shellfish and working fishing boats. I also know he has a master's
degree in aquaculture science and fishery technology. But right now, as he slips his knife tip between the tightly held, granitey lips of his quarry, gives a hard push to overcome the animal's adductor muscle and pops the shell, I'm reminded of what the ancient guides of bays and inlets must have been like. He's my sea guide, my companion at the first Thanksgiving.
It's been twenty years since my first and last oyster experience at a bad wedding. I take the oyster anyway. I don't avoid it by throwing it to the back of my throat; instead I chew it, and am astonished. It's fresh and firm. It comes on crisp and briney, finishes sweet. I love it.
It's time to claim my seat at the feast.
Eat 'em Now
If you think oysters are good only during "R" months, you're leaning on wisdom from when wild-harvested oysters would be allowed to spawn during the summer. The farm-raised truth is that oysters can be, and are, harvested throughout the year. But during the fall they build up glycogen levels for hibernation, so they're sweeter now than when energy stores are depleted from all that procreation.
Raise A Glass
Brendan Moran, manager of Providence Oyster Bar, says that like all great relationships, your oyster-tipple pairing is about chemistry. Wine, he says, suits the job; its acidity balances the bivalves' low pH. His recommendations:
Plump, juicy Poppasquash Point Oysters from Bristol fall for King Estate Domaine Pinot Gris from Oregon.
Salty, firm Quonset Oysters from North Kingstown go well with slightly smokey Ferrari-Carano Fume Blanc from Napa.
Small but strongly mineral Fancy Gourmet Oysters, harvested from Rome Point in North Kingstown, find balance with Mionetto Prosecco Sergio from Italy.
Other good oyster wines include the classic muscadet from France, which has a light, crisp mineral taste that triumphs, but can be hard to find. Also look for crisp white burgundy and sancerre from France, pinot gris from Oregon, California bubbly and prosecco from Italy. Other good varietals include semillon, chenin blanc, dry Riesling and unoaked chardonnays.
They're All Doing It
Locavores, rejoice. Goodies from these local oyster farms can be found at farmers' markets, restaurants
and specialty grocers like Whole Foods. For more information go to farmfresh.org
Blank Oysters, North Kingstown
Matunuck Oyster Farm, Matunuck
Moonstone Oysters, Wakefield
Ninigret Oyster Farm, Charlestown
Ricciarelli Oysters, North Kingstown
Sakonnet Oyster Company,Tiverton
Salt Water Farms, North Kingstown
Seapowet Shellfish, Portsmouth
Sun Farm Oysters, Block Island
Watch Hill Oysters, Westerly
Windfall Shellfish, Bristol