The Ghosts of Charlestown's Naval Auxiliary Air Station
Spirits of pilots and passengers haunt the deep woods of South County in an area exhumed by a lifelong Charlestown hobbyist.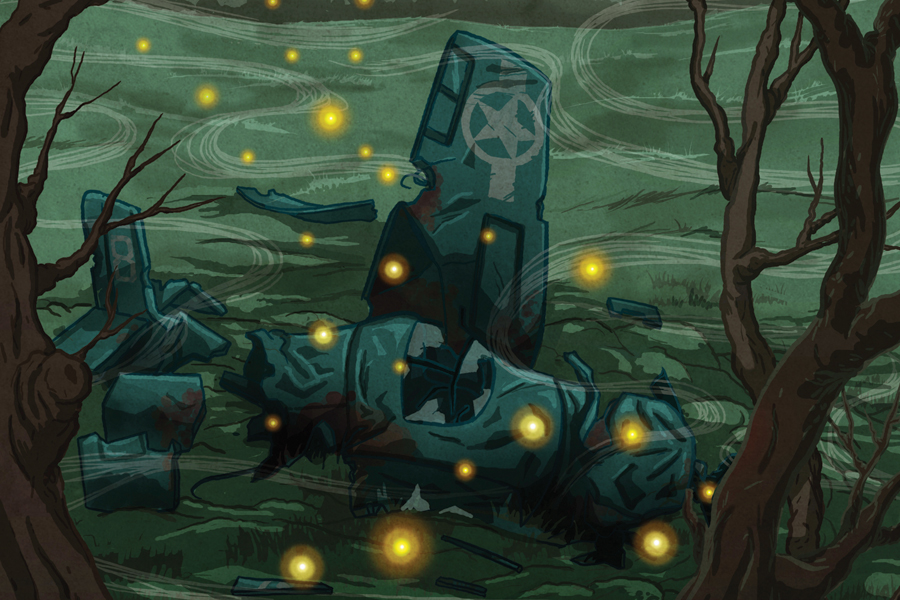 The pilots who took off from Charlestown Naval Auxiliary Air Station were pioneers of night flying, the ghosts of south county but many of them didn't make it. Some of their spirits may still be roaming the woods of Charlestown.
Then the pitch of the engine changed, and Elsa Webster stopped to listen. The plane's throaty roar picked up an octave, then another, rising to a steady, high-pitched whine. Then a thud shook the ground, followed by a black plume of smoke rising from the Streeter Farm barely a mile away.
By the time Elsa got there, ten acres of the Streeters' woods had been charred, and volunteer firefighters were hosing down the embers. She walked to a smoky clearing where the wreckage lay but stopped a couple of hundred feet shy of the crash, her progress arrested by the sight of strips of flesh hanging from black branches.
Some Navy men came and took two ten-quart milking pails from Linwood Streeter, which they used to gather what they could find of the remains of the pilot. According to one pilot who then flew out of Charlestown, it was standard procedure to place what remained of a dead pilot into a coffin with a few sacks of concrete spread evenly to simulate the weight of a whole man. Then the remains were sealed tight and flown home, in this case to Jersey City, to the loved ones of twenty-two-year-old ensign James Gannon.
Although the Navy gathered some of Gannon's remains, it may have left behind his soul. For Gannon seems to be one of the ghosts that psychics say are currently roaming the woods on the late Elsa Webster's property.
Gannon's plane, a Grumman F6F-3N Hellcat night fighter, had gone down in sparse woods on the edge of a sheep pasture. Several years after it crashed, a farmer from the Kenyon section of Charlestown hauled away the tail and a crumpled section of the fuselage to sell as scrap metal.
Nature also took its course. The sheep pasture remained a field, but the woods grew thick around the crash site, obscuring the thin scar that the plane's nose and wings had sliced deep into the sandy soil.
Still, Elsa Webster didn't forget the crash and spoke of it often. In the summer of 1961, her bored fourteen-year-old son, Larry, struck out to find the crash site. A husky, broad-shouldered teen, Larry had a mechanical mind. When he found the site, Larry plumbed its depths with a shovel and sifter. The airplane's engine was twelve feet long and still stuck in the crater. He dug deeper and deeper. Alongside the engine, he found James Gannon's bones.
Larry kept the bones separate from the pieces of metal that he dug up, storing a leg bone, a piece of pelvis and ribs in a large plastic bucket that he kept on the site. He smuggled a fragment of leg bone into Chariho High School to show his biology teacher, who ordered him to take it away. When the Kenyon farmer who had salvaged the scrap metal heard about the bucket of bones from his teenage son, a schoolmate of Larry's, he was furious and took them away for respectful burial.
By his junior year in high school, Larry had hauled 3,000 pounds of airplane parts from the site back to his family's farmhouse, where he piled them out beyond the barn. While most kids had model airplane kits, Larry was working with the real thing. "It was like a giant jigsaw puzzle," Larry says. "I took everything apart. I undrilled every little rivet. I learned how airplanes were constructed."
But Larry's interest went beyond the wreckage. He still had a burning question: Who was the guy flying the plane? "The Streeters couldn't remember the first name," he says. (During college, he tracked down Gannon's identity in death records at Charlestown Town Hall.)
Larry had just about finished studying Gannon's crash site when a cousin told him at a Christmas dinner about another site, this one in the banks of the Pawcatuck River.
Larry spent a summer in diving goggles pulling up parts of another Grumman F6F-3N Hellcat, which hit the river's bed and banks in 1944. He catalogued every part before piling them all in a second heap.
It was the beginning of a collection that now stretches through his property in long, high piles that some think attract the ghosts of those who died in the wreckage.
The pilots who flew from the Charlestown Naval Auxiliary Air Station, including future President George H.W. Bush, crashed a lot. They were pioneers of night flying when radar was in its infancy and flying in the dark was almost like flying blind. Twenty-one planes that took off from Charlestown between June 1943 and June 1944 crashed: almost one wreck every other week.
Other pilots went down after coming out of Quonset Point Naval Air Station. One smashed into a house in Coventry and killed a man's family while he was at work; two plunged into Worden Pond. Another burned down a house in Stonington, Connecticut.
While Larry was still in high school, he found the wreckage of the Curtiss SB2C-4 Helldiver in Worden Pond and hauled it ashore in a skiff. He was careful not to mingle parts from each crash site as he established pile number six.
Then in 1969, he found his Holy Grail: a wreck site in a nearly impenetrable cedar swamp behind Charlestown Town Hall. "That was a hellhole," Larry says of the crater carved by the impact of a Grumman F6F-3 Hellcat flown by a young naval lieutenant named Charles Stimson.
Larry found an airspeed indicator that showed the Hellcat moving at 330 knots when it hit the bog, leaving a watery crater black with oil. The cold spring water and oil staved off decomposition, preserving parts of the body for decades after the crash. "I'm down there yanking on this and that," Larry says. "This whole spinal column comes up, flopping around."
The ejection seat of a young Navy lieutenant is among the wreckage Larry has collected over the years.
By then Larry was a twenty-two-year-old with a mechanical engineering degree and a better understanding of grief. There would be no pranks played with the bones this time. He buried them immediately in solid ground. The airplane parts came home to the growing heaps behind his barn.
Over the years, Larry became an award-winning mechanical engineer, taking home a bonus for a patent he developed while working at the Heidelberg-Harris plant in Pawcatuck, Connecticut, not far from his boyhood home. His father died, his siblings moved away, but he stayed on, taking care of his mother, Elsa, and cultivating his interest in aircraft restoration.
He volunteered at the New England Air Museum in Windsor Locks, Connecticut, where he earned national recognition for his meticulous rebuilding of vintage aircraft. He often used hard-to-find parts from the remains of the sixty wrecks out behind his barn. He also helped charter the Quonset Air Museum, worked to establish a memorial to deceased pilots at the abandoned Charlestown airfield, and has been compiling a database of every air crash that's ever occurred in New England.
Larry retired at age fifty when Heidelberg-Harris left Pawcatuck, devoting his time to his mother and to aircraft restoration. (Eventually, it became illegal to recover government wreckage from crash sites.)
Then he met Patsy, and everything changed.
A mutual friend at Shannock Baptist church knew Patsy and Larry and felt that they just had to meet. They were both in their late fifties, sedentary and lonely; she was a widow, working in food services, he a lifelong bachelor who had retired. They loved each other's company. To tell the truth, Larry's mother never did warm up to Patsy, so the couple put off marriage till Elsa died a couple of years ago.
One April evening in 2008, Patsy looked out the window at Larry walking into the house they now shared. He had been tinkering out in his pile of airplane wrecks. Hovering about his head were a half-dozen plum-sized orbs of luminescent green.
"You got the biggest darned fireflies I've ever seen," she said when he came through the door.
"The problem is, it was April," Larry says, recounting the story. "It was too cold for fireflies."
Patsy did not see the lights every night, but they came often. She could predict the time: dusk, just before total darkness. If Larry was out, then they'd follow him like a trail of lights. They seemed to like Larry because he had taken them all in. ("I've never seen any of 'em," Larry says dryly. "Because if something like that had happened, I probably wouldn't have gone back to the crash sites.")
Late at night, Patsy began to have visions. "I saw a gentleman who showed me how he died. I saw his arm being yanked right off his body. I didn't like that. I saw skin and shards of stuff hanging. Oh, I see flames. I can see flames. The plane blew up."
She told the apparition that she did not like seeing that, and the violent visions stopped. But still, sometimes she'd hear a whispered name: Charlie.
Larry had never told her, but yes, he did have the wreckage of the plane flown by Lt. Charles Stimson, the one that crashed behind Town Hall.
"Oh, Charles is a nasty man," Patsy said, "He's an arrogant jerk."
She'd had no way of knowing it, but Charles' hubris led to the mid-air collision that killed one of his subordinates and himself. While flying back to base, he broke formation to do a barrel roll and came up under an ensign's wing, slicing it and sending them both plummeting to their deaths.
Once, while walking through the wreckage, Patsy spied an H-shaped piece about four-feet tall that looked like a piece of an exercise machine. "That's Jack," she said. And indeed, the piece was the frame of an ejection seat that once held the body of pilot Jack Oliver Snipes, who flew out of Quonset in an F2H-3 Banshee, a jet-powered craft that collided with another Banshee in 1953, raining down wreckage in Exeter and West Greenwich.
"Everyone in the state who was out that night saw that happen, because it was a crystal-clear night," Larry says. "The fireball was visible for fifty miles."
Patsy's correct mention of names and personalities intrigued Larry. He wanted someone else to look into it, and a mutual friend introduced him to Andrew Lake, the founder of Greenville Paranormal Research in Smithfield.
On a cold, moonless night in February 2010, the tires of Andrew's Jeep crunched across Larry's driveway. Riding with him were the mutual friend, Jim Ignasher, and Pamela Patalano, a petite, dark-haired psychic who spent most of her forty-nine years denying what she has finally come to accept as the gift of seeing what others cannot.
Andrew told Pamela nothing about the site they were about to visit. In fact, he says he drove there in a roundabout way so she'd have no idea where she was.
As soon as Pamela's feet hit the driveway, she sensed death. "Is there some kind of graveyard here?" she said. Larry led her behind the barn and through a path between two piles of wreckage.
"Why am I getting water?" she asked Larry. "Did somebody drown in here?"
Patsy and Larry Webster at the first crash site Larry excavated.
On its face, the statement was bizarre — the nearest water was a mile away. But Larry's flashlight beam was then playing over the cockpit of a helicopter that crashed in August 1974, killing Robert J. Oddo, a television cameraman filming the America's Cup races.
"Who's crying?" Pamela said. "Because I'm hearing people crying." She described for Larry a young couple holding hands at the end of the path. Newlyweds, she said. And though those ghosts were not near the tail parts that he had brought back from Massachusetts' Mount Greylock, the wreckage from that mountain had indeed come from the flight of a young pilot and his wife killed on the day of their wedding.
And standing before the ejection seat, Pamela saw a man in a military uniform.
As they left the wreckage piles to return to the house, Pamela felt sick to her stomach. On the grass near the driveway, she saw an American Indian, an adult man on a horse. Nearby arose the images of American Indian women and children, hundreds of them. She did not know that she was near the site of the Great Swamp Fight of 1675.
In the fall of 2010, Andrew received another call from Larry. It seemed there was a disturbance among the ghosts at the Webster home. The trouble had begun that July, when Patsy's teenage granddaughter and a friend came running into the kitchen, breathlessly reporting an apparition on the path by the wreckage. It wore a helmet and had what looked like an elephant trunk protruding from its face. It appeared whole except that it ended at the knees and was not connected to the ground. It hovered next to the ejection seat. To Larry, the description sounded like a jet pilot wearing his breathing apparatus.
A couple of weeks later, on a still summer Sunday, two teenage boys that Larry had hired to clear some brush also ran panting into the kitchen. They had heard someone banging in the crash pile, a metal-on-metal clash that was loud enough for Patsy to hear from the house. They investigated and saw a figure that they described as a black shadow dart into the darkness of the woods.
Patsy walked out to the pile. She heard a whisper, something that told her the ghost of Jack Oliver Snipes was deliberately menacing the kids because he was upset. Larry was about to restore an old F2H-3 Banshee, the type of plane that lit up the sky over Rhode Island the night that Jack died. Larry planned to use the frame from the ejection seat in the restoration. If that seat went, Jack would have to go with it.
Patsy told Larry: Jack is upset. You cannot move that seat.
Larry thought it over. He learned in September that the Banshee jet he was restoring already had an ejection seat — he didn't need Jack's. But again he was intrigued by the whole scenario, and he called Greenville Paranormal to have Pamela revisit the site. This time, she came during a full moon in October.
Pamela felt as if there were more souls in the wreck pile this time. She saw the honeymooning couple, the bride in a light-blue dress that cinched at the waist.
A military pilot named Oscar was there, a name that's not on Larry's record of deceased pilots. There were about six military men, and the semi-transparent form of a man in uniform pacing back and forth in front of the ejection seat.
"Jack was really upset," Pamela says. "He seemed to be in charge. He was almost in tears, which was really odd, because when you see people on the other side they're not usually real emotional."
In a voice heard by no one else, Jack told her, "If I leave them, there's nobody to protect these people."
"It was a pretty long conversation," Pamela says. "Not so much a verbal conversation, mostly a telepathic kind of thing: 'If you take this seat away, it's going to cause a lot of problems out here,' specifically with the pukwudgies."
The mention of pukwudgies did not surprise Pamela. On her first night at the wreck pile, she had recorded video with a flip camera. On reviewing the footage, she saw a tiny gnome-like figure, its face half in shadow. On the lit side, she could see a long proboscis, an elfin ear and a round brown eye. She had figured this to be a pukwudgie. They are spirits, she says, that the Wampanoag Indians found were prone to pulling evil pranks.
"Right now, it's pretty peaceful," Pamela explained. But if Larry removed Jack, the leader of the military pilots in the wreckage, the pukwudgies might gain the upper hand.
When Larry heard this, he told Andrew and their mutual friend, Jim, that there was nothing to worry about: The Banshee jet he was restoring had arrived with its ejection seat intact. He would not need to take Jack's.
Later that night, Andrew, Jim and Patsy headed out to the wreck pile to tell Jack the news. Pamela could not come. The trio headed into the woods at sunset. Patsy saw a trail of orbs and said, "Here come the pilots."
Though Andrew is not a medium and could not see the orbs at first, he stepped forward. He said that Larry would not be taking the seat. And he thanked them for their service, for giving their lives.
Then Andrew, Jim and Patsy all saw these bluish-pinkish lights pulsating, opening and closing like jellyfish swimming. "They were like in a formation coming at you," Andrew says.
Then the lights, pulsing three abreast with their leader just off to one side, disappeared.