The Freshman
He's new to Washington. He's in the minority party. And he's blamed for leaving Providence in total fiscal shambles. Can Congressman David Cicilline shake the past, make a name for himself in D.C. — and, in the process, bring home the bacon to Rhode Island?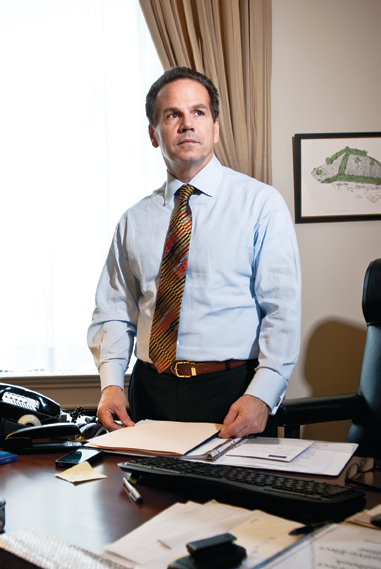 For a moment, Congressman David Cicilline thought it was some sort of mistake. The former Providence mayor was to be honored — along with such boldfaced political names as Tom Harkin, Rosa DeLauro and Haley Barbour — with a State and Local Leadership Award for leveraging national service programs to meet local needs.
Cicilline wasn't entirely sure the honoring group, Voices for National Service, hadn't accidentally called the wrong office.
"I'd only been in Congress about thirty days," Cicilline told a boisterous crowd gathered in an ornate hall in Washington's Union Station in mid-February. So he had his staff check it out. "I wanted to make sure this was, like, a legitimate organization," he said, drawing laughter.
It wasn't entirely paranoia or false modesty that led Cicilline to raise the question. In the high school pecking order of Washington's political world, Cicilline ranks pretty low. He's a freshman, in the minority party, from the smallest state in the nation. Worse, he got elected in a year when the opposition Republicans scored stunning victories, not only taking control of the House but sending a strong message to classic liberals like Cicilline. The level of discourse and civility in the Capitol is at a modern low, tough for any newcomer hoping to make a difference.
Add to that a particular burden for Cicilline: He replaced Representative Patrick Kennedy, who (aside from an obvious in with the late and very powerful Massachusetts Senator Edward M. Kennedy) was on the House Appropriations Committee, a boost for the Ocean State in getting federal dollars. Cicilline, tasked with helping Rhode Island recover from double-digit unemployment and a post-industrial economy, faces a House that has banned earmarks for local projects and is determined to make deep budget cuts in programs dear to Cicilline's heart.
Even as Cicilline was settling into the work of a freshman congressman, he was hit — hard — by a bipartisan chorus of complaints that he had left the city of Providence in a financial mess before heading off to Washington. In early March, a city fiscal review team dropped an economic and political bomb, concluding that Providence had a "staggering" $70-million deficit this year and a $110-million structural deficit for next year. "I thought we were maybe a category-three hurricane," the new mayor, Democrat Angel Taveras, said. "This is a category five."
Teachers were fired, and some schools were closed. Taveras himself took a ten-percent pay cut and eliminated thirteen non-union city administrators. More cost-cutting was expected to close the gap. Unlike the federal government, struggling with massive debt and a budget deficit of its own, states and localities are required to have balanced budgets, meaning Taveras does not have the luxury of running a deficit while the economy struggles its way out of recession.

To read more of this story please visit your nearest newsstand or click the link below.