The Freshman
On the eve of a reelection bid, Central Falls' twenty-something mayor, James Diossa, is already facing a day of political reckoning. Will voters send him back to city hall, or banish him to the wilderness?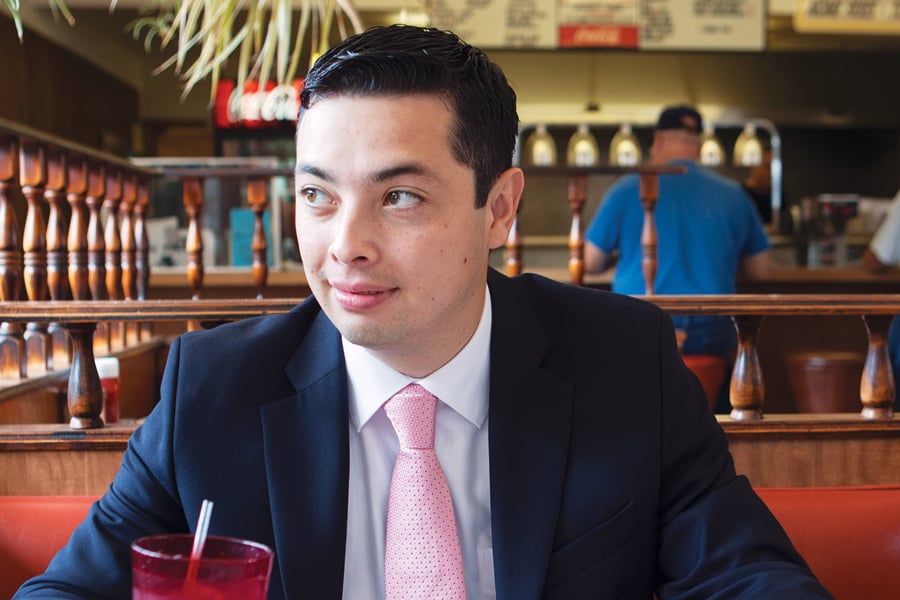 James Diossa likes hoofing it to work.
His home, a handsome cape with a neatly kept yard and an American flag that hangs from the porch, sits on Central Avenue, a quiet area of Central Falls. Most of the houses here were built back when the city was filled with immigrant mill and factory workers who toiled to make a good buck.
But this twenty-seven-year-old with scant political experience — the state's youngest mayor, and the youngest person ever to be elected to Central Falls city council back in 2009 — is tasked with guiding a diverse, troubled city of one square mile and 19,000 people out of receivership and bankruptcy.
Besides the fiscal mess he inherited, Diossa needs to rid Central Falls of the air of corruption of his predecessor, Mayor Charles Moreau, who is serving a two-year sentence in federal prison on a fraud conviction. Moreau still has his supporters lurking in city hall; some DPW workers, municipal office workers and at least one member of the city council were all Moreau backers.
Diossa says he particularly likes to walk to work because he gets to talk with residents who are not bridled by politeness or political correctness. They'll give him their assessment of just how well, he's doing — or not. His look is business casual; black suit, dress shirt open at the collar, no tie. Head down, hands in his pockets, his gait is slow and determined. He hardly needs to look where he's going. He grew up here, and knows the streets and the people as well as, or better than, anyone in this city.
Just two blocks down, on Dexter Street, Diossa gets a good dose of that unbridled assessment he claims he cherishes.
Sparky's is a favorite morning haunt of his, a diner and wiener joint where the booths are crammed with the breakfast crowd. He's not fifteen feet inside the place when he's accosted by a vocal constituent.
"I'm very disappointed. That vote for gay marriage, that's something sacred," complains an elderly woman with a gold cross around her neck. Diossa is Catholic but doesn't wear his religion on his sleeve. He knows faith plays a big part in the lives of city residents, who are overwhelmingly Hispanic.
The two women with her nod in agreement. Diossa, who is vocal in his support of gay marriage, smiles and nods. "It's a controversial issue. I know how you feel, I understand."
But the look on his face telegraphs that he'd rather walk on hot coals than address these women of a different generation whose religious beliefs are unwavering. She warns that she's not sold on the new mayor. Will she vote for him in the upcoming primary this fall? She points an accusatory finger: "We'll see what happens."
At the next table another woman barks, "I wanna know how you have time to come over here when you should be at city hall?" It's 8:15 a.m. Diossa still wears an uncomfortable smile. It's his way, it seems, of avoiding a confrontation. He nods to the woman and makes his way to his own booth, where he orders his favorite: ham, egg and cheese sandwich with a hot chocolate. He settles in and seems relieved to have made it through that morning's gauntlet of reality checks. The primary election in October — a referendum really, on his ten-month stewardship of this troubled city — will either catapult, or collapse, his political future.
James Diossa's parents came to Central Falls from Medellin, Colombia, in 1983. His father still lives here, and has worked for the Osram Sylvania electric company for the past twenty-eight years. His parents separated several years ago and his mother returned to Colombia.
Diossa graduated from Central Falls High School, and went on to study at Becker College in Massachusetts. He majored in criminal justice and intended to become a police officer, but got interested in politics when he enrolled in a political course that focused on state and local government in the Bay State. Professor James Belepedio taught the class.
"He was above average but not brilliant," Belepedio remembers. "He worked hard and was very interested."
In the summer of his senior year at Becker, Diossa interned for Democratic Senator Sheldon Whitehouse, where he says he got the bug to run for office someday.
After graduating with a degree in 2009, Diossa worked for the College Crusade of Rhode Island, a nonprofit organization that works to reduce the dropout rate of high school students. He ran for city council that same year, and ousted one of former Mayor Moreau's supporters. Soon after settling into his city council seat, he reached out to Moreau, offering an olive branch of sorts. Diossa made an appointment to visit the mayor, and showed up on time that morning.
"I took the day out of work but when I got to city hall, his secretary told me I wasn't on his schedule," Diossa says with a grin. "When I told the secretary I'd wait, she said the mayor had to take his dog to the hospital."
Undeterred by Moreau's brush-off, Diossa worked hard to learn the ropes of being a politician in a city known for hardball politics. Moreau ruled Central Falls by keeping loyalists on important boards and commissions and punished his adversaries if they dared to buck city hall. He also took care of his cronies. In fact, it was the awarding of a lucrative contract to a friend to board up abandoned houses that lead to Moreau's federal indictment on corruption charges and his political demise.
"I thought to myself, I know the city needs fresh blood, it's time to lead," Diossa says. "I figured if I really cared about the city, I have to step up."
Last December in the mayor's race, Diossa defeated the city's former police chief Joseph Moran, a close ally of Moreau, with 62 percent of the vote. He says he felt his three years' experience as a city councilman, and his desire to make his hometown a better place to live, gave him enough confidence to make the run. Now he has the unenviable task of bringing the bankrupt city back from the dead.
In the last few years, Central Falls has made headlines that could discourage even its most fervent supporters. When the local school board fired, then rehired, the entire faculty at Central Falls High School in 2010, it received national coverage and prompted public comments from the president's education secretary, Arne Duncan. The same year, the city had a budget deficit of about $6 million, and no way of paying approximately $80 million in pension and health benefits for police and firefighters. It went into receivership, and by August of the next year became the first municipality in Rhode Island to declare bankruptcy. "Central Falls Bankruptcy Casts Shadow Over Rhode Island Pensions," Bloomberg News boomed.
The receiver made drastic cuts in city spending and personnel. This spring, Diossa submitted his first budget. It called for $16.7 million in spending along with a 4 percent property tax increase as called for in the Debt Adjustment Plan, which was approved by the federal bankruptcy court.
Although Central Falls recently emerged from bankruptcy, William Benson, the council president, is skeptical about Diossa's ability to revive the city and manage it effectively. "I think his inexperience and youth will hamper him. The city is made up of old-timers," Benson says. The council president does say, "He's doing his best. I don't agree with everything he's doing, though."
Diossa is well aware of the lingering impression of municipal corruption from the Moreau years. He says he keeps "an open line of communication" with the city council president, something Benson agrees with.
But Benson says Diossa can have all the good intentions he wants; making real progress is another thing. "He's going to have to work two times harder to get half of what he wants," he says.
The mayor says his biggest challenge, however, is not dealing with those so-called old-timers. Rather it's returning Central Falls to its glory days of manufacturing and a place that residents can be proud of.
"Building trust with city residents and business owners and trying to get people to invest in Central Falls, and making the schools better are the issues I'm most concerned with," Diossa says.
He points to the open space in buildings that once housed busy mills. He'd like to get new businesses, including those in the arts community, to take a look at moving into those spaces, much the way the arts community found a new home in neighboring Pawtucket.
Diossa relies heavily on mentors to help him learn how to become an effective leader. Two people he turns to for advice are Providence Mayor Angel Taveras and First District Congressman David Cicilline.
"We talk about different things, issues that are confronting him. I think he's honest, smart and thoughtful and a good listener. He will listen to different points of view," Taveras says. The Providence mayor says he will be supporting Diossa for reelection. "I think he has a good case to make."
Congressman Cicilline talks with Diossa on a regular basis and has high praise for the young leader of the smallest city in the state. "I think Mayor Diossa is not afraid to ask questions. He cares deeply about his city and he's doing what needs to be done to reform the government of Central Falls," Cicilline says.
One political observer says Diossa is smart to look to mentors like Cicilline and Taveras for help, encouragement and advice on running a city.
"He's making alliances with politicians both in and out of the city," says Scott MacKay, a political analyst and columnist for Rhode Island's public radio station, WRNI.
And MacKay says Diossa has to "find some friends among the old [Moreau] crowd, without giving too much away."
Diossa's personality is hard to penetrate. He is soft spoken and chooses his words carefully, sometimes almost too carefully. He seems modest, but at the same time exudes self confidence in his ability to turn his city into a model urban landscape where new businesses are welcome and the education system is one of the best in the state. At the same time, he seems to have distaste for revealing much about himself.
Ask him, "What makes you tick?" and he shrugs his shoulders as if to say, "Why is that important?"
His social life is not exactly on par with Charlie Sheen, but he likes to schmooze at political and social events. In June he joined the Rhode Island delegation at the annual Puerto Rican Day Parade in New York City. He regularly rides on patrol with his police officers and attends political events. His Twitter feed offers regular updates on local goings-on. On June 14, he tweeted several times from the launch of the state's first urban camping ground on the banks of the Blackstone River, complete with a photo of s'mores toasting over a fire. He and others had worked on the project for three years, although one news account reported that Diossa had never camped in his life.
"I read, mostly political books and I like to dance once in a while at local clubs," Diossa says almost apologetically. He says his political idols are "JFK and Nelson Mandela."
He says he doesn't really have any hobbies, and doesn't even have much time for one of his true passions, soccer. (He was a star player at Central Falls High School and led his team to its first state championship in more than twenty years.) He does have a dog, a golden retriever named Ella.
One person who knows Diossa better than most is his chief of staff and confidant, Sonia Grace. She sat on the Central Falls school board while Diossa was a city councilman. Grace is a Brown graduate with a degree in international relations.
She not only runs his office, but, as his only staff, is also his secretary and sounding board. She sits alone at a desk on the second floor of city hall, just outside the mayor's office, which is spacious but short on the usual pictures with political celebrities, awards, citations or family photos. "He's young, he's learning and getting better every day," she says.
Diossa is easy to work with, Grace says, but his best attribute is his willingness to listen.
"He's very clear about respecting other people's accomplishments and opinions," she adds.
Grace says Diossa is very direct as a boss. He is clear on what he wants but "I feel I can be open with him." He's also sensitive to her personal needs.
"He understands I have a family. If there is an event on a weekend, he'll tell me, 'It's a weekend, it's a family day. You don't need to be here.' "
She admits she doesn't know much about him personally. "I respect his privacy. I don't need to know. I know he has very close friends he sees often, and he misses playing soccer."
After Diossa won his decisive victory last December, there was an immediate buzz in the political community about this Democratic newcomer. He seems to have it all. Young, smart, Colombian roots and a burning desire for public service.
"He represents the new Central Falls," says WRNI's Scott MacKay. "He could do well if he decides to run for a statewide office someday."
Edwin Pacheco, the former chairman of the state Democratic party, says Diossa has the support of many of the state's leading Democrats, and if he decides to launch a statewide campaign, he could do well — depending, of course, on his continued success in Central Falls.
"He's able to reach out to folks across the state and figure out best practices. He's demonstrated a passion and commitment to leading Central Falls and has surrounded himself with well-minded people to advise him," Pacheco says.
Some say, however, Diossa's youth and inexperience, not to mention his reelection bid this fall, after being in office for only a few months, will make him a short-term political star who will implode under the burden of fixing a broken city.
"His lack of experience works both ways," says former Central Falls Mayor Thomas Lazieh. "His heart is in the right place but he lacks the historical understanding of the city to make necessary changes that are needed to move it forward."
But his supporters say he's an up-and-comer in the party, someone who can appeal to the rapidly changing ethnic balance in Rhode Island, as well as traditional Democrats who like his working-class roots and blue-collar values. One person who views Diossa's age as a positive is Mario Bueno, the executive director of Progreso Latino in Central Falls.
"He brings some youthfulness, a fresh perspective with both the school system and the nonprofit community," Bueno says. "He has the skills, because of his work on the city council, to be a good mayor."
Diossa, himself, puts a damper on his perceived rising-star status. "I don't see politics as a career," he says. "Idealistically, who wouldn't want to be in Washington, but my mind and heart are here in Central Falls. I can't move from Central Falls until I make it great again. I can't even have an idea of another office."
Besides declining the use of a city car and cell phone, Diossa voluntarily took a 10 percent pay cut when he took office and makes about $64,000. He is not wealthy and lives a modest lifestyle that is compatible with the residents he serves. He seems to have a real love of his native city, and says he will always consider Central Falls his home, no matter where life takes him.
Outside city hall, two adults and several children stuffed in a Volkswagen van recognize Diossa, who's made his way to the office. He stops in the street to chat. For the next five minutes, the mayor and the people in the van exchange pleasantries in Spanish.
"Hola, Alcalde, como esta usted esta manana?"
"Estoy bien…como esta su familia?"
"Muy bien, muy bien, Alcalde."
With a Hispanic population of more than 60 percent in Central Falls, mostly Colombian, Diossa has a distinct advantage in connecting with this growing ethnic group of voters.
In three short years, his convictions about politics, government and his new job as mayor reflect an understanding of how lofty aspirations can be tempered by the real world.
"My level of idealism was even higher when I got elected to the city council," he says. "Then I got the reality check."
Diossa turns and climbs the steep stairs to begin another long work day in the unsettled political landscape that he is trying to tame. For a twenty-seven-year old mayor with little experience, and a tough reelection bid staring him in the face, it will be no small task.