The Fight for Aquaculture in Rhode Island
Will a "not-in-my-backyard" mindset sink our oyster, kelp and scallop farming industries?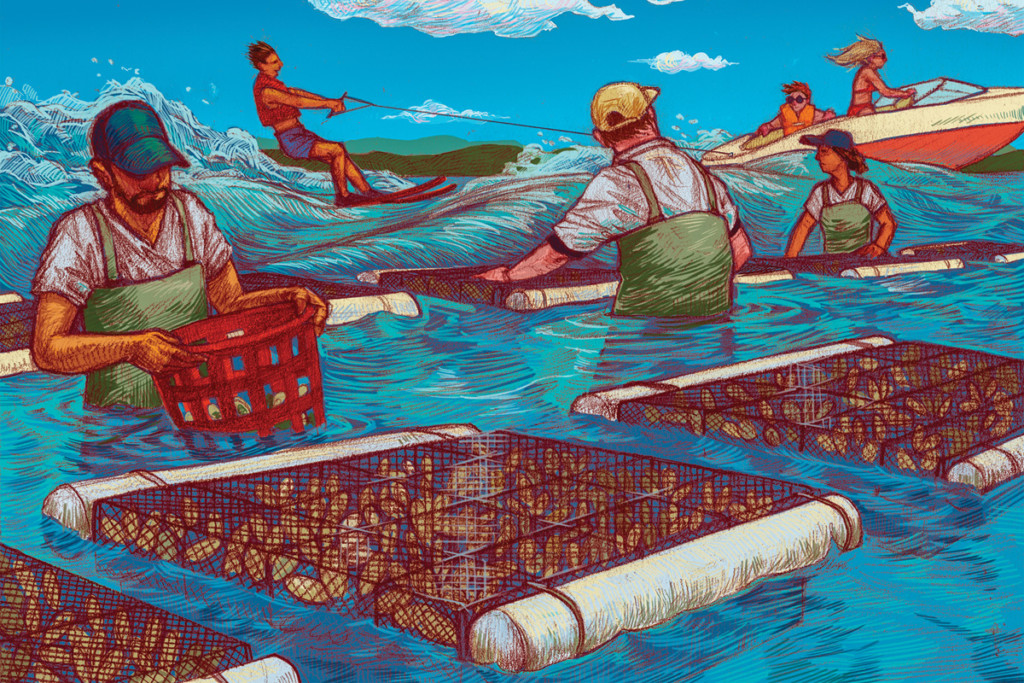 Last September, Perry Raso, owner of the seven-acre Matunuck Oyster Farm and the Matunuck Oyster Bar, proposed to farm three acres of Potter Pond in South Kingstown to improve his chances of raising scallops. Finding the right spot is complicated; it has to be deep enough to ensure a successful crop and dead enough to avoid objections from coastal regulators and users.
Raso thought Segar Cove, a western annex off the long, skinny pond, was perfect. His application made it through the first stage of the process — an initial determination from the Coastal Management Resources Council (CRMC) that the site is suitable. But the proposal hit significant snags on its way to a final decision. The Shellfish Advisory Panel did not object, but the South Kingstown Waterfront Advisory Commission, which guides the Town Council on coastal activities, unanimously did. 
As proprietor of what is arguably South Kingstown's best restaurant, Raso, a soft-spoken, self-effacing man, is the state's most visible symbol of aquaculture. Each year, he harvests a million oysters. Many of them are consumed at the Matunuck Oyster Bar, a perpetual swirl of diners no matter the season.
But the application file had thickened with letters of objection. One March evening, Raso presents to the Rhode Island Marine Fisheries Council, an advisory group considering the application's impact on commercial and recreational use of the pond. Most of the thirty people crowded into a classroom at the University of Rhode Island's bay campus are not here to cheer Raso on.
"There are not many places you can go waterskiing, wakeboarding or power boating. It will put a lot of those uses in danger, and someone is going to get run over, as you squish people in a heavily used water body," says David Latham, a New York resident who summers on Potter Pond and helped organize the protest. "We want aquaculture, but not here."
As many are quick to point out, it isn't personal. Everybody loves Raso and his restaurant. They just don't want him to grow his locally grown seafood locally.
"When I started in this industry, everybody was rooting for the farmer," Raso says. "I don't sense that anymore."
Aquaculture in Rhode Island is often lauded as a success story. While the main crop is oysters, farmers are also raising kelp, hard-shell clams and mussels. In 2017, nearly 296 acres were under cultivation, producing more than $5.7 million in products. 
But it is an industry at a crossroads. New technologies that bring shellfish farms up from the bottom to the water's surface for more efficient production are butting up against the recreational interests of waterfront property owners and other users. The result: regular and robust conflicts that threaten the industry's growth — even as Rhode Island oysters hit new heights in the marketplace.
"There is a high demand that consistently outstrips supply," says Graham Brawley, manager of the Ocean State Shellfish Cooperative, which markets and distributes mostly oysters for fifteen farms. This month, the cooperative will ship 80,000 to 100,000 oysters a week to restaurants up and down the East Coast and as far away as Los Angeles. "From April through September, it's hard to get enough oysters, which is a great problem to have."
People have been harvesting Narragansett Bay's shellfish for 2,700 years. Regulated aquaculture began in 1798 with the first oyster leases, but the golden age of oyster farming didn't dawn until a century later. Connecticut investors seeking leases in Rhode Island waters after a bad season in their own backyards transformed a sleepy sector into the state's third-largest industry. By 1910, more than 20,000 acres, or 22 percent, of the coastal ponds and the bay were under lease. Shucking and packing factories crowded the waterfront. Steam ships moved 1.4 million bushels out of the bay to points south.
But its glory was short-lived. The invention of the flush toilet, the effluent from the metals-plating business and Providence Gas Works and other polluters drove out the oysters. The Hurricane of 1938, the Great Depression and World War II devastated the shucking houses, oyster prices and the labor pool, respectively. The last of the giants, the Warren Oyster Company, closed in 1954.
"The value of oysters back then, if translated into today's dollars, would be $200 to $300 million a year in production," says Michael A. Rice, a URI aquaculture professor who has written a history of oyster aquaculture in Rhode Island. "Right now, our production is one-200th of what the production was." 
The industry had all but disappeared when Robert Rheault waded back into the oyster business to general hostility. In the late 1980s, his lease application to farm in Point Judith Pond drew 600 letters of opposition. The proposal plodded through fourteen hearings before several state agencies over two and a half years. 
In 1996, state representative and then-CRMC member, Eileen S. Naughton, spearheaded an effort to coordinate the permitting process and establish the CRMC's oversight. Under a more streamlined regulatory scheme, the number of farms has nearly tripled from about twenty-five farms in 2007 to seventy-three in 2017, according the CRMC's latest aquaculture report.