The Eddy
Cozy and tucked away, the bar is front and center.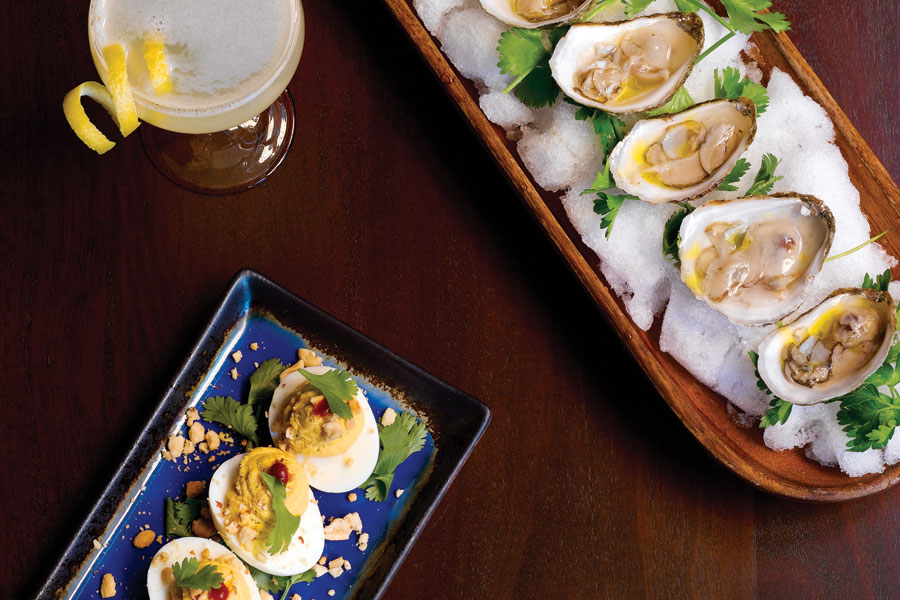 Cuban sliders paired with a Brooklyn cocktail.
95 Eddy St., Providence, 831-3339, eddybar.com. Not wheelchair accessible. Street parking. Capacity Thirteen at the bar, another two dozen at the perimeter of the room. Vibe European. In the good way. Prices $4–$12.
The Eddy's physical appearance may be easier to describe than its clientele — and even that ain't so simple. A small space tucked onto its eponymous street, the bar feels like a Swedish cubbyhole, both sleek and organic. With thirteen seats at the bar and a handful of tables in corners, it's hard to get into trouble at the Eddy — though intoxicated antics aren't necessarily frowned upon. The biggest surprise given the subdued exterior is what lies within: a surprisingly theatrical element that plays off the tall wood walls and a framed jetliner that dominates the entire back half of the room.
Bartenders hold court in the center of the U-shaped counter and though they're often clad in worn flannel shirts, the mood is reminiscent of Tom Cruise's Brian Flanagan. Backlit by an array of colored light, cocktail shakers are tossed and hammered in percussive fashion, while strips of lemon peel are twisted onto glasses with furious exactitude. Amid rows of test tubes filled with bitters, it's tough to figure out if this kind of mixology is artful or scientific but it's indubitably entertaining.
So, too, for the bartenders, who output a couple of dozen drinks before regulars call out their names and everyone's doing shots in unison. The Eddy is a party whether you show up or not, replete with the requisite couple talking too loudly at one end of the bar and the always sullen solo character at the other, sifting through Facebook friends to see if any of them are worthy of his Friday night.
Impossibly, drinks manifest all of this drama in a single sip. Glasses are small but they're loaded: Islay Mist scotch, Bigallet China-China Amer liqueur, Bols Genever, Mahia fig spirit, Lustau Brandy de Jerez, Zucca Rabarbaro Amaro. The list goes on. And though the components sound flashy, the Eddy's cocktails are ripe and remain interesting even when you're on your third. You can always order a glass of wine but the pickins are slim (no more than a dozen) and all that happens is that the vino gets unceremoniously poured in a glass. (What's the point of acting the straight man at the circus?)
Food can't help but play a peripheral role but, frankly, who cares? Anything more than appetizer dishes would be like carrying a whole turkey around the annual office party. Deviled eggs (sometimes with bacon — bonus!), salty silver dollar-sized cod cakes, Cuban sliders and doughy pretzels with maple butter are nothing fancy (and occasionally fall toward mediocre) but everything is just enough to whet the appetite for more booze. Mission accomplished. It's what the Eddy does and does well: put together an intimate house party where everyone seems forever young but are capable of covering the tab. Bully for you, as you'll want to invite the gang back next week. This time on you.
Downcity bars, each with its own vibe and a menu to match: Flan, Local 121
Catching up at the bar at the Eddy.