The Dorrance
At the Dorrance, the farm-to-table dishes are meticulous and the surroundings are spectacular. The challenge is ensuring that one doesn't overwhelm the other.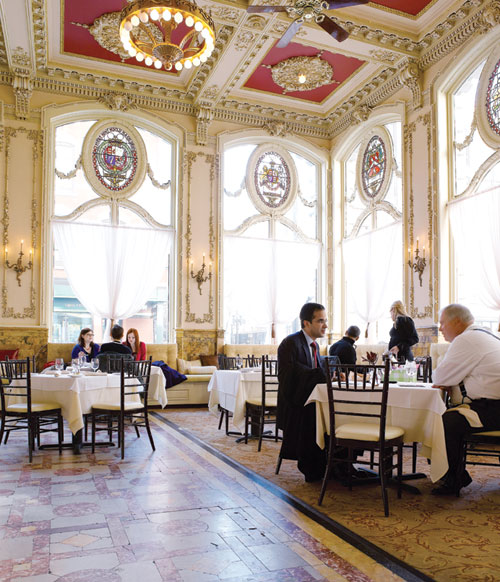 The Dorrance
60 Dorrance St., Providence, 521-6000, thedorrance.com. Hours Open Tues.-Sat. for dinner. Reservations recommended. Wheelchair accessible. Valet parking. Cuisine Modern American, a.k.a. it came straight from the farm. Capacity 200-plus. Vibe Multiple personalities. Prices Appetizers $6–$11, entrees $16–$22, desserts $9. Karen's picks Duck leg rillette, Peruvian ceviche, roasted meats, dessert.
Key
Fair
Good
Very Good
Excellent
Half-star
Finding the right concept for 60 Dorrance Street isn't so different from decorating your first post-college home. You want the transition from unemployed to be seamless: You'd like to have your twenty-something friends hanging out on wing chairs, while drinks perch urbanely on the granite countertops.
It's got to be daunting to turn an impossibly ornate and nearly cavernous building into a lounge. Formerly the Federal Reserve, the Dorrance still exudes affluence on an intimidating scale. Molding creeps languidly up the twenty-five-foot walls, coming to rest on a vinous ceiling that's surrounded by endless yards of drapery, accents of ceremonial brass and enough pendant bulbs to evoke La Scala. Hell, it's downright nerve-racking to think about heating the place. And in that sense, the natural fit might be leather club chairs, a cigar room and an infinite stream of sixty-dollar steaks bleeding majestically on porcelain plates. That is, if there were a 1980s brokerage firm across the street and steakhouses weren't already a culinary monopoly in downtown Providence.
In the end, owners Regina and Jean Lester settled on a farm-to-table approach with Ben Sukle, previously of La Laiterie, heading the kitchen. It's an unexpected pairing in that diners are so transfixed by the architectural elements that it's easy to overlook the aesthetic detail and complexity of Sukle's plates. In a sense, it's the curse of a wedding venue: No matter how exquisite the food may be, guests are so busy making cocktail talk, scoping out the dance floor and people-watching that culinary flourishes often go unnoticed. And there are a lot of them here.
While the Dorrance is brazen in its presentation, Sukle's artistic obsession hovers around the atomic level. His plating is so precise, his ingredients so purposely chosen, his presentation so delicate that even an aficionado could learn a thing or two about gastronomic fundamentals. And herein lies the essential paradox of the Dorrance: The physical space is sprawling but the dishes are meticulously carved.
There's a geometric sensibility to everything, but one tinged with organic life. Molded wheels of duck rillette ($11) are served with circular slivers of heirloom apples, batons of white turnip, bright pickled turnips and small wedges of honeycomb. Such a dish manifests Sukle's approach, which begins with tradition but refuses to stay there very long. The rillette is reminiscent more of breakfast sausage than the adipose-laden variety one expects, but is still compelling to eat and beautiful to behold. Ceviche of fluke ($6) with chilis and tomatillo is vivid and playful but, again, mature on the plate with translucent slivers of fried sweet potato and a shower of microherbs. Even the rare vegetarian plates are dramatic: roasted anemone-like maitake mushrooms ($13) sit in a puree of black garlic with large triangles of dried preserved lemon cutting through the richness of the dish with electric acidity.
Though the kitchen may call the cuisine "high-end casual," there's really nothing laid-back in the menu and, when it does wander into informality — duck liver mousse on grilled bread, for example — it doesn't hold up as well as the staples. Sukle and his sous chef, Edward Davis (also from La Laiterie) hope to enlighten this audience whether their palates are simple or sophisticated, and that's certainly their prerogative. Not everyone will call crisped pork shoulder ($20) with a viscous and bold watercress puree their go-to dish. But its finely carved meat, flamboyant green sauce and sweet pressed apples allows diners to abandon what they know in favor of something slightly more audacious.
Sometimes, however, the craft of the meal outweighs the flavor, particularly with meats that are artfully executed but downright small. Roasted chicken leg ($16), with its glassine skin, is barely more than four bites and the subtle soubise (an onion-tinged bechamel) masks much of its natural seasoning. The pebble-sized radishes on the side, on the other hand, are so fresh you can smell the soil coming off them and so precious that you almost want to leave them untouched on the plate. Almost.
The better news is that, despite the contradiction between edifice and edibles, there is a culinary camaraderie here. Jesse Hedberg, who manages the bar, is as obsessive as the kitchen staff. Cocktails are served Cirque du Soleil-style (the shaking, the throwing, the contortionist pouring!) and have a depth not found in many modern drinks that choose to disguise as much (or as little) alcohol as possible behind superfluously sticky syrups. It can be difficult to pair Hedberg's concoctions with Sukle's food, but it's easy enough to spend an hour at the bar before sitting down to dinner. There are several sweet varieties, such as the Apropos Barbados, rum and brandy with apricot jam , but the savories — which draw flavor from sesame, cucumber, dandelion and burdock — provide conversation in spades.
But more than Sukle or Hedberg, pastry chef Courtney Crudden ties together the epically ceremonial space and the innovative fare. Her desserts are fanciful on every level: awash with sweetness, tinged with salt and as visually charming as the preceding courses. A molded brick of lemon cream ($9) is paired with poppy seed shortbread, Italian meringue and tart curd, bolder but not more delicious than a restrained dome of parsnip panna cotta with crunchy oats. There are shamelessly theatrical options, such as salty peanut butter mousse with caramelized bananas and chocolate cookies, but a date cake steals the show. (Offered as a special, it ought to make its way on the menu permanently, and soon.) Served with a snowy pistachio powder and freeze-dried blackberries, it meanders through a rustic terrain that is simultaneously surprising and familiar.
Unlike the food itself though, the crowd is more disparate than eclectic: some suits, a few dates, occasional families, four random swing dancers, a group of college students — all sitting in separate corners. It's tough to tell whether people appreciate the atmosphere or if no one's quite figured out the indigenous vibe. So far, they co-exist peacefully but distantly, hermetically sealed in isolated conversation. And though one can only wonder how, if two hundred seats were filled, the staff would plate all those dishes, the real challenge for the Dorrance is spotlighting its farm-to-table identity in the midst of such ornate and occasionally dissonant surroundings. Whether it's possible is anyone's guess but you can hope, over a plate of crispy sunchokes, that the decor was just a little less domineering.