The Divine Sister is Religiously Funny
The 2nd Story Theatre's production stars a nun in drag, and parodies the nun film genre with amusing characters, unlikely themes and laugh-out-loud antics.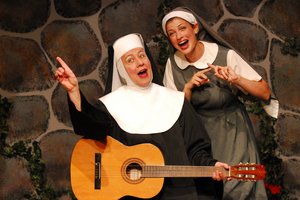 I've never seen a nun movie, and I never went to Catholic school. In fact, I didn't even know what a nun movie was until I saw the play, The Divine Sister by Charles Busch last night at 2nd Story Theatre in Warren. I expected a religious theme, but understood there would be a satirical angle. Little did I know the play would star a nun in drag and include enough penis jokes to fill a frat house.
The play parodies the nun genre, including scenes to mock movies like The Bells of St. Mary's, The Singing Nun, The Song of Bernadette and Agnes of God. The plot unfolds with the sisters attempting to save the crumbling St. Veronica's convent school in Pittsburgh, after the structure has already decapitated a sister. The first place they go to plead for financial help is at the palatial home of a formerly Jewish atheist. That's how you know what kind of a play you're in for.
The unlikely characters are what make the production so amusing. Mother Superior is played in drag by a straight-faced John Michael Richardson, who is funny enough to star on "Saturday Night Live." How he does not laugh at his own actions and jokes on stage is beyond me. Mother Superior swings around her veil as if it were made of long, flowing locks of hair, and she is believable in her conviction that Jesus really is her husband.
Other characters includes a young postulant named Agnes (Ashley Kenner), who is experiencing visions and has the power to heal, yet she fakes having stigmata by squeezing maraschino cherries in her palms. Sister Acacius, the school's wrestling coach (Rae Mancini), gets all hot and bothered anytime a man visits the convent, so much so that she must continuously air out her robes. Then there's young Timothy, (Margaret Melozzi) a school boy who confesses to having a crush on a star athlete to Mother Superior, who responds by telling him to bury those feelings in a box.
"Like a jewelry box with rhinestones and red velvet?" he replies.
"How about a toolbox," Mother Superior says.
There are many ridiculous scenes, in which Mother Superior, who was given up for adoption as a baby, finally meets her real mother, and they are reunited after realizing they both share the same physical reaction to emotional stress. Then there's a visiting nun from Berlin, Sister Walburga (Janine Weisman), who has a commanding German accent that reminds me of Frau Farbissina from Austin Powers. She and an albino monk also devise a Da Vinci Code-like scheme to bring down Mother Superior.
The play is everything you wouldn't expect in a religious comedy. And you don't have to be a fan of the nun film genre to enjoy it. Heck, you don't even have to be Catholic to enjoy it. Take it from me; if you like to laugh, you'll enjoy it.
2nd Story Theatre's The Divine Sister runs through May 20. Tickets are $25. For more information, visit 2ndstorytheatre.com or call the box office at 247-4200.