The Dish: Wildtree Mixes All-Natural Gourmet Products in Warwick
Leslie Montie founded a local company that is helping consumers nationwide create nutritious meals quickly and easily.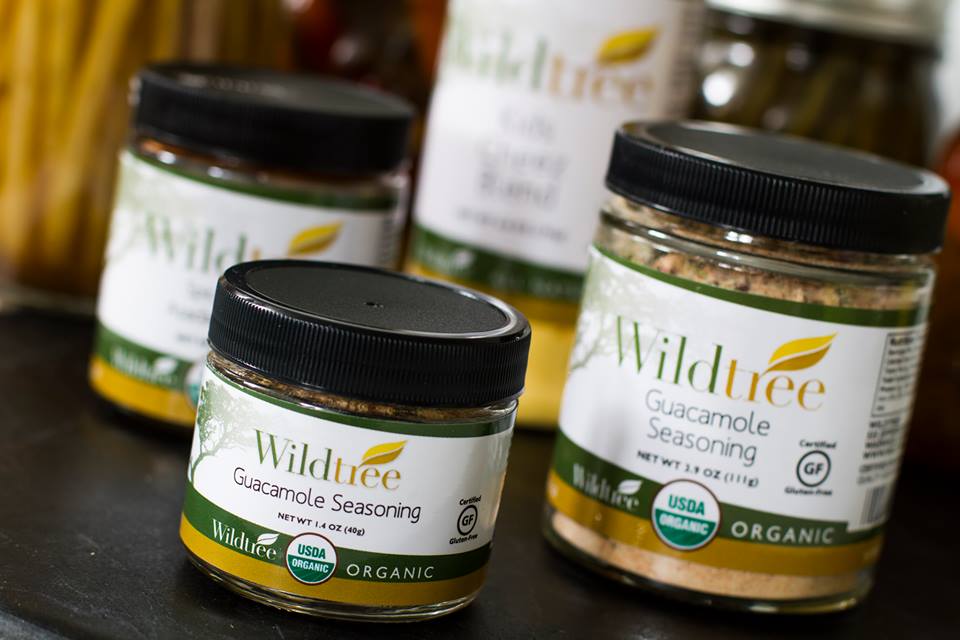 Every day, big white plastic bags of dried basil leaves and garlic powder, or drums of molasses and coconut oil arrive at the Wildtree factory in Warwick. The raw ingredients are inspected for damage before being sorted into organic and all-natural stacks, piled on wooden frames almost reaching the ceiling in the two-story factory storage room. The bags and drums are labeled and will soon be blended into marinades, rubs, dressings, dips and more for use in Wildtree recipes.
Jamaican jerk seasoning, grapeseed oil and orange spice glaze are dumped into one of the packaging machines, where a screw turns and sifts the mix into a jar, bottle or bag. The mix travels down a conveyer belt, is topped with a plastic cap or sealed inside a bag, and labeled accordingly. Jars of fajita seasoning, chipotle lime rub and Thai green curry are sent all over the United States marked with labels that read "Warwick."
In 1996, Leslie Montie went from mom to business owner as a result of other parents' interest in the foods she made for her kids. Montie has a daughter with juvenile diabetes, and a son with specific allergies that didn't allow him to take the ADHD medication that he needed. She began making foods with no preservatives, additives or dyes to make them safer. Soon, other parents and local health food stores showed interest. A few years ago, she was on the floor packaging orders. Now, she sits in her office, behind her desk in blue jeans. She has come a long way from the small fairs where she used to sell her products in the '90s.
"A woman walked up to me and asked me if we did home parties, and I said…well, I said, 'God no, I hate them,' " Montie says with a laugh and leans back in her chair. "And she said, 'If you change your mind, give me a call.' "
Julie Belanger wrote her name and phone number down on a brown paper bag and walked away. Today, she's the human resources manager for Wildtree, and she has helped the home parties spread across the country. Customers in Rhode Island and other states can request a Wildtree representative to help them host a customized party featuring various products. Guests can sample and order their favorites.
There are now 20,000 independent representatives across America selling Wildtree products at home parties, conducting workshops and showing people a simpler way to eat healthier. Wildtree distributes more than 150 products that contain organic ingredients and can be used in a variety of ways. They are also available for purchase online, or customers can locate a local representative on the website.
"It just grew. One person at a time, one good experience at a time, one customer at a time," says Montie.
Montie's son, Justin Montie, walks around the factory floor like Willy Wonka in his chocolate factory. He describes every machine, and explains how each product goes from bags of organic ingredients to a jar labeled Wildtree.
"What is that?" he says to an employee monitoring a bagging machine.
"Tortilla soup."
"I knew that."
He presses a big red button on a machine and gears start turning, each moving part making mechanical music as the product is created. A conveyer belt pushes jars down a line as they are filled and sealed, or plastic is pulled through a device that presses its edges together and cuts between bags of mix.
"My favorite part of my job is the machines," he says, crossing his arms and looking over the steaming kettles that are heating up dressings and salsas to a food-safe 200 degrees.
In goes a jar; out comes a tasty, natural and versatile product that's ready to be shipped to someone's kitchen.
It takes a whole team to make sure that these products live up to the simple, healthy and natural label. The entire factory is peanut-free. All ingredients are separated based on organic or all-natural, a small but important distinction.
The registered dietician, Sarah Hines, makes sure that different products cater to special needs, such as gluten-free and vegan. Each batch is sampled and approved by the food scientists, a team of three men in the test kitchen. Matt Geisler, the head research chef at Wildtree, is said to put one pinch of any batch in his mouth and know if any ingredients are missing or in excess. This team develops new products and tests recipes, and occasionally makes webisodes for the website. Before anyone leaves the test kitchen, they are offered a smoothie, some flavored chicken or whatever the team is working on at that moment.
Enchilada turkey lettuce cups made with Wildtree seasonings.
Wildtree is truly a family business. Sam Pezza, who manages marketing at Wildtree, grew up next door to the Monties with Leslie's children. Leslie's son Justin is engaged to Hines, the dietician. The people on the factory floor are so inviting it feels like being inside their family home, except it sounds like being inside of a washing machine.
While the company continues to expand nationally and potentially internationally, Montie assures that production and distribution will stay in Rhode Island.
"I cannot imagine being anywhere other than here. It's my home," says Montie. "This is where I was born, this is where my husband was born, this is where my brother and I were raised, and this is where I raised my children. I love Rhode Island."