The Dish: What's New at the Wintertime Farmers Market
From gift ideas to special events and new vendors, here's what you can find at Hope Artiste Village.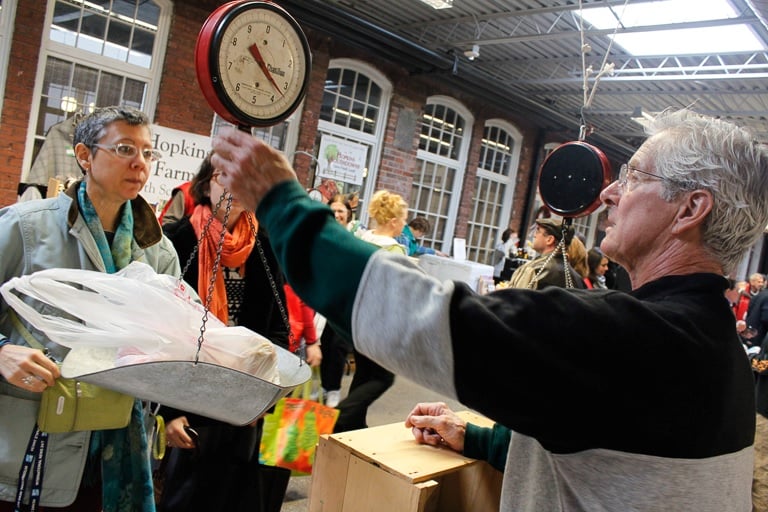 New Vendors: The Farm Fresh Rhode Island Wintertime Farmers Market at Hope Artiste Village in Pawtucket is now the largest in New England, says Georgina Sarpong, Farm Fresh RI's farmers market program manager. The market takes place on Saturdays from 9 a.m. to 1 p.m. through May 9, 2015, with more than sixty-five local purveyors selling dairy products, poultry and meat, farm produce, cheese, baked goods, homemade jams and butters and eclectic prepared foods. "It's like walking into the largest refrigerator you can find," Sarpong says. Fully Rooted is a new juicing business, and the Green Jars is a smoothie business that blends all local fruit and vegetables into delicious, healthy drinks. Nosh is a new restaurant vendor that serves homemade croissants and soup, including vegan-friendly varieties. And stop by Tricycle Ice Cream for some gourmet ice cream sandwiches stuffed with whimsical flavors like apple cider donut and pumpkin pie.
Changes: The farmers market now has two hallways of vendors and a larger seating arrangement in the food area at the back of the hallway, where there is also live music. The Bread Lab also opens its space to live bluegrass music and seating for 100 more guests. Visitors are welcome to purchase food at the Bread Lab, or bring food from other vendors into the space to listen to music. There are also more signs pointing visitors at their current location, so they can better find what they are looking for, and work study students from Johnson and Wales University are on hand to help you find your way around.
Holiday Gift Ideas: Scope out items for making your own holiday gift basket. The farmers market has plenty of homemade jams and jellies, pickles, cookies, baked goods, cheeses and more for you to put together a thoughtful gift for the food lover on your list. The Giving Garden also has wreaths, centerpieces and other floral arrangements for your holiday table. "They use greens they've grown in their garden to make centerpieces," says Sarpong. She also recommends spa products and candles from Rhode Island Spa Products, Earth Essence Herbals and Silk Tree Farm. "She raises her own goats on her farm and uses the goat milk to make soaps and body scrubs," says Sarpong about Silk Tree Farm. Many of the soap vendors have created pre-packaged gift baskets for you to take home.
Shop for Your Holiday Spread: North Bakery sells scones, holiday cookies and their famous chocolate chip cookies, veteran farmers market vendor Seven Stars Bakery serves pastries and breads, or you can take home an Italian dessert gift basket made by Lynne's Dolce E Pane. And then there's Humble Pie Company, which bakes a variety of pies like linzer torte, Dutch apple, maple pecan, parsnip custard and French meat pie. For meat vendors, there's Pat's Pastured, Baffoni's Poultry Farm, Aquidneck Farms, Hopkins Southdowns and PV Farm Stand (which is also taking orders for goose for the holiday season). For a cheese plate, there's Narragansett Creamery cheeses, Simmons Organic Farm, Mystic Cheese Company and goat cheese from Beltane Farm. Harmony Hill Farm makes jams. There's Nettie's Kettle Corn for the perfect snack or stocking stuffer. And don't forget locally roasted coffee beans from the Coffee Guy or New Harvest Coffee Roasters.
Give Back: Farm Fresh RI's Harvest Kitchen has a new subscription program. The nonprofit creates canned apple sauces, soups, stewed tomatoes and pickled products from local fruits and vegetables while also supporting a youth empowerment and culinary job training program for adjudicated youth. Go online and pick a subscription, whether it's three months, six months or a year, and choose the number of items that you would want to give to yourself or someone else as a gift. Every month you'll get one or two Harvest Kitchen items while supporting a great cause.
Events: The Wintertime Farmers Market has a calendar of events, and every month, it will host a cooking demo, a workshop or a tasting. Coming up on Jan. 24, there will be a coffee tasting with New Harvest. Then on Feb. 14, there will be a Valentine's workshop on making cake pops with Bake. Eat. Love. In March, there will be a March Madness of events, including a beer tasting with Bucket Brewery paired with food vendors from Hope and Main (March 7), the annual Humble Pi(e) Eating Contest (March 14), a cooking demo with Nosh (March 21), and a cooking demo with the African Alliance of Rhode Island (March 28). The March Madness events will also feature raffles and sale items from farmers market vendors. Hope Artiste Village, 1005 Main St., Pawtucket, 401-312-4250, farmfresh.org