The Dish: Try 16 Pizza Spots for $20
RI Food Fights' Lord of the Pies passport will get you a slice at more than sixteen local pizzerias, starting November 1.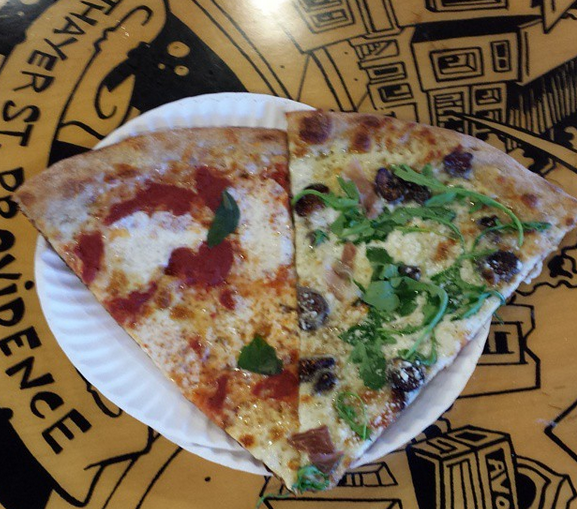 Pizza is delicious.
This is a well-known fact, and in Rhode Island there is no shortage of slices. But unless you're pizza obsessed, you probably don't know every place that serves it in the state. Thank goodness for RI Food Fights' Lord of the Pies.
Lord of the Pies is a month-long friendly competition between at least sixteen pizza places to determine which one makes the best pies. Guests present a "passport" at multiple competing restaurants, try the pizza and then vote for the best. Jim Nellis, founder of RI Food Fights, shares background information about the event's creation, explains how the public can get involved and expresses his love for Rhode Island food culture.
Nellis founded RI Food Fights after twenty-five years in investment banking. He decided to leave his career, move to Rhode Island, and quickly realized he had a knack for the world of social media and made a job out of it. Rhode Island's food culture drew him in. "The food in Rhode Island is phenomenal," Nellis says, It is partly what inspired him to create RI Food Fights. He also wanted a better way to connect with local food businesses. Between his social media skills and his passion for food culture, the idea for RI Food Fights was born.
When RI Food Fights began, it hosted what Nellis calls "event events." These are events where tickets are sold and the event runs in one venue. This is how the cupcake, ice cream and cookie competitions work. A variety of businesses come together in one place for the event, and it usually lasts a single day. After RI Food Fights' successful first cupcake championship in 2011, Nellis sought to expand on the idea. He wanted to have friendly, competitive events for other foods such as burgers or pizza, but knew that a venue wouldn't work for them. His thinking was that if, for instance, he had multiple pizzerias try to fit inside one venue, their food product might not be the same quality as it would under normal circumstances. With this in mind, Nellis created "virtual events" –– events that could run longer than a day and weren't confined to just one place.
Thus began the Lord of the Pies competition.
This is the second year for the Lord of the Pies event. In the planning stages, Nellis traditionally asks people to nominate pizza places that they think should participate through Facebook and Twitter. From there, he compiles a list and reaches out to the businesses. His goal is to get at least twelve establishments on board. So far, this year has fifteen competitors. The number of pizza places taking part in the event usually increases as requests to join come to Nellis right up until the day the coupons are printed.
Joining in on Lord of the Pies is easy: participants purchase a $20 passport with coupons for each competing place. Each gets you a free slice of pizza from a different spot throughout the month. Customers exchange each coupon for a slice of pizza. Afterwards, enthusiasts can vote for whichever place they believe had the best pie via a link they receive in their email.
The participating places (so far) are: Nice Slice Pizzeria, Tomaselli's at Rosario, Fat Boys Pizza, Napolitano's Brooklyn Pizza, Elmwood Diner, Providence Pizza Company, K and S Pizza, Andrews Commons (Brown University), Blaze Village Kitchen, Luigi's Gourmet, VanGogh Pizza, The Big Cheese, East Coast Pizza, Uncle Tony's, Tomato City Pizza and Pizza J, the newly opened eatery from the owners of Julians.
So what's in it for the businesses that are giving away pizza? Public attention.
"It gets folks to try new restaurants," says Nellis, estimating that of all the people buying passports, about 70 percent of them are visiting some of the restaurants for the first time. It is a great promotional opportunity and helps small businesses receive recognition, which is one of the main goals of RI Food Fights. Winners also receive a custom, handmade award by Ahlers Designs to hang in the shop and bragging rights as the best pizza in Rhode Island. Last year's first place winner was East Coast Pizza with runners up Bob and Timmy's Grilled Pizza and Nice Slice Pizzeria.
Lord of the Pies begins Sunday, November 1, at 8 a.m. and ends Monday, November 30, at 11:30 p.m. When asked what his favorite pizza is, Nellis had a true pizza-lover's answer: "Whatever one is in front of me."
Passports can be purchased online, and will be mailed to you. Use coupon code RIMonthly for 25 percent off passports. For more information, call 401-264-0404.