The Dish: Sons of Liberty Spirits Company
The South Kingstown company is racking up international awards for its single-malt and flavored whiskies.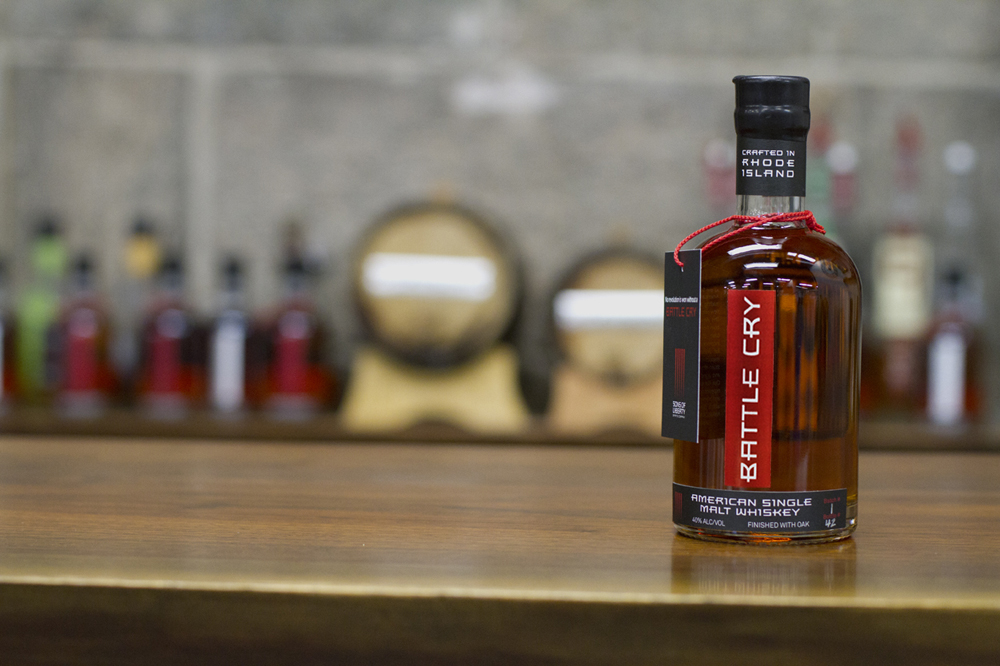 The original Sons of Liberty led the American War of Independence back in the late 1700s, but Rhode Island's modern-day sons are spearheading a different sort of revolution. The Sons of Liberty Spirit Company in South Kingstown has been selling its single-malt and flavored whiskies for two short years but is now racking up coveted international awards with ease. Founder Mike Reppucci says that the secret to success is being "just smart enough to pull it off and just dumb enough to believe [we] can."
Reppucci, a graduate of Brown University and London Business School, left his job in finance and launched Sons of Liberty in 2009 with the help of his partner (and cousin) Chris Guillette. Despite the historical reference in the company's name, you won't find a musket-man on any of the bottles. They want to revolutionize craft whiskey, not politics, while embodying the rebellious American spirit.
"I'm thirty-something and decided to quit my job to open a distillery," says Reppucci. "How American and how stupid is that?"
For those unfamiliar with the distilling process, it might come as a surprise that all whiskey starts as beer. To make the dark spirit, barley grain (called malt) is milled into flour and then converted into wort, a sugary liquid. Yeast is added to the wort, and the fermentation process begins. A week later, the product transforms into distiller's beer (approximately 9 or 10 percent alcohol), which is then put through the copper still twice to filter out water and increase the alcohol content.
So if whiskey begins its life as beer, Reppucci thought, then why are there so many amazing seasonal beers but no seasonal whiskeys? With the help of Dave Pickerell, a master distiller who worked at Maker's Mark for more than a decade, Sons set out to make its unprecedented idea into a reality. Reppucci admits that they "screwed up a lot of whiskey" along the way, but he knows it's a necessary evil. It took more than fifty batches to get the hop-flavored whiskey just right. While the Pumpkin Spice was easier to make, it still took time to fine tune. Once a batch is deemed excellent, customers are invited in for blind tastings and then the product gets a final tasting in the employees' homes.
"We'll all take a bottle home, and we do the couch test," Reppucci explains. "You sit on the couch and ask, 'Would I pay for this bottle?' and if it's 'no' then we don't release it."
Through a long process of trial-and-error, Reppucci and his team concocted and perfected the recipes for their single-malts, Uprising and Battle Cry, and for their seasonal Pumpkin Spice Whiskey and Hop Flavored Whiskey – and to a good end. The Pumpkin Spice made it through three rounds of blind taste-testing to win the title of "World's Best Flavored Whiskey" as chosen by Whisky Magazine, and the Hop Flavored took home a gold metal from the San Francisco World Spirits Competition. Not to mention that Battle Cry, a Belgian-style single-malt, won a gold medal and was named Best of Category at the American Distilling Institute's judging of Craft American Spirits. There's something to be said for that couch test. It works.
Sons of Liberty also pioneered the first line of Rhode Island vodkas at the request of a distributer. Once the original Loyal 9 Vodka was as smooth as possible, the team began experimenting with flavors. Today, you can find Loyal 9 Mint Cucumber and Loyal 9 Dark Chocolate Vanilla Bean on the shelves of local liquor stores.
While Sons of Liberty has some new products in the works, Reppucci's lips are sealed. He mentioned that fans can look forward to a 100 percent corn whiskey made from products grown at Sodco in North Kingstown. It's currently aging and won't be ready for release for a least a year. We'll be waiting.
1425 Kingstown Rd., South Kingstown, 401-284-4006, solspirits.com