The Dish: Schartner Farms Greenhouses Reopening
The farm opens on Friday with a wide variety of spring plants such as tulips, hyacinths, daffodils, pansies and more, plus Easter gifts and decor.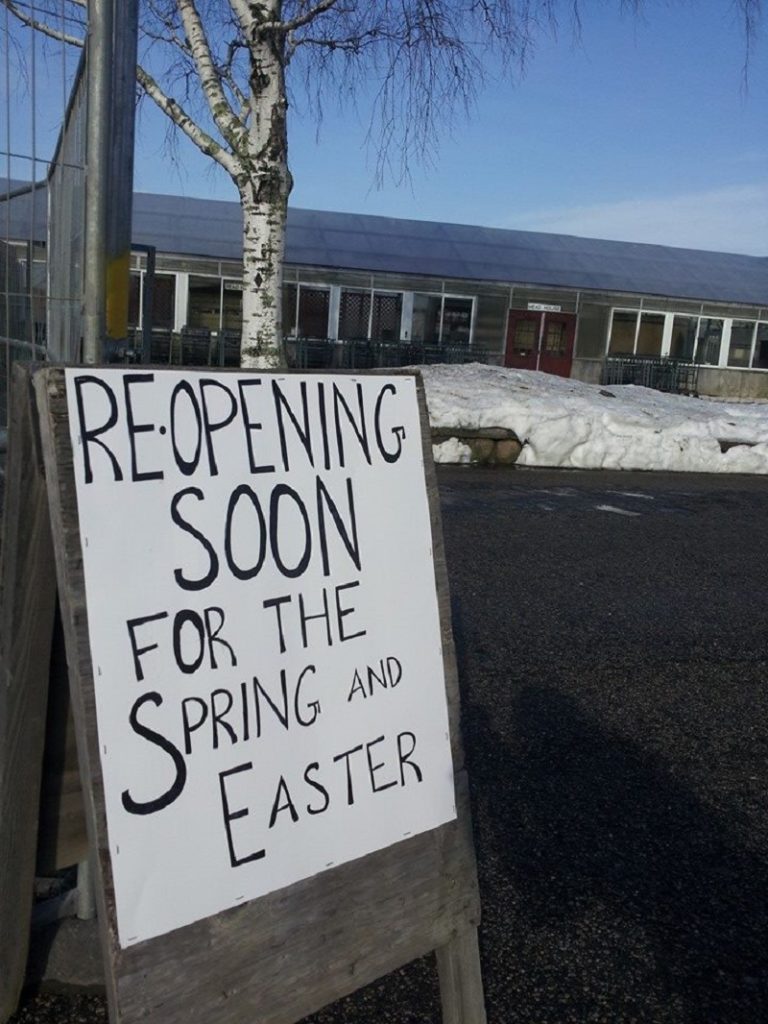 Updated: Wed., March 25
The morning of Thursday, March 5, we awoke to the news that the beloved Schartner Farms farmstand in North Kingstown was ablaze. The main building was a total loss in the fire, but thankfully, the greenhouses are still intact due to quick action. Power was quickly restored by generators before plantings were affected by extreme cold.
Days after the fire, Schartner Farms released a statement on its Facebook page thanking first responders, volunteer firefighters and National Grid for all their help in getting the farm back up and running again. The owners and employees also saw an outpouring of support from the local community, which shared their favorite farm memories through messages and photos.
Signs of hope appeared again yesterday when Schartner Farms posted the words "We are so excited to announce we will be opening this Friday." The farm's hours will be 8:30 a.m. to 6 p.m. and there will be a wide variety of spring plants such as tulips, hyacinths, daffodils, pansies and more, plus Easter gifts and decor. We reached out to the owners to find out their plans for the spring. While Rich Schartner is busy getting ready for the season, assistant greenhouse manager Elisabeth Hallene took some time to answer our questions by email last week.
How were you able to save the seedlings in the greenhouses?
We had/have greenhouses full of kale and chard that we sell on [Farm Fresh Rhode Island's] Market Mobile to restaurants and at local farmers markets all winter. We were also just getting back to work on the spring planting and had hundreds of hanging baskets and pansies planted. We were incredibly lucky that we were able to quickly get the heat back up and running on generators and National Grid was so helpful in getting us set up quickly with a new, temporary poll.
Will you still be able to work with restaurants and bakeries in the same capacity?
Yes. Like I said, we were incredibly lucky to get the heat back up quickly and the kale and chard were saved. That is the majority of what we sell on Market Mobile this time of year. We are getting set to plant our crop of hot house tomatoes for the spring and starting to seed veggies for the field for summer crops!
How has the community supported you after this unfortunate loss?
The outpouring of support has been overwhelming. The well wishes and offers to help that came through on our Facebook page were just unbelievable and really kept us going those first few days after the fire. The Schartners are such a great family in the local community and that really showed this past week. Their family coming together for each other, their friends that came to offer help any way they could…we couldn't go far in the days following the fire without someone stopping us to say how sorry they were and/or offer to help. So many local businesses have offered to help us any way they could. We had a lot of support at the farmers markets and from our friends at Farm Fresh RI. We, as the Schartner family and as employees, know what a special place Schartner Farms is and after this experience, we are reminded what a special place it is for Rhode Island and to so many people. We are just so excited and ready to be open again and see customers enjoying the greenhouses.
What are the first steps in the rebuilding? What are the owners doing now to prepare?
Right now we are just concentrating on getting set to re-open with what we have, the best we can. We are working on getting a temporary office set up and getting the main greenhouse retro-fitted for its new purpose. We will have a register set up in our main greenhouse for sales.
We are thrilled Schartner Farms is planning on reopening for the spring! What will be available at the farm and when?
We are currently hoping/planning on reopening our greenhouses by Palm Sunday weekend [March 28 and 29]. We will have pansies, bulbs, hydrangea, potted gardens, everything you need for Easter! We will also have spring/Easter decor and gifts that we would usually have in our floral/gift department, just in a greenhouse location. As soon as weather permits, we will also have our nursery stock available outside.
1 Arnold Pl., Exeter, 401-294.2044, schartnerfarms.com
Share your favorite Schartner Farms memory on their Facebook page below: