The Dish: Rudy's Delicatessen Makes a Comeback
Enjoy stacked sandwiches and classic Jewish specialties like knishes, matzo ball soup and kugel at the third iteration of Rudy's.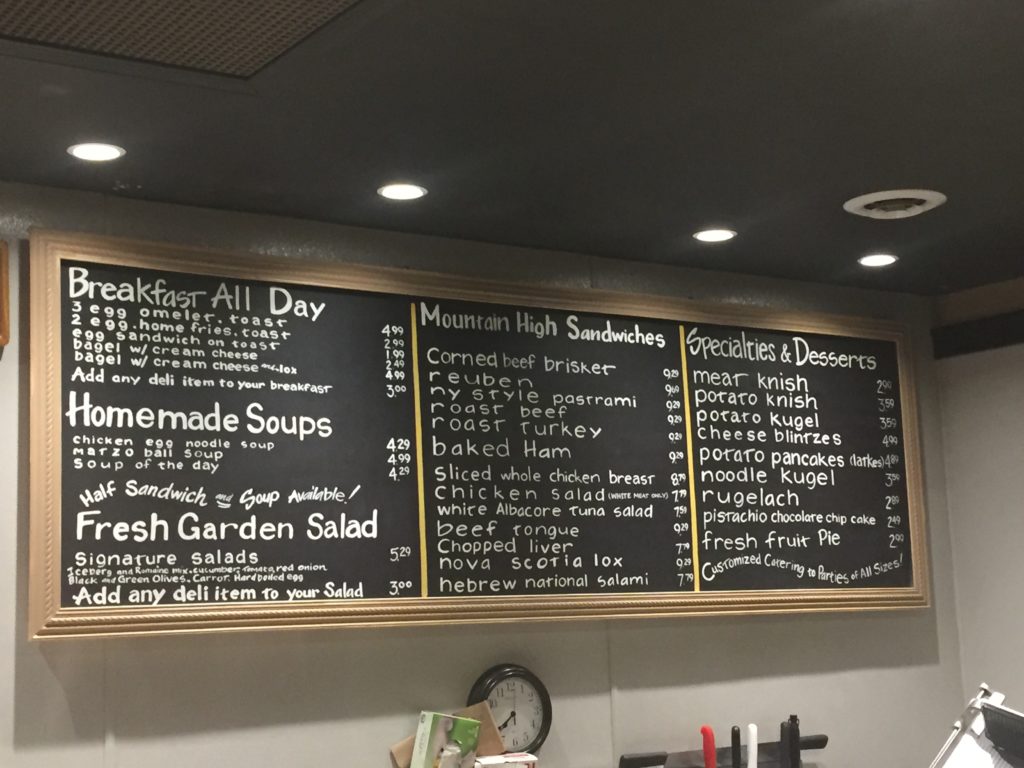 William "Billy" Rudacevsky stands outside Rudy's Delicatessen in Cranston. He is waiting for me to arrive and as soon as I do, a large smile spreads across his face.
He ushers me into the restaurant, newly opened in August, its interior decorated with chalkboard menus and a sense of warmth not usually found in a deli.
When you think of a deli, most people picture a big man in an apron behind a countertop slicing meats and cheeses that are then wrapped in wax paper. But Rudy's is not your average deli. Yes, it stocks meats and cheeses, but instead of packages of to-go cold cuts, you're invited to pull up a chair, sit down and savor your purchase–perhaps a corned beef sandwich–with its meaty juices dribbling down your chin.
Rudy's is not just about pastrami and corned beef sandwiches; there is also a wide array of classic Jewish goodies. Choose from knishes, spaetzli, blintzes, rugelach, matzo ball soup, chopped liver, kugel, pistachio chocolate chip cake, and today's special, kasha varnishkas (noodles, buckwheat and caramelized onions).
There goes that image you had of a deli as a cold place with fluorescent lights buzzing overhead. Rudy's is much more.
"We sell meat by the sandwich, not meat by the pound," Billy says, as his daughter, Alisha, joins us, bringing with her a steaming cup of coffee and setting it down in front of me.
Rudy's is co-owned by Billy and his two daughters, Alisha Rudacevsky and Audra Mena. The restaurant business runs in the family, and Rudy's on Dyer Avenue is the third iteration of a Rhode Island classic.
The first Rudy's was located in Providence and ran from 1965 to 1977.
"It had fried fish, seafood, clams, scallops, hamburgers… a very versatile menu," Billy says.
"It was like a diner. The specialty was fish and chips," Alisha says.
"We had lines out the door. I would cut 300 pounds of fish on a Thursday! My father, Arnold, he was the original owner." Billy says. "The second one was in Garden City. It was New York-style with a basic menu and sat forty-eight people."
"When I was in college, my father opened up the second Rudy's in Garden City, but he died four months later at age forty-two," he says. "I had to leave college early. I came home and could see in my mother's eyes, 'What are we going to do?' "
Billy managed the restaurant from 1977 to 1982, before working for the Rhode Island Veterans Action Center. When his daughters approached him in 2013 about opening a new Rudy's for the third time, he was enjoying retirement.
"I grew up hearing about the restaurants and we can make this food with our eyes closed. We grew up eating this." Alisha says. "My sister was a big pusher in this — she loves family. I can work anywhere and interact with all types of people. She's more introverted and thought we should work together. I had been working with AmWINS Group Benefits for eleven years, and I thought, let's do it. It's new and it's fun and exciting."
Audra also left her job behind and put her full support behind Rudy's.
"I've always had it in my head to open a restaurant. We really got serious in 2013. I love cooking, and I love taking my time to do it."
The family came together and Rudy's number three came to life.
As much as Rudy's is about being a New York-style deli and serving wholesome food, it is also about family. For the Rudacevsky's, family is the proverbial bread and butter of Rudy's success. It's the inspiration behind each item on the menu and the result of the welcoming atmosphere.
By this point, I've been invited to try the rugelach, and with a twinkle in his eye, Billy asks Alisha to turn on the music to give the place some atmosphere.
As Marvin Gaye pumps through the sound system, I take a bite of the apricot rugelach, its generous helping of powdered sugar dusting my black tunic.
This recipe, along with many of the others, was passed down by Goldie "Bubbie" Rudacevsky, Billy's mother, and Alisha and Audra's grandmother.
Add in Billy's daily-made corned beef, baked ham and boiled tongue and his wife's potato salad, and Rudy's is like stumbling upon a picnic of a bygone era. Dr. Brown's sodas stock the fridge for a cold, refreshing way to wash down your chopped liver sandwich.
With its warm atmosphere, hearty array of Jewish deli delights and more, there really is nothing like Rudy's anywhere else in Rhode Island.
Audra puts it simply, "Rudy's is one of a kind."
961 Dyer Ave., Cranston, 401-632-0044, facebook.com/rudysdeli