The Dish: Rebelle Artisan Bagels Pop-up
Baker Milena Pagán's handmade bagels will be available at Laughing Gorilla Catering on Jan. 22.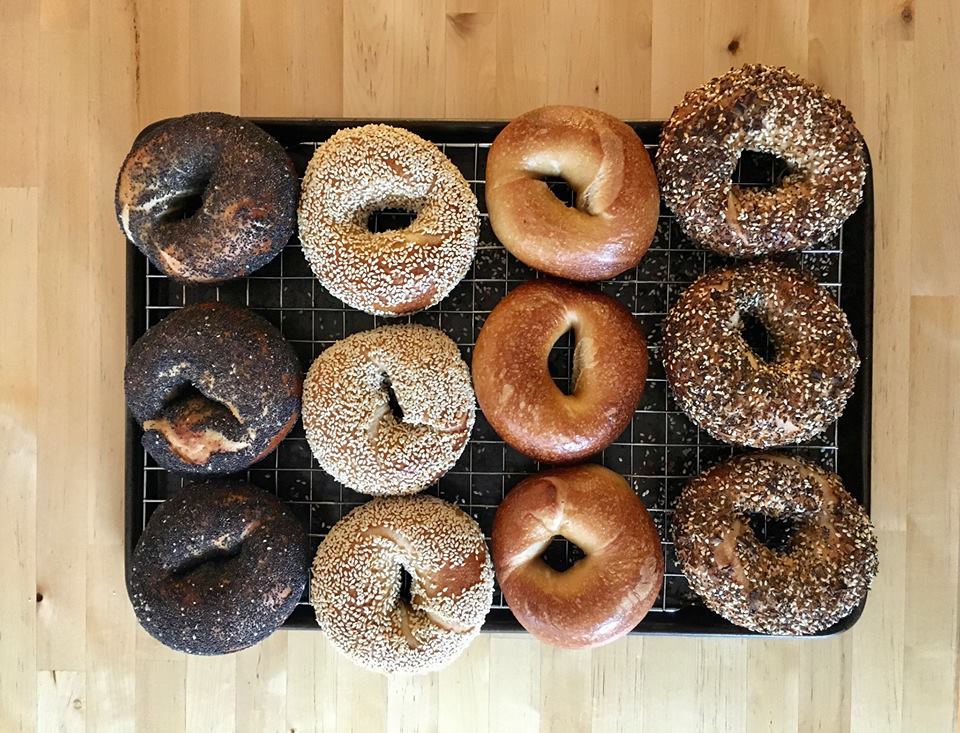 Rebelle Artisan Bagels have been popping up at a few restaurants around town, and now carb lovers will have a chance to buy them individually, by the sandwich or by the half-dozen. On Sunday, Jan. 22, from 11 a.m. to 2 p.m., Laughing Gorilla's popup restaurant inside the Kitchen space on Carpenter Street in Providence will feature the blistered and seed-sprinkled rounds on the lunch menu and for takeout.
Baker Milena Pagán's crusty bagel varieties feature everything, poppy seed, sesame seed and plain with housemade schmears to go, including caramelized onion, bacon chipotle, date walnut and dill horseradish cream cheeses, plus house-cured lox. Sandwiches for sit-down dining will include grilled cheese, short rib pastrami, crispy eggplant, Korean pork belly and more. "We're still finalizing the menu but it's going to take the best of [Laughing Gorilla chef Jason Timothy's] style and infusing it with elements of New York deli."
A Laughing Gorilla sandwich made with a Rebelle artisan bagel.
Pagán is the mastermind behind the bagels. A search for good ones in Providence led her to create her own, but it took a lot more know-how than just mixing ingredients together. Luckily, she studied chemical engineering at MIT. "That came in handy because I understood all the chemistry behind it. If I had an issue with dough or the baking process, I was able to troubleshoot it faster," she says. "I treated everything as an experiment, so I have a lab notebook and spreadsheets. I love the sciencey side of it."
It takes about twenty-four hours and five ingredients to make the bagels. She starts with high-quality flour, creates the dough, kneads it and lets it proof. Then she rolls each one by hand, and cold ferments the dough for twenty-four hours. "The yeast is in there producing all these alcohols that give it a complex sourdoughy taste and it also forms those little blisters in the crust," she says. Finally, she finishes them off by boiling them in malted barley syrup and water.
Pagán's career change inspired the name of her business. Rebelle is French for "rebel woman," she says. And that's exactly who she is. She graduated from MIT and felt there was a path in life that she was supposed to follow, including getting a job at a Fortune 100 company. "If I looked ten years into the future, I didn't see that being me," she says. "So starting this business was basically me rebelling against that. We'll see how it pans out."
Initially, the Puerto Rico native came to Providence from Boston, and worked in merchandising strategy for CVS. After considering commuting from Boston, she loved the city so much she decided to stay. "We like that it feels like a small town with all of the elements of a large city," Pagán says.
Her interest in baking started at home and expanded through her travels. She learned to make tortillas from an old woman in a small restaurant in Mexico, and took that practice to Taco Thursdays at Laughing Gorilla, where she often handmakes the tortillas.
Laughing Gorilla Catering will soon celebrate its first anniversary, and it will continue serving lunch and dinner temporarily inside the Kitchen space through March. Kitchen owner and chef Howard Crofts plans to return to the restaurant serving breakfast again, after recovering from illness. "We are very fortunate in unfortunate circumstances, but Howard is doing very well," says Laughing Gorilla's Jason Timothy. "For us, this is more of a test kitchen to see how we want to move forward and see if we like it…and each other."
Laughing Gorilla will continue catering events after March, though the location is still to be determined. "If we fall into something else, great, if not, we'll keep gypsy catering," Timothy says, adding that he'd prefer to be stationary, if possible.
Laughing Gorilla and Rebelle are two separate businesses helping each other out. "There are bagel places here but nothing like she is making," says Timothy. "I am a brand new business owner myself, so if there is someone who is willing to stand behind your product, that speaks volumes. And she's going to make big noise."
rebelleartisanbagels.com; Laughing Gorilla Catering, 94 Carpenter St., Providence, 401-248-1760, laughinggorilla.com