The Dish: Reality TV Chefs Open Red Fin Crudo in Providence
The chefs were cast members on "Chopped," "Master Chef" and "Cutthroat Kitchen," and now they've launched a Latin tapas-style restaurant inside the Biltmore Garage.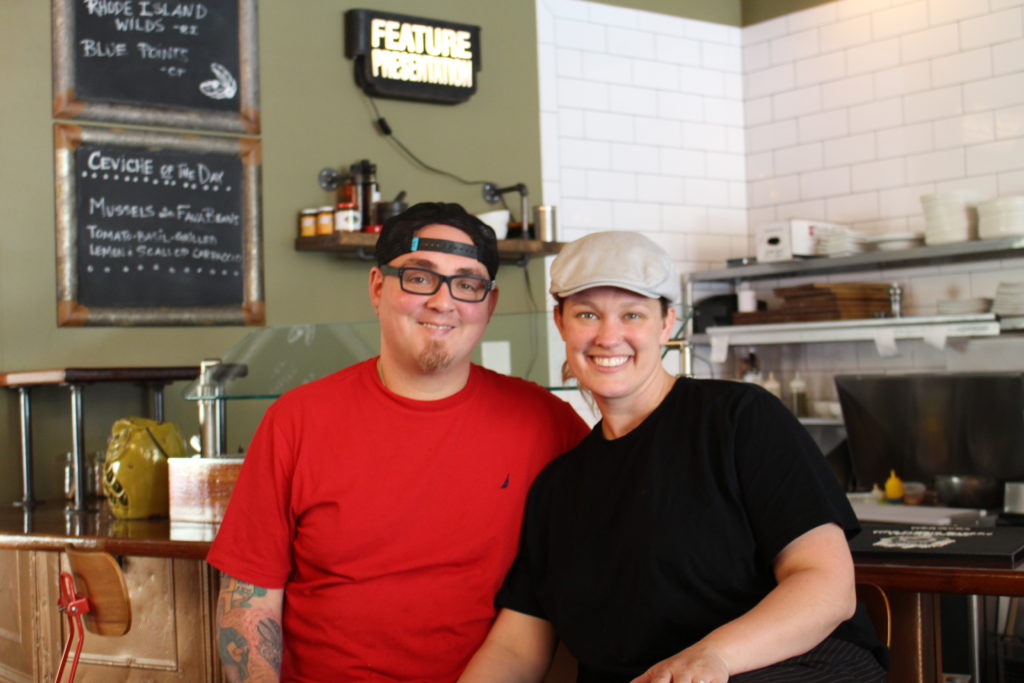 You don't often hear about chefs moving specifically to Providence to open a restaurant. Let alone celebrity chefs who've been cast members on "Chopped," "Master Chef" and "Cutthroat Kitchen" wanting to start a business in Providence. But restaurant owners and TV personalities Julio Lazzarini and his wife, Jenny Behm-Lazzarini, did just that, opening Red Fin Crudo and Kitchen inside the Biltmore Garage about five weeks ago.
The couple previously owned two restaurants in Wilmington, Delaware, but the changing economy sent them on a search for the next best culinary destination. They looked into Miami, Atlanta, Chicago and parts of California, but Rhode Island's food reputation and diverse environment drew them. They are both avid surfers and snowboarders; in Rhode Island, they say they can be close to both beaches and the mountains. While the couple scoped out new locations, Travel and Leisure magazine named Providence the best foodie city above New York and San Francisco, so they zoned in on the city we know and love.
"We fell in love with Providence. We looked at many cities: Warwick, Newport, East Greenwich, Tiverton. My husband said let's try the city again," says Jenny Behm-Lazzarini. "We knew birch is here; Persimmon is in Bristol. There are a lot of phenomenal restaurateurs."
After a night on the town for the Star Chefs gala last April and a stop at Figidini, the couple – married for two years with a daughter who is almost two years old – knew they had found the perfect vacant restaurant location inside the Biltmore Garage. "I was like this is where we need to be," says Jenny. "These restaurants have the same kind of mentality that we have: local and fresh and different. Something Providence doesn't know it wanted but has embraced."
Red Fin Crudo and Kitchen has a Latin and Mediterranean flair, serving tapas-style dishes with Julio's Puerto Rican family influence, including his grandmother's paella. The restaurant design follows a Steampunk aesthetic from the upcycled materials to industrial gears and repurposed pipes along the bar and hanging on the walls. The name Red Fin comes from the Acadian red fish, one of their most popular dishes. "It has bug-eyes, it's a silly looking fish – and I'm like how Steampunk is he on his own?" says Jenny. "We serve it as a whole fried fish on the menu and when it comes out, people are like what is that? It has the eyes, fins, the whole rigmarole. The next thing you know, we have eight more orders."
Julio grew up learning his family's recipes and appeared on "Chopped" in 2009, while Jenny honed her skills planning tailgating feasts for Delaware's steeple chase race, Point to Point. She can cook on the fly in almost any situation, so four years ago, when a boy broke up with her and a friend encouraged her to apply for "Master Chef," she was game. To prepare for her audition, she broke down a lobster and cooked lamb chops on a skillet in a parking lot. It was also her bubbly, tell-it-like-it-is personality that won over the judges. "The chefs asked me how I came up with my dishes, and I said, 'I taste it in my brain,' " she says. "They said that's the epitome of what cooking is about. I had a lot of one-on-one time with the judges [at the time, Gordon Ramsay, Joe Bastianich and Johnson and Wales University alum Graham Elliot] because I won a lot of challenges. I got to talk to them, pick their brains and learn from them."
Visit Red Fin and you'll notice it has a mascot. Archie is a pigopus; half octopus, half pig, with eight tentacles and the head of a swine. Archie represents another of their favorite dishes: lightly fried octopus with smoked paprika aioli, chorizo, local greens and papas fritas. The dish reminds Jenny of her mother. Growing up in Dutch country Pennsylvania, Jenny was raised on meat and potatoes and the only seafood she ever had as a kid was Gorton's fish sticks cooked in the microwave. She didn't try seafood until she was seventeen, when lobster got her hooked. Now she serves her mother Julio's octopus dish and she's become an adoring fan. "She told me around the holiday, when Julio came to visit, if he didn't bring octopus pinxtos, he wasn't allowed in the house," says Jenny. "I tell guests it's like no octopus you'll ever have. We tenderize for it four to six hours. We take pride in making it the traditional way."
Red Fin hosts Archie Time every Tuesday through Friday from 4-6 p.m. during which you can enjoy $1 oysters. They only order thirty-five of each oyster variety, so they can keep them fresh, and frequently rotate different oyster farms.
The queso frito is another dish they've always made but it wows every time. Jenny recommends guests enjoy a little bit of everything from the menu. "We try to take things you're familiar with and then take a step to the left and give it an interesting touch," she says. 71 Washington St., Providence, 401-454-1335, redfincrudo.com