The Dish: Q-and-A with Providence Brewing Company
Brewer Efren Hidalgo is bringing back Rhode Island's oldest recorded brewery as well as the Urbn Brewdega brewing supply.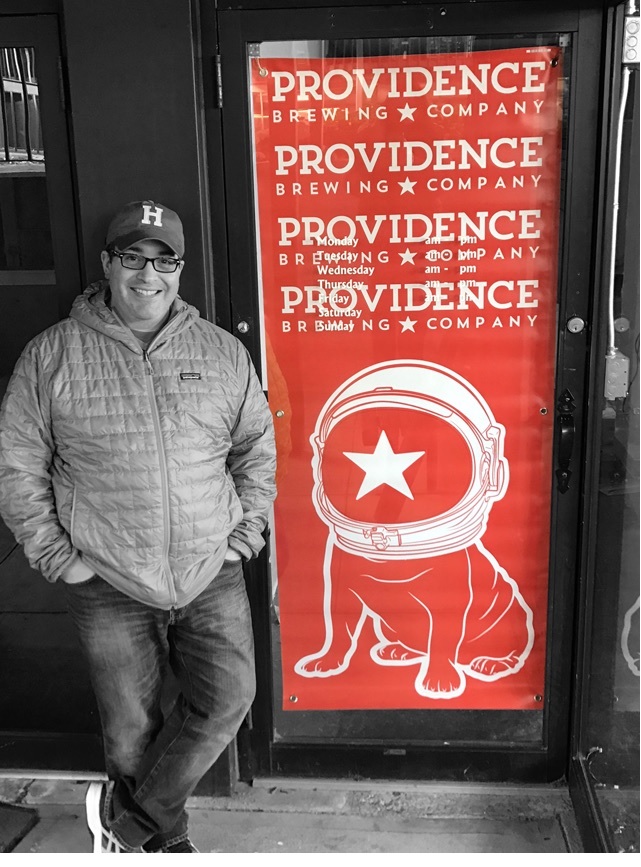 Welcome the return of Providence's oldest recorded brewing company in the heart of North Providence by mid- to late-spring. The handcrafted small batch beers by owner Efren Hidalgo include the Habana Loco, an experimental New England-style double IPA, and other beer varieties that pay tribute to the Providence Brewery's 1817 roots. Hidalgo also plans to launch the Urbn Brewdega on site to sell supplies and coach beer lovers on crafting recipes at home, and then bring them back for tasting and critiquing.
How are you bringing back Providence's oldest recorded brewing company?
Back around roughly 1817, there was an ad in a Newport newspaper for the Providence Brewery. It was around for a little while and eventually another gentleman decided to open the Providence Brewing Company in Providence. That was Mr. James Hanley. I am putting together some of the original recipes of popular beers of that period. I believe the Providence Brewery started in and around 1817 because that is the first recorded ad. The original building is still standing, close to Atwells Avenue. My hope is to recreate, or at the very least, come close to the styles that were popular at that time. Some of the choices were Bohemian beers, pilsners, porters, stouts and lagers, which are all pretty commonplace now.
Where is your brewery going to be located? Is there any significance to that location?
North Providence is one of those few remaining places that has a center of town. It reminds me of a bygone era when people used to just walk around and go from place to place. The location is in a part of town that can quickly see revitalization. The location is key because it could begin the brewery corridor. You could start from one end of Mineral Spring Avenue and drive to the other end, and eventually you'd hit a bunch of breweries or brew pubs along the way. In my mind, it's a great opportunity for a three- to four-mile stretch of small breweries to invite people in. Anytime a brewery pops up, a lot of other small businesses begin to grow and become available. It brings with it an opportunity for eclectic restaurants and other entertainment. I am hoping something like this might help revitalize and bring businesses to the area.
Article clippings from 1817 when John B. Lyon, then-owner of the Providence Brewery, advertised ales and table beers. Source: Ed and Greg Theberge, Rhode Island Brewery History on Scribd.
I like that your website offers up beer recipes for people to try to make the same beers you are brewing at home. Tell me about the New England Style Double IPA.
That is going to turn into one of our cornerstones. We're calling it the Habana Loco. It's a tropical fruity, citrusy, hop-packed beer that is fun to drink and packs a wallop.
How did you get into brewing in the first place?
I was always fascinated by the process of brewing. A friend of mine, unbeknownst to me, brewed beer. He told me to come by someday and brew with him, so I did, and I got hooked ever since. My wife got me a small homebrew system for a Christmas gift, and years later, that turned into a more elaborate conversion of kegs into this big behemoth out of my garage. Now it's turned into an obsession that I'm hoping to bring to the public.
And all the brewing equipment has arrived at the new brewery?
The brew rig itself has arrived. It's in storage as we wait to begin construction at the spot. If everything goes according to my plans, we're looking at opening sometime mid-April to May.
Tell me about the Urbn Brewdega.
The Urbn Brewdega stemmed out of growing up in Boston. I was raised in Jamaica Plain and Brighton, and there was always a little variety store or bodega where friends, family and my parents used to go to buy all the things we needed for the day. I thought of it as an opportunity, because we have open-sourced recipes, like you saw on our website. My hope is, if you want to try and experiment and create a version of our beer, we will sell you the ingredients at an inexpensive price. We'll provide you almost all of the ingredients you need to make your own. The hope is they'll experiment, and because we are opening up the opportunity to showcase other beers, we'll have competitions to see who makes a good variation of it. We'll invite them in, do a test run with their recipe, and put it in front of customers in the taproom. And if it becomes popular from there, we'll do a full run. We'll provide all of the marketing and advertising for your beer, and you'll get recognition for your creation. The intent is to get people excited and included in what we're doing, so they'll want to participate and learn.
It sounds like a fun environment to take home brewing to the next level.
The moment I got approval from the town, a couple of people walked up and told me they've been following the creation of the Providence Brewery, and are hoping someday to create their own brewery. The beers would be under our brand but the customers would be the guest brewers. We are also very interested in the educational STEM program and this is heavy in chemistry. We hope to one day tie in local schools and offer courses on brewing and the chemistry behind it.
You are focusing on classic recipes from back in the day, but are there any other types of beer you want to mention coming down the pipeline?
We've got an American Imperial stout, a really hopped up bitter imperial stout at 9 percent or so. We have a porter, a standard IPA and come summertime, I enjoy hefeweizens. They're very light and low-alcohol. We also have another brand under Providence Brewing called Urbn Beer. Under that brand, we'll have an opportunity to have fun and experiment with unusual ingredients. We'll create distinct, out-of-left-field types of beers; we will take a hefeweizen and marry it with Hi-C. Then you break into classic cooking techniques where you combine dark chocolate with mango and other flavor combinations. Then you have something really different.
And anyone can gain access to your beer recipes?
All of our recipes are open source, so we're not hiding behind them. We scale them down for a home brewer, so they can give it a try. Our schedule is also wide open as to when we are brewing, so anyone who is interested in coming in to watch us brew or participate and help, that's available to them once we are up and running.
1920 Mineral Spring Ave., North Providence, 401-424-1817, pvdbc.com