The Dish: Q-and-A Urban Greens Food Cooperative
The consumer-owned grocery store will be located on the site of the old Louttit Laundry building.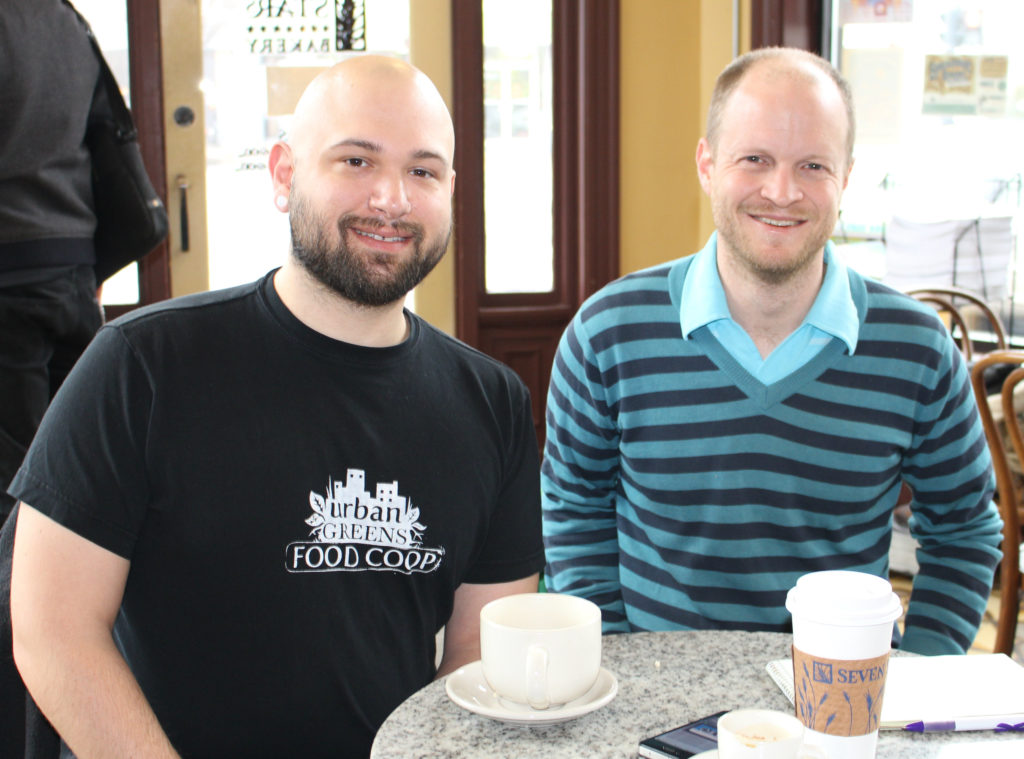 It has been a long time coming (since 2007, in fact), but this month, the Urban Greens Food Cooperative council and committee announced the location of its upcoming consumer-owned grocery store. It will be located at 93 Cranston Street, the site of the old Louttit Laundry building that was abandoned in 1985, later demolished in 2008, and has been an empty lot ever since. A mixed use development will be built, including the co-op and thirty-nine residential units. The Urban Greens Co-op will be a 7,000-square-foot grocery store focused on natural and local food. Members become part-owners for $160 (a one-time membership fee), and they will gain access to member benefits and have a say in how the business is run. We sat down with Urban Greens Cooperative council members Philip Trevvett and Corey Auger to learn more.
It took a long time to determine a location. What was that experience like?
Philip: To look for a space that's sizable enough for a full grocery store is not the same as most retail, because most locations you see on these streets are a smaller size. There are more vacancies, more opportunities. Being committed to this neighborhood meant that it took some time to find a spot. And there were a lot of details we had to work out.
Corey: We looked at four buildings in our market study. There was one major sizable building that could have been renovated, but it would have cost just as much to do a new store and it would have had more limits. With a brand new store, we can really define the space and design it to what we want it to be in a way we couldn't otherwise. We are excited about this location because of the centrality of these three neighborhoods coming together, which are Federal Hill, the West Side of Providence and Upper South Providence. It's a site that had an abandoned building on it for twenty years, and it's been demolished. Bringing that back to life will be huge.
For people who may not know, what is a food desert and what does it mean to this community right now?
Philip: A food desert is an area where there is essentially no full-scale grocery store within a square mile, and the average income is below a certain point. You're in an area where not everyone has a car or they'd have to drive across town to a grocery store and there isn't anything close that can fulfill those needs. There's a huge need. If you looked at a map of Providence, and you pinpointed where the grocery stores are, it's pretty dramatic. You have Stop and Shop on Branch Avenue, you have two Whole Foods on the East Side, you have Eastside Marketplace on the East Side, and then to the West and on Smith Hill you have an Aldi, which is pretty far way. Then all the way to Cranston, you have a Stop and Shop there. Even people who do have a car, it's a pain to get to it. There's a huge gap, so we're excited to fill it.
What do people who live in food deserts typically do to gather food?
Philip: A lot of it comes from corner stores and they'll pay higher markups and have less access to healthy foods. They are on a tighter income paying higher markups at corner stores – you are really stretching your budget to get enough to eat. There's a huge amount of food insecurity in the state toward the end of the month, because foods stamps (SNAP benefits) will run out as people have to pay those higher prices. The options and access to healthy foods are also limited. If you go into a corner store, you'll see a small amount of produce, and it might not be the freshest. Being able to bring a store that has quality, healthy goods makes a big difference, and that really ties into health issues in the population; diabetes and obesity are tied to food access and healthier eating.
How will the food co-op work for people who become members?
Corey: To make it clear, everyone will be able to shop at the store. The doors will be open to anyone who wants to come in, and members will get benefits. There will be certain sale items for members. They can purchase cases at a discount, larger bulk items. The biggest benefit is having a say in how the business is run, where your food is coming from and the business practices you're supporting.
Philip: When the store makes money, those customers are also the owners, so that money gets distributed to customers. You are returned a percentage of what you spent throughout the year. When the store makes money, in the first couple years, that's probably going to go into reinvesting in the store to help build it out more, but then after that, the money will be redistributed to members. That's a great way to help build a local economy, just re-circulating money in the community.
What are some more examples of how the co-op is set apart from a regular grocery store?
Corey: Fundamentally, the biggest difference is that it is run by community members, whereas your traditional grocery store is owned by private investors or international shareholders who do not live in the community. Part of the benefit of a co-op is all of the profits are not going to international shareholders; they are staying right here in the community. You reinvest by purchasing from local producers and growers, which will keep money local.
Philip: Because it is owned by customers and you don't have a separate shareholder body, that means you don't maximize your profits. That means things customers care about get implemented — being able to have tons of foods from local farmers and local producers. You are able to source from small farms that might be growing on an acre or less. At the same time, there might be a Rhode Island farm with 100 acres, so you would be able to work with both of those farms. The same with meat and seafood. It means being able to respond to those customer demands, and because those are your owners and people who care about food, you can inform your customers about where their food came from, and how it was produced. Another area a lot of us are excited about is the bulk section. In many grocery stores, you'll see grains in bins and that allows the low prices to be transferred to shoppers. Co-ops are able to extend that much farther. One of the great areas is spices and herbs. When you go to a grocery store and you spend $5 on a jar of curry powder, you are really paying $4 for the jar and $1 for the herbs. At co-ops where there are bulk spices available, you can pay a $1 for that. Now you can buy the amount you want to use. It's an area where customers might try a lot of things they might never try.
It will also be accessible during winter and when you can't get to the farmers market?
Philip: We're going to be a store that's open seven days a week. Usually, if you can't make the farmers market, you might not get your local produce that week. If there is a grocery store that has produce from the same farmers, you can get it whenever you want.
What are some of the design details you are thinking about or planning?
Philip: It's in the works right now. We're going to be a 7,000-square-foot store and we've hired an interior designer who is going to lay out everything. Her name is Nicole Klimek. She works for CDS which stands for Cooperative Development Services. She is going to do the design with input from us. Our priorities are fresh goods and the outer aisles: meats, cheeses, dairy, produce, things like that. There will be a cafe space as well as an area that can be used as a community room if there are events or educational classes we want to do. It will have everything a regular grocery store has; frozen goods, dry goods, pet food, etc.
What was the biggest challenge in making this happen?
Philip: It's been a long time coming. It was first incorporated in 2007, and it has been a slow build since then. We identified this site in 2013. That has been one of the biggest challenges — going from knowing we wanted this site, to working with the city that owns it, to finding development partners so everything worked, and we could all have an agreement. That just took a lot of time and a lot of learning. Our interest is the co-op, the food, the grocery store. The site that we identified is a large site, bigger than just for a grocery store. The city was really excited about having us on board there but wanted to have a larger development and have housing as well. There will be three floors of housing. The first plan is thirty-nine units. There's going to be about eight units of affordable housing and thirty of what's called workforce housing.
The other challenge has been building our membership (we had to build membership before we could proceed). Because the co-op isn't tied to a chain, our capital and feed equity comes from member owners' purchased shares. We needed to build up enough initial equity to go forward. Once we hit 500 members, then we moved forward on identifying the location. At that point, it was a big challenge to go from "we want to be here; the city wants us to be here," to learning what we needed to do to make sure this is financeable. Then we needed to bring in a developer who is excited about it and supportive of the co-op, and that has been a two-year endeavor.
Have you been able to get any grants to help?
Philip: There have been a few for staffing; the Kendall Foundation for two years supported a project manager to get to this point, and we received a couple from the Rhode Island Foundation and SEED grants. Primarily, this is planned as a sustainable business. The idea is that you are raising community funds that mostly get paid back to the community members over time as investments, not as donations. You're planning a sustainable business that isn't trying to maximize profits.
Did you model this off a different community?
Corey: There are hundreds of co-ops around the country. Food co-ops have really started to emerge over the last ten years. They have been popping up everywhere so there's good energy and force behind that movement, and there are a lot of resources specific to starting up a co-op. We have tapped into many years of experience from other "cooperators." It's been very helpful to be able to call a startup co-op, say in North Carolina, and talk to them about their experiences and outreach in their communities. We can talk with rural co-ops and find out what there challenges are. We share and grow together. It's a good support system.
How many members do you have now and how can you become a member?
Philip: 650-something. You are purchasing a one-time ownership stake in the store. It's $160 that can be spread out over four years in four installments. That's a one-time purchase. On the website, there is a button that says join today. You can pay online. Continuing to grow that membership plays a huge part in making sure we go forward and be successful. The more members we have prior to opening, the better we will do.
Do you have any estimate on when this will open?
Corey: It's a little dependent on the developer for the timeline, but we hope to break ground in the summer; it could be as late as the fall. Essentially, from there to the opening is a year. We are hopeful to open in 2017.
Editor's note: The Garden Grille in Pawtucket is hosting an event on January 13 to celebrate its twentieth anniversary, and they are donating 100 percent of their proceeds from the day to six organizations, including the Urban Green Food Co-op, the Genesis Center, Amos House, the Steel Yard, Leadership Rhode Island and Resilient Kids.