The Dish: Q-and-A: Meet Chef Robert Sisca of ProvidenceG
The new corporate executive chef at ProvidenceG previously worked at Bistro du Midi in Boston, and he also has a background at Gracie's and Le Bernardin in New York City.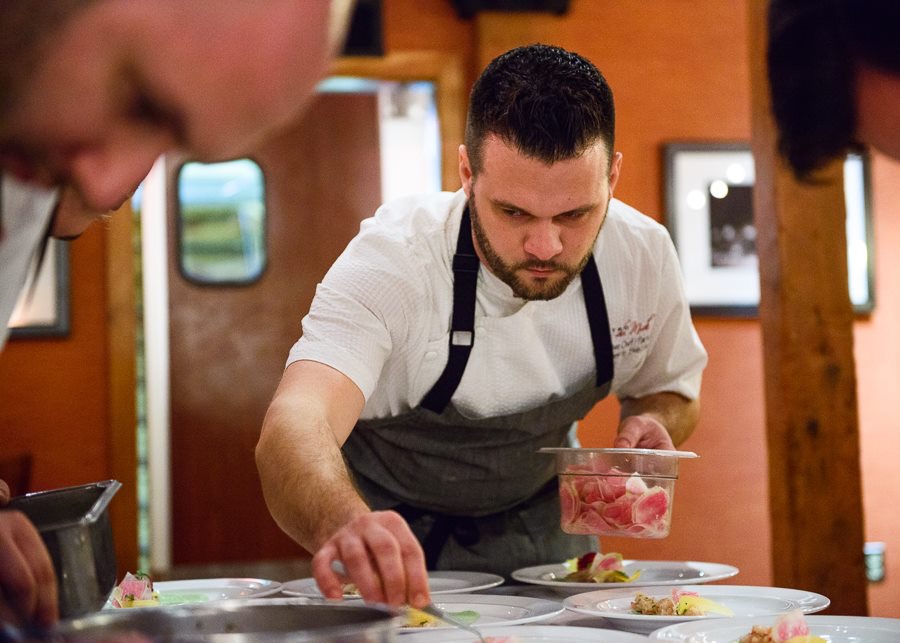 Rhode Island just gained a notable chef for its ranks of culinary masters. ProvidenceG hired Robert Sisca as corporate executive chef, a senior member of the management team taking responsibility for all aspects of food and the kitchens inside its three restaurants: Garde De La Mer, the Rooftop at ProvidenceG and GPub. Cisca previously worked as executive chef and partner for seven years at the award-winning Bistro du Midi in Boston, and he also has a background at Gracie's in Providence and the Michelin three-star restaurant Le Bernardin in New York City. Chef Sisca is a graduate of Johnson and Wales University and he lives in Cranston.

What was the main reason you decided to make a career move to Rhode Island?
When we first opened Bistro du Midi in Boston, I was already living in Cranston. My wife is from Cranston. We met in Rhode Island while I was at Johnson and Wales and we moved to New York together after I finished school. Then we decided to buy a home in Rhode Island. I met the owners of Bistro in New York City and then I opened Bistro and worked there for seven years. Over the past couple of years, I really wanted to do something in Providence. Providence restaurants are so great. They have come such a long way and there are so many amazing places. I really wanted to join the culinary scene in Rhode Island.
The fact that you were commuting from Cranston to Boston must have been tough, too.
Yes, seven years of doing it. And we recently had twins a couple of years ago. They are two-and-a-half.
When did you graduate from Johnson and Wales?
I started in 1999. I finished culinary in 2001. I earned my bachelors in food service management in 2003. While at Johnson and Wales, I worked at Gracie's back when it was on Federal Hill.
From there you moved to New York City to take another restaurant job, but then you started working at Le Bernardin. What was the most important thing you learned there?
I was at One if By Land, Two if By Sea before that. I was at Le Bernardin for almost five years. Everyone starts in garde manger [cold preparation of salads, appetizers etc.], no matter if you are a sous chef or not. Over five years, there were numerous things I learned. Running a kitchen to become a sous chef, I was molded into a chef. I learned how to organize a huge kitchen of thirty line cooks at one time from the management team, and I also learned about cooking fish properly and seasoning properly.
And it has such an outstanding reputation. I understand that Le Bernardin earned the Michelin Star rating while you were working there.
Michelin didn't rate American restaurants until 2005. The first year Michelin started doing New York City, I was working as a sous chef at Le Bernardin. They have always had three stars.
What will your new role entail at the ProvidenceG restaurants? You'll be helping with all three restaurants?
I was hired as the corporate executive chef to manage Garde de la Mer, the GPub and the Rooftop as well. I'll be coming up with new menu ideas and refining technique. We also have the Providence Ballroom which is right next door. My plan is to come up with a new catering menu and try to design the menus for the weddings.
What are you most looking forward to about working in Providence?
Taking advantage of local resources and products. Seafood is my background at Le Bernardin and working at seafood restaurants. I love that you can create great relationships with the local fishermen and produce markets here. Even working at Bistro du Midi, I used to source black sea bass, fluke and a lot of fish in Rhode Island. My seafood guy out of Boston was sourcing from Point Judith and a bunch of areas in Rhode Island.
Are there restaurants you have frequented and enjoyed going to in Rhode Island?
I always go back to Gracie's. Ellen [Slattery] and I are still friends. I did a Star Chefs dinner there last February. Whenever we had time, I'd go to Gracie's, Persimmon in Bristol, and north is amazing. Birch, also, when I have time.
The scene has really exploded in Providence. And we're excited to have you here because you're only going to help the city expand and grow even more in terms of food.
It's come a long way and I am really excited to be down here.
Experience chef Robert Sisca's influence on the ProvidenceG restaurant menus starting in March 2016.