The Dish: PVDonuts Opening Specialty Doughnut Shop
Providence will welcome its first gourmet doughnut shop on Memorial Day weekend.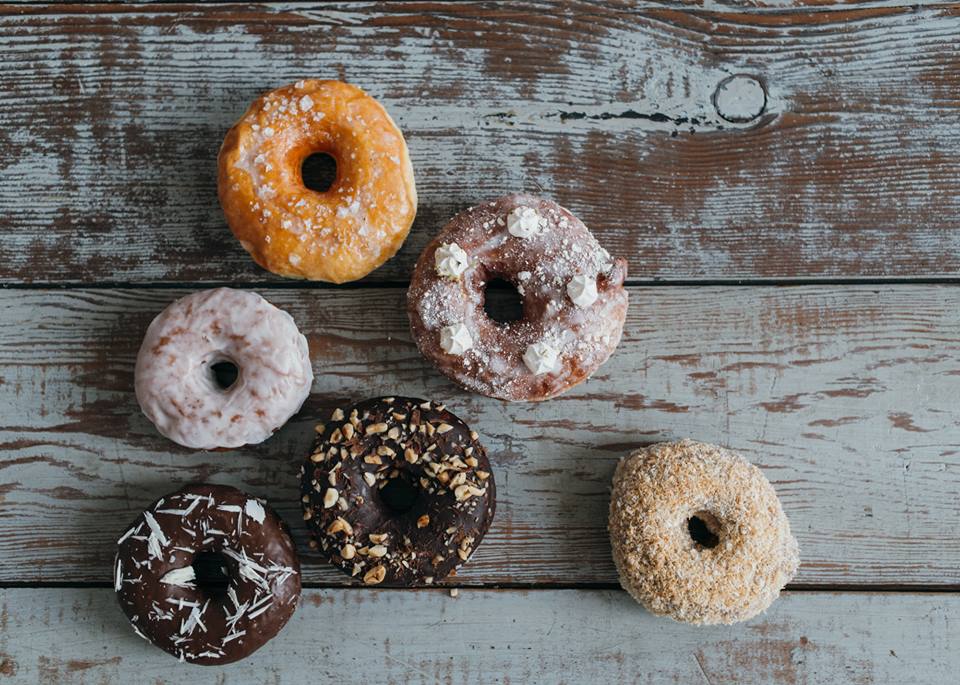 Providence is gaining its first specialty doughnut shop like those that are popular in the Portlands, both Oregon and Maine. Customers have already lined up for PVDonuts' artisanal breakfast treats with unusual flavors at popup events at local businesses. At Hope and Main's Meet Your Maker market last month, fans gathered at 11:30 a.m. before a noon opening, and PVDonuts sold out of more than 300 treats in an hour. Thankfully, we will soon be able to get our doughnut fix on an almost daily basis. PVDonuts will open its own shop on Saturday, May 28 at 9 a.m. inside of Sin Bakery.
Baker Lori Kettelle and expert doughnut slinger Melissa White are the talent behind proofing dough and creating offbeat flavors like honey sea salt, pistachio rose, lemon poppy and maple bacon, plus tried and true favorites like cookies 'n' cream, toasted coconut and strawberry glazed. PVDonuts also offers vegan varieties, and they're planning to perfect a gluten-free recipe in time for the grand opening.
Lori Kettelle and Melissa White of PVDonuts. Photo by Jamie Coelho.
"It's crazy Providence doesn't have this," says Kettelle. "Providence is such a foodie city and there were no specialty doughnuts." Of course, North Kingstown has Allie's with its beloved sugar- and sprinkle-coated varieties, and Easy Entertaining hosts Donut Fridays, but there's no permanent gourmet doughnut shop in Providence. Sorry, Dunkin' Donuts doesn't count.
"Our doughnut itself is not as sweet as your typical doughnut. It's a brioche base. There's very little sugar, and there's a lot more eggs than butter, but it's not as sweet as what people are used to," Kettelle says. "We strive to have the flavors from glazes and toppings shine through. We want you to taste that rather than just sugar. That's what's going to set us apart."
Kettelle, a 2012 Johnson and Wales University graduate, previously made specialty cakes in New York, New Jersey and Providence, and she recently left a job at a local bakery to strike out on her own. A fan of the Holy Donut in Portland, Maine, the twenty-six-year-old started experimenting with making doughnuts for friends back in 2014. Her husband, Paul Kettelle, brought the surplus batches to his CrossFit gym, Full Range, where workout warriors would devour the goods. "Somehow CrossFitters love doughnuts," says Kettelle. "That's how word of mouth started happening."
Once they came up with the name – PVDonuts – and realized there was potential for an actual business, Kettelle and White teamed up with Hope and Main's incubator kitchen and experts there helped them obtain the necessary licenses to launch while they crafted the doughnuts in the space. Paul and Lori Kettelle established wholesale accounts and private orders for delivery, and once production picked up, the idea of opening a permanent shop became a reality.
Kettelle had worked with Jennifer Luxmoore of Sin Bakery making cakes in the past, and that relationship helped her take her own business to the next level. The baker has been granted a partnership to use the Sin space to launch her shop, while Luxmoore continues to make custom cakes in the kitchen, and sell cupcakes and cookies at the counter.
While local shops and events would sell out of PVDonuts sometimes within an hour, now the business will be better equipped to keep up with demand. They bought a new fryer, which can hold up to twenty-five doughnuts at a time, as opposed to nine, and there's talk of purchasing a second one. For the Memorial Day weekend opening, nearly 4,000 fans are interested in attending, according to the Facebook event page. Kettelle and a crew of friends and family plan to proof dough a day in advance and then start slinging doughnuts at midnight to prepare for the 9 a.m. opening. "We're going to be making a couple thousand doughnuts that weekend," says Kettelle. She says fans should watch for a soft opening announcement on PVDonuts Facebook page, when they can try the doughnuts in advance of the official big day.
There's potential for many new flavors. "We get our inspiration from our customers," she says. "I think I've gotten five emails about peanut butter and jelly doughnuts so that's the first thing we have to do because that's what they want."
Kettelle and team have also made connections with local food businesses, so they anticipate creating flavors using Dave's coffee syrup and Backyard Food Company's apple butter. "It will be way easier now with a bigger space to go with seasonal flavors because we'll be selling retail," Kettelle says. "We'll be able to have more fun."
Wholesale orders are on hold until the bakery gets up and running smoothly. On the day of the opening, only cold brew iced coffee will available. Opening hours are Sat. and Sun., May 28 and 29, starting at 9 a.m. until they sell out. From then on, they'll be open Wed.−Sun. from 8 a.m. until they sell out. 200 Allens Ave., Providence, pvdonuts.com