The Dish: Persimmon Providence Opens
Champe and Lisa Speidel balance business and family life while relocating their beloved restaurant to Providence.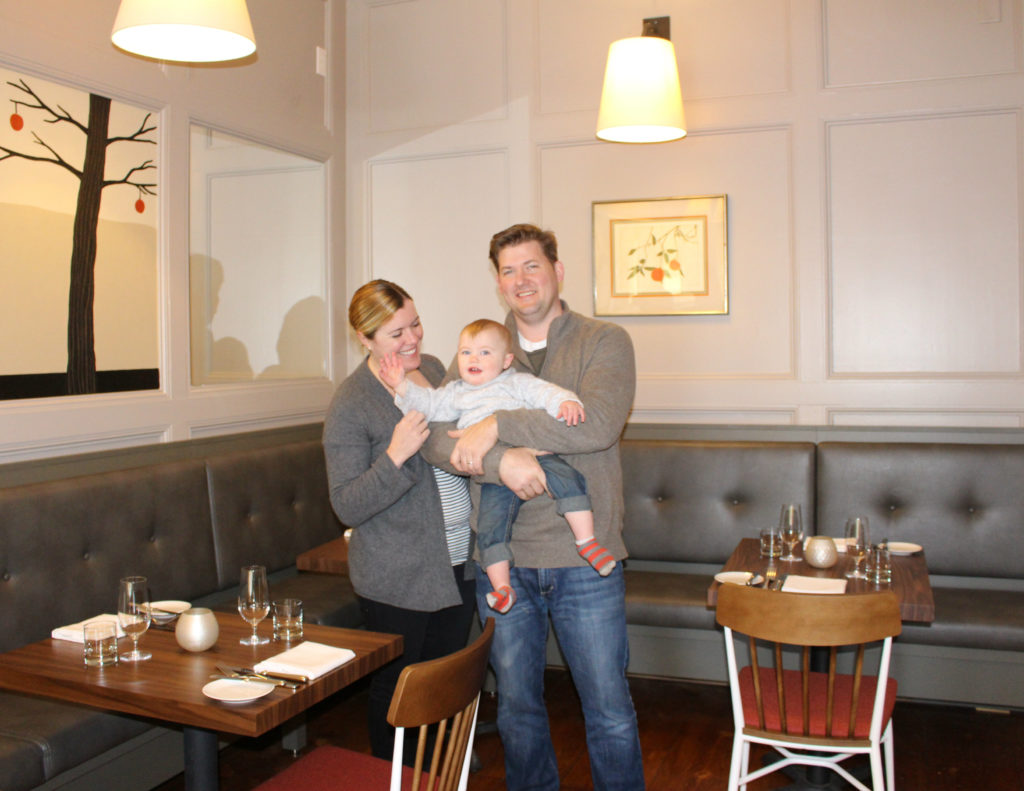 Things truly happen all at once: Opening a new restaurant, a baby's first birthday, earning an honorary doctorate. All three of these feats are happening in the month of May for the Speidel family. Champe and Lisa Speidel plan to open Persimmon in Providence on Tuesday, May 17 at 5 p.m.; Champe will be presented with an honorary doctorate degree from Johnson and Wales University at commencement on May 21; and then the couple's son Thatcher turns one the following week.
On the Thursday before opening Persimmon in Providence, an electrician is finishing up work, while dropcloths blanket banquettes and power tools install finishing touches like light switches and fixtures. Health and Electrical inspections have passed, and fire inspection is next. They are tweaking the final menu, finalizing the liquor license and getting ready to welcome guests on Tuesday.
The couple had pondered a Persimmon move from Bristol to Providence for quite some time, so when Deborah Norman's former Rue De L'Espoir restaurant came up for sale after nearly forty years in business, they jumped at the chance. "Bristol has been really good to us and we've had so many great memories there, but we were looking for something larger and more centrally located," says Lisa Speidel. "The other thing that came into play when we found out the Rue was for sale was the opportunity to own real estate." They had leased the Bristol Persimmon space for eleven years.
Life is a balancing act. But there's no time like the present. "You make it work," says Lisa Speidel. "The opportunity to acquire this space came up and you can't say, we'll do that next year, because it's not necessarily available."
Rarely is there a fully outfitted restaurant with infrastructure already in place available in the city. The couple has renovated the East Side space while keeping the same divided bar and dining room. Libby Slader designed the interior. Soft grays and lofty tin ceilings painted white brighten up the rooms, punctuated by bursts of persimmon red on bar stools and doors. Comfortable gray leather and gray gingham fabric banquettes set the perimeters of the rooms, allowing for more flexibility with seating. Booths have been removed from the dining room to make way for movable tables and chairs, and the carpet was taken up to reveal beautiful wood floors with eighteen-inch planks. Art by local artist Mark Freedman graces the walls. Don't expect white table cloths here; walnut veneer tops provide a clean palette for plates.
The kitchen has been opened up to accommodate a chefs' counter, and now diners can see their meals being made in front of them. The menu also brings change. Instead of traditional appetizers, entrees and desserts, choices are divided into six categories: vegetables; meat, poultry and game; fish and shellfish; handmade pasta and grains; desserts; and Sunday brunch. "It's not appetizers and entrees; it's different sized plates. People can order however they want from whichever category they want," says Champe. "Servers will describe the size and scope of a dish so people can understand what they are getting into."
You'll see choices like wild spring greens beignets with grilled ramp aioli; venison tartare; forty-day dry aged beef strip loin; grilled Spanish octopus with white beans, mint and chorizo broth; crispy soft shell crab; spaghetti Bolognese; Westport cheese curd agnolotti and more. Desserts may include panna cotta with strawberries, roasted rhubarb with walnuts and milk emulsion and textures of Valrhona chocolate.
The experience is meant to be as casual or fine dining as you wish. Guests are as welcome to pop in for a bite and a glass of wine as they are for a full chef's tasting. "We don't want people to feel stifled by the experience, and that they have to commit to a long drawn out evening," says Champe. "We want people to know they can come and go and try it out."
Persimmon will serve dinner and Sunday brunch to start, then expand with lunch in the fall. The restaurant seats eighty, which is double the Bristol location. They are also able to have more flexibility with reservations and walk-ins, and there is more space to accommodate large parties, and even private events. They are accepting graduation weekend reservations.
A four-part Japanese-inspired mural is painted on the wall of the bar. The work, by Warren artist Chris Depoto, shows the persimmon through four seasons; spring, summer, fall and winter. Little birds are labeled with Champe, Lisa and Thatcher's names. It's an evolution, much like their small family adapting to the lifestyle of the restaurant business.
Juggling business and a baby is a challenge, but it's one they say is worthwhile. "It's always a struggle in any profession when you have a family and two people working and you've got a child. It gives you something to work even harder for," says Champe. "Somebody told us a long time ago, never let this business keep you from having a family. I did not want to ever sacrifice that."
They are working together with their team to continue running Persimmon Provisions butchery and artisanal food shop in Barrington along with the new Providence restaurant. Champe will almost always be at the restaurant, while Lisa says she will limit her schedule to three evenings spent there during dinner service hours, while popping in and out during the day with Thatcher. She also plans to spend early staff meals with Thatcher and Champe, so "Thatcher can have dinner with his dad."
So far the Speidels are managing family and business balance with positivity. They credit their longtime staff – which has followed them from Bristol to Providence – for allowing them to be able to maintain both worlds. "We have a wonderful crew that has made it easier for us to have a family. They are generous with their time to allow me to have more time with [my son]," says Champe. "Without them, it would be a bigger challenge than it already is." 99 Hope St., Providence, 401-432-7422, persimmonri.com