The Dish: On the Job at Sweet and Salty Farm
Andrew Morley and Laura Haverland's Little Compton dairy farm produces whole milk yogurt, and will soon sell artisan cheeses.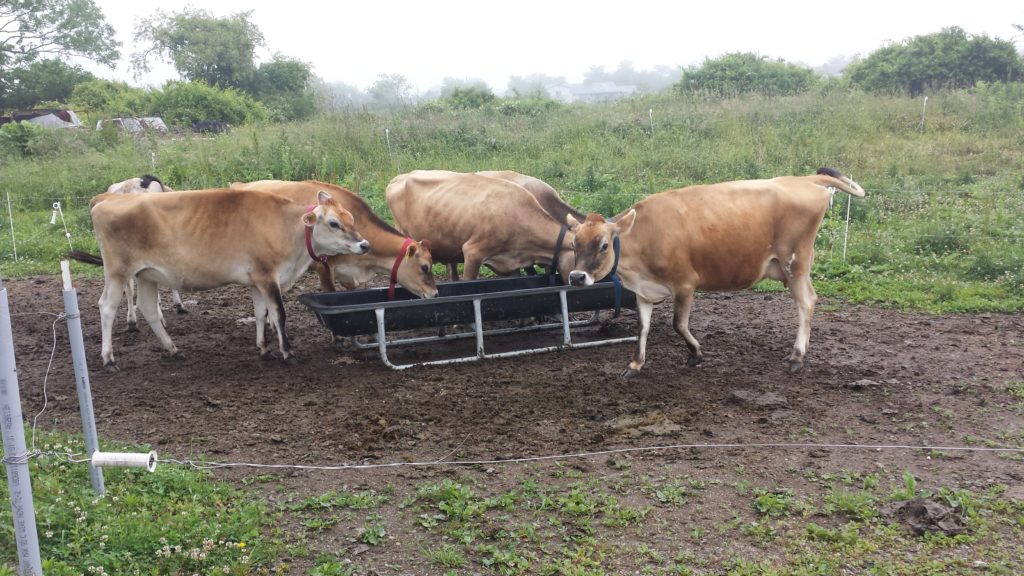 It's about 7:15 on a weekday morning, and a small herd of tan and white Jersey cows is slowly making its way, single file, along a pasture path at Sweet and Salty Farm in Little Compton. They meander and stop to chew clover and grass, then walk a little further until they finally reach the milking parlor. "Come on Penny! Come on Brigid!" says Laura Haverland, co-owner of the farm, as she tries to coax them along to speed up the process. "Come on ladies! Let's go," says farmhand Barry Gross in a gentle, encouraging voice.
Laura Haverland, co-owner of Sweet and Salty Farm.
One by one, five milking cows, Brigid, Penny, Irene, Angela and Anna, are corralled into the milking parlor, while two heifers, Goose and Isabella, wait close by. Heifers are young female cows who have yet to have calves, and therefore do not produce milk, though Goose is pregnant and will deliver next spring. All of the cows have big brown eyes with long, black lashes for days. Seriously, Maybelline, have you seen these lashes?
Two heifers, Goose and Isabella.
Nine cows at Sweet and Salty Farm are producing milk, but four of them are out in the field tending to nine nursing calves. Each cow ideally has one calf every year at a dairy farm. One of the cows out there nursing is Bella, who is Brigid's mother, so there are three generations of cows on this small family farm.
Sweet and Salty Farm is currently creating and selling whole milk yogurt that's available at farmers markets, Whole Foods, Eastside Marketplace and other small grocers in the area, in addition to being available on Farm Fresh Rhode Island's Market Mobile. Co-owner Andrew Morley, Haverland's husband, is from Philadelphia and has a background in cheese-making. The farm hopes to also sell cheese by the end of July. Morley worked at various cheese farms for a few years, including the famed Twig Farm in West Cornwall, Vermont. He loved making cheese so much, he and Haverland, who grew up in Cincinnati, decided to move from New York City to Little Compton permanently to be closer to family and live out their dream of opening a small dairy and artisan creamery. They lease fifty acres from Whimshaw Farm, where they built a brand new milking parlor and creamery, so they can do all of the yogurt and cheese processing onsite.
Milking the cows and the final yogurt product.
The cows are milked twice a day at 6:30 a.m. and 3:30 p.m., though today they are a bit behind because, Haverland says, she doesn't normally lead them to milking. The cows are creatures of habit who do not like change and they're tempted by honeysuckle and rose hedges along the way. After every milking, they are moved to a new pasture so they always have plenty of fresh grass to eat. Haverland, Morley and Gross put up temporary fencing around an area with twelve-inch high grass, and let them graze away. "The flavor of the yogurt comes from what the cows are eating, so we make sure they have variety and that they are getting fresh pasture every day," says Haverland.
Each of the cows has its own name and personality to go along with it. "Penny is the Alpha cow," says Haverland. "She's sort of in charge, so she will often lead." Dimples has a mind of her own and sometimes takes the longest to budge. "I know each one just by looking at its udders," she says.
Before each cow is milked, udders are cleaned using a teat dip. They milk each cow a little bit by hand to get the fresh milk flowing, and then the milking unit suctions onto the udders and a vacuum pumps out the milk through tubing into a large, sterile canister. It takes about thirty minutes to milk all five cows. When they're finished, the ladies are treated to a small amount of grain. The milk from this morning will be turned into yogurt or cheese. Haverland and Gross will get to taste-test one of the first washed rind cheeses this week.
A calf taking a nap.
Out in another field, nine baby calves are on pasture. Haverland and Morley's two-and-a-half-year-old daughter, Annie, named all of them, including Buster, Donut, Egg (who was born on Easter), Bunny, Ruby and Max. Three of them are heifers so they will eventually become milking cows, too.
Bull calves have a tougher fate, however, though that's the way of life on a farm. They cannot produce milk at dairy farms, so they are sold for meat. This farm sells grass-fed veal, but it's done in a much more humane way than what we normally think about veal: Young bulls are often sold to other farms where they are held in tiny hutches that restrict movement. Sweet and Salty Farm's young bulls spend six months on pasture, nursing from their mothers for almost four months until they are weaned.
They live a good life here on pastures that go right down to the ocean. Sweet and Salty Farm is trying to be a seasonal farm, which means that cows are bred at a certain time so that they produce young in March. Once a cow is in heat, they have a twelve-hour window to breed her. Jane Escobar from Escobar's Farm arrives to do artificial insemination. Haverland and Morley can select which bulls they want to breed based on distinctive qualities, like high butterfat content in milk, which is good for cheese-making, a stronger body frame or even a trait for better milking udders.
Cows get two months off from milking to replenish tissues and to switch nutrient use from milk production to the growth of the calf. Haverland and Morley are trying to sync that timing with the winter months, so that Sweet and Salty Farm can focus that time on aging cheese. Also, winter affects the yogurt's flavor. "You can really tell the difference the minute they have to go back to eating hay in the fall," says Haverland.
The cows are fed 95 percent grass with a bit of grain to aid in milk production. "It takes a lot of energy to produce milk," says Haverland. Once the cows are finished munching grain, they are led back out to pasture by Gross. "See you in about five hours," he says with a laugh.
Gross walks off into the distance shouting, "Let's go! Let's go," in an encouraging tone. But the cows are sampling the clover again. "Let me give them a nudge," says Haverland, deterring the cows from more snacking. Finally, they start moving along. "We won't necessarily set up a lane but they create a path," she says. "They stay single file and eventually it'll be just dirt there."
The cows heading back out to pasture.
To learn more about Sweet and Salty Farm and where to purchase yogurt and grass-fed veal, and soon cheese, go to sweetandsaltyfarm.com.