The Dish: Meet the 27 Businesses Launched by Hope and Main
October marked the grand opening of the food business incubator in Warren, which recently completed a $3.2 million renovation.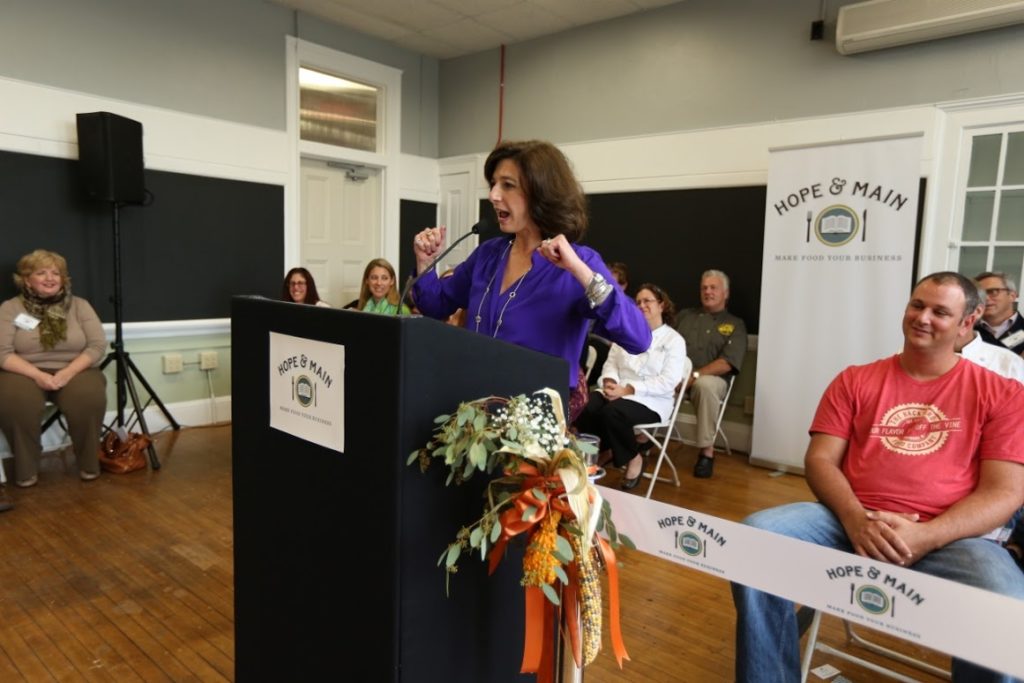 Head to the Meet Your Maker holiday market at Hope and Main on Sunday, November 23 from 1-5 p.m., to browse and purchase dozens of specialty food products from the food business incubator's members and community partners. Admission is free and you'll enjoy live music, sip hot chocolate and cider and sample products, and you can register ahead to be entered into a raffle to win a holiday gift basket, comprised of specialty food products and other items from member companies.
Last month marked the grand opening of the food business incubator in Warren. State officials and community leaders gathered to celebrate the launch of close to thirty new local food businesses inside the historic Main Street School building, which recently completed a $3.2 million renovation.
The idea began five years ago with Hope and Main founder and president, Lisa J. Raiola, who originally planned to launch her own food business, but expanded the idea to foster an entire hub for foodie entrepreneurs. "We want to shine a light on these Rhode Island superheroes, these businessmen and women," said Raiola at the opening, "who cupcake by cupcake and pickle by pickle will help us to build a stronger economy; a yummy economy."
The Hope and Main building is now equipped with three code-compliant, shared-use commercial kitchens, including a gluten-free kitchen, cold and dry storage, commercial equipment, a demonstration kitchen, meeting rooms and a community event space. It's all in an effort to get new businesses off the ground and provide them with workspace, mentoring and guidance on building business plans.
All participants share the dream of making Rhode Island the food state, and many are using locally grown ingredients to create their products. "Why ship our cucumbers out of state and make pennies on the dollar, when our friends at New Urban Farmers grow the cucumbers and Ziggy Goldfarb makes the pickles and Joe Simone serves them in his restaurant?" says Raiola. "A dollar has changed hands three times in Rhode Island and that's economic development."
Raiola and team also extended their gratitude to the USDA and to the town of Warren for helping Hope and Main come to fruition. "If it weren't for the unwavering support of the people of Warren, Hope and Main would not be here," Raiola said. "And what is their reward for their persistence? How about thirty new businesses arriving on Main Street, with still more to come…This is my prediction, you heard it here first: Rhode Island will be the food state, and Warren will be its tasty capital." makefoodyourbusiness.org
The code-compliant kitchen.
Meet the new businesses:
1. Acacia Cafe Food Truck and Kitchen: A food truck serving wholesome fare in greater Providence. acaciacafe.com
Twitter: @AcaciaFoodTruck
Facebook: Acacia Cafe
2. Agraria Edibles: Edibles from the farm and naturally dried and dehydrated products. agrariafarm.com
Facebook: Agraria Farm and Edibles
3. Allie's Genuine Goodness: A vegan cookie dough company (break and bake style) that uses organic, non-GMO ingredients sourced from fair-trade facilities and educates people about how food choices affect people, animals and the environment. alliesgenuinegoodness.com
Facebook: Allie's Genuine Goodness
4. AnaVila's Bakehouse: Healthy gluten-free foods.
5. The Backyard Food Company: A Rhode Island-based food company specializing in heirloom recipes made with locally sourced vine-ripened produce. thebackyardfoodcompany.com
Twitter: @BackyardFoodCo
Facebook: The Backyard Food Company
6. Bella Piccolina: An inspirational food blog with a kid's heart, created by Daniela Mansella. bellapiccolina.com
Facebook: Daniela Mansella
7. Biggest Little Popcorn Company: Air-popped, baked, English butter toffee popcorn infused with the purest fruit oils/extracts and spices available. biggestlittlepopcorncompany.com
Twitter: @biggestlilpopc
8. The CupCake Contessas: A made-to-order local cupcake/cake business. cupcakecontessasri.com
Twitter: @TheCupcakeConte
Facebook: The CupCAKE Contessas
9. Dough: Warm and delectable confections made of the finest and freshest local ingredients. doughtreats.com
Facebook: Dough
10. Essentially Coconut: Coconut and nut butters. essentiallycoconut.com
Twitter: @essentiallycoco
Facebook: Essentially Coconut
11. Fox Point Pickling Company: Delicious pickles handmade in Rhode Island using fresh produce and a unique spice blend. foxpointpickles.com
Twitter: @FoxPointPickles
Facebook: Fox Point Pickling Company
12. Great Gaines Foods: A Rhode Island based company providing all natural frozen fruit and vegetable smoothies on a stick and gluten-free, whole-grain frozen cannoli shells filled with smoothies. greatgainesfoods.com
Twitter: @greatgainesfood
Facebook: Great Gaines
13. Griffith Gardens: Homemade products, including salsas, using fresh, local ingredients.
Facebook: Griffith Gardens
14. Halsey & Bowen: Specialty nut sauces.
15. Hollister Tamales: Authentic, handmade tamales and sauces. hollistertamales.com
Facebook: Hollister Tamales
16. Laughing Gull Chocolates: Direct trade specialty chocolates. laughinggullri.com
Twitter: @Laughinggullri
Facebook: Laughing Gull Chocolates
17. Matt's Magic Brownies: Magic Brownies, Groovy Granola and Awesome Almond Cookies. mattsmagicbrownies.com
Twitter: @MattsMagicBrwne
Facebook: Matt's Magic Brownies
18. Mima's Gluten-Free Nut-Free Baked Goods: Mima's cookies, cupcakes and cakes are made with a special blend of ELISA certified gluten-free flours. mimasglutenfree.com
Twitter: @mimasgf
Facebook: Mima's Gluten Free Nut Free Baked Goods
19. My Lil' Chefs: Recipe kits featuring locally grown foods for creative children. mylilchefwebsite.com
Twitter: @MyLilChefs
Facebook: My Lil' Chefs
20. New England Tonic & Syrup: Small batch syrups, salts and tonics for use in cocktails, desserts and recipes.
21. New Urban Farmers: A nonprofit organization that has set out to preserve and restore our environment by creating sustainable agricultural systems in the city. newurbanfarmers.org
Facebook: New Urban Farmers
22. Nutritionally Sound: Nutritional advice/private consulting for clients with diabetes, obesity, eating disorders, sports nutrition, celiac disease and much more. harmonywithfood.com
Twitter: @harmonywithfood
Facebook: Nutritionally Sound
23. Ocean State Smoked Fish Company: Smoked fish.
Facebook: Ocean State Smoked Fish Company
24. Pies by Moira: Home baked goods including pies, cupcakes, cookies and breads for sale at a road-side stand on Pearse Road in Swansea, Massachusetts.
Facebook: Pies By Moira
25. Spicy Penguin: Hot sauce, orange salsa and mango salsa that pack a spicy punch. thespicypenguin.com
Twitter: @SpicyPenguinPVD
Facebook: The Spicy Penguin
26. Two Gringos: Tito's Cantina restaurant in Middletown offers specialty products including salsa, chips, hot peppers, sodas and more. titos.com
Facebook: Tito's Cantina
27. Uncle Truscott's: Classic American confections, including chocolate truffles. uncletruscotts.com
Facebook: Uncle Truscott's