The Dish: Making Steamed Buns with Tom's BaoBao
Tom Tong is bringing his famous bao to America, starting in Rhode Island.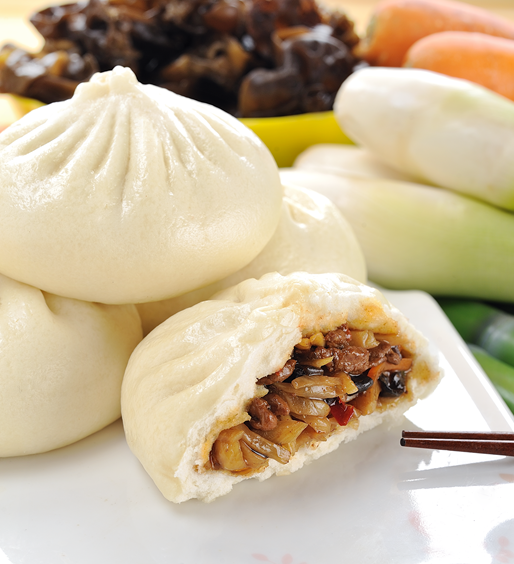 A small team of local chefs returned to Rhode Island this spring after spending three months in Hangzhou, China, learning how to perfect an ancient Chinese custom: making bao, or steamed buns. Tom's BaoBao restaurants, originating in China, are coming to America, starting with its first two American outposts. The first one opened in Cambridge, Massachusetts, in July, and a second will open inside the Kinsley building on Westminster Street in Providence in early October. The company will eventually expand with locations across the United States.
This past spring, we were invited to watch chefs in training learn how to create bao in Hope and Main's commercial kitchen space in Warren. The chefs guided a hands-on demonstration for newbies on forming the steamed buns in just several minutes, rather than after months of practice.
"It really takes years to perfect it," says Collier.
The dough is sent through a sheeter to aid in the folding process, then the chefs pinch sections into little balls that are a consistent size and weight. The dough is made by hand and sometimes combined in a mixer using a premium medium gluten flour milled in China, mixed with fine ground whole wheat flour milled in the United States. Most bao served in the United States is frozen and heated. "It's the difference between getting frozen bread and fresh bread right out of the oven," says Tom's BaoBao's COO Rosamond Lu.
Once the group has pinched a dozen balls, the chefs begin to flatten the rounds with rolling pins. Then we practice pulling and pleating the sides of the buns together. Another ball of dough is used to stand in for filling to help us learn the craft more easily while keeping our thumbs steady in each center. Later, the chefs will add fillings like curry beef, pork and sweet potato and taro to the bao for savory and sweet versions. Each bun is proofed for ten to thirty minutes in a basket to allow the dough to acclimate to room temperature, then they are steamed in a bamboo basket for eight to twelve minutes to cook. The bamboo baskets used for Tom's BaoBao restaurants come from a family in Huang Village in China that has been making them for 900 years.
Chinese entrepreneur Tom Tong is the man who brought handmade bao using fresh ingredients and ancient recipes to Providence and Cambridge. He owns more than 200 storefronts in China, providing fair wages and comfortable working conditions.
But what made Tong choose Rhode Island for training?
"When he came to the States, he realized the East Coast has a rich history and cultural traditions," says COO Rosamond Lu on Tong's behalf. "For food like steamed buns, it's really something that pays tribute to tradition and artisanal skills and this seems to be the perfect place to land," she says.
Bao requires specific criteria in order to be called authentic. The tradition is nearly 1,200 years old. They must weigh around 100 grams each with forty grams coming from the filling and sixty grams from the dough, and they should have a total of sixteen to twenty-two pleats holding them together.
The team from China is here to see how progress is coming along in America for a fall opening in Providence. After Tong views a basket of steamed buns that are ready to eat, he remarks that they are too big. He takes a bite of the curry beef version, and tells the chefs, through Lu's translated English, that it is too spicy. While most tasters enjoy more heat from the curry, Tong wants the chefs to work on consistency.
Tom Tong of Tom's BaoBao.
Clay Pell is also involved in Tom's BaoBao. He's on the board at Hope and Main, and because he speaks Mandarin, he's able to communicate easily with the team from China. "I lived in China and worked in international issues, so it's exciting to leverage that to make sure companies are coming in from other countries into Rhode Island," says Pell. "We are creating a food economy that's so rich in Rhode Island that it's attracting people from outside the state and outside the country to Rhode Island, and creating jobs here."
With 200 stores in China, Tom's BaoBao plans to expand nationally, beginning in Boston's metropolitan area and Southern New England. "It has big potential for the country," says Pell. "That's what makes it so exciting that it's starting right in Rhode Island."
Watch the video to see how Chinese steamed buns are made at Hope and Main.