The Dish: Go Behind the Scenes with Chefs at Hope and Main
The Cookin' It Old School Dinner Series puts the chef front in center in the demonstration kitchen, preparing all of the courses in view of dinner guests.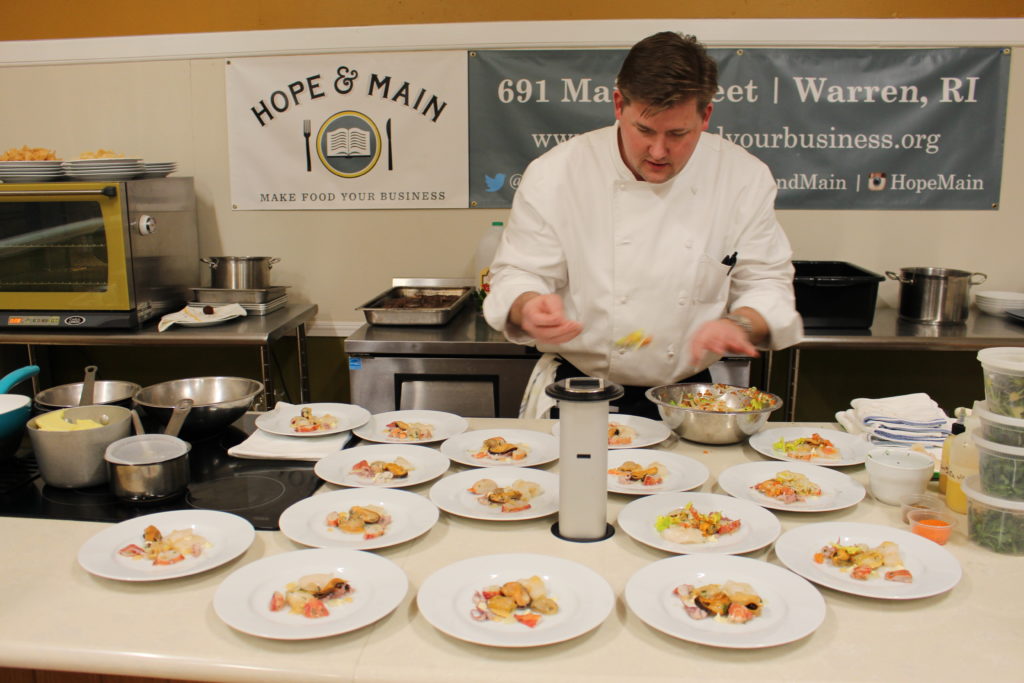 Most times, chefs are the elusive creators, hidden in the kitchens in the backs of restaurants, preparing refined and detailed multi-course feasts with no audience. Hope and Main in Warren is peeking behind the curtain with its Cookin' It Old School Dinner Series, which puts the chef front and center in the demonstration kitchen, preparing and plating courses in view of dinner guests.
Last month, we attended a dinner with the multiple James Beard Award-nominated chef Champe Speidel of Persimmon in Bristol, which is moving this spring to Hope Street in Providence. The intimate meet-the-chef experience involves about sixteen dinner guests and it kicks off with wine and beer and passed canapes in the demo kitchen. Speidel prepared chicharrons, quail eggs with caviar and goat cheese fritters for guests to munch on while they mixed and mingled with other dinner guests and Lisa Raiola, founder of Hope and Main, and her husband, Waterman Brown.
As guests were invited to sit down for dinner, Raiola explained the concept of Hope and Main and how it helps our local economy by creating jobs and exchanging goods between farmers, creators and restaurants. "A dollar changes hands three times and that is the multiplier effect of food," she says. "That is why food is such a phenomenal economic driver." There are sixty-five plus companies that have started at Hope and Main. "Hope and Main is a little piece of infrastructure that can help add value and educate people about why it is worth paying a little more to buy a local product," Raiola says. "We all have the choice to vote with our dollar."
One of the reasons Hope and Main started the Cookin' It Old School Dinner Series is to highlight the value of the local food system. Guests will get the chance to meet local chefs, ask questions, learn about sourcing and technique, and of course, enjoy the cuisine. "You can't get what he's doing today online. You can't eat online," says Raiola. "We hope by attending events like this you will come to appreciate the value of local makers, local food."
As Speidel prepared the dishes, including a shellfish salad, beef two ways and panna cotta with tropical fruits, he explained the preparation, ingredients and plating technique behind each dish, which really helped me to recognize certain flavors and textures, especially as a food writer. The shellfish salad was made with fourteen to sixteen ingredients, including lobster, clams, scallops, mussels and calamari prepared in different ways (from poaching to curing) plus citrus, red peppers, celery, fennel and fresh herbs, plus various puddings. "We start with the star – the shellfish – and then we just dress it in a light vinaigrette to give it texture, flavor and intensity," Speidel says. "Each piece of seafood is treated differently, so I'm hoping you'll see that it's not just one flavor, but individual flavors." I was reminded of this as I savored each bite and could detect the varying zests and umami from seaweed as I explored the plate.
Speidel then served beef two ways, a forty-day dry-aged strip sirloin and a short rib with potato puree, wild mushrooms, whole roasted shallots and a Bordelaise sauce (a red wine veal reduction). The meat came from Painted Hills in Oregon and the natural, grass-fed beef is available for purchase at Speidel's retail shop, Persimmon Provisions in Barrington. The palate cleanser was a spoonful of aerated bergamot ice cream with a consistency like cotton candy, followed by dessert of panna cotta with tropical fruits, including raw and grilled pineapple, banana, grapefruit, bergamot and rum puddings, tiny meringue kisses, plus rice pearls coated in caramel spiked chocolate, and garnished with fresh cilantro.
The dinner was an intimate opportunity to not only taste wonderful food, but learn about and appreciate the hard work that goes into creating it. I came out of it better able to detect and describe the flavors and textures I experienced.
The next Hope and Main Cookin' It Old School dinner takes place on March 10 from 6 to 9 p.m. with Nick Rabar of Avenue N American Kitchen/the Pantry. Chef Rabar will reconstruct and modernize old school classics like sloppy Joes and macaroni and cheese in his signature style. On April 11, chef Antonio Wormsley of Milk Money in Providence will lead the next Cookin' It Old School dinner. Tickets are $100 per person and can be purchased at makefoodyourbusiness.org.