The Dish: Get Grilling with the Backyard Food Company
The homegrown business expands with a new heirloom pickle line, a Smashburger collaboration and distribution from Maine to New Jersey.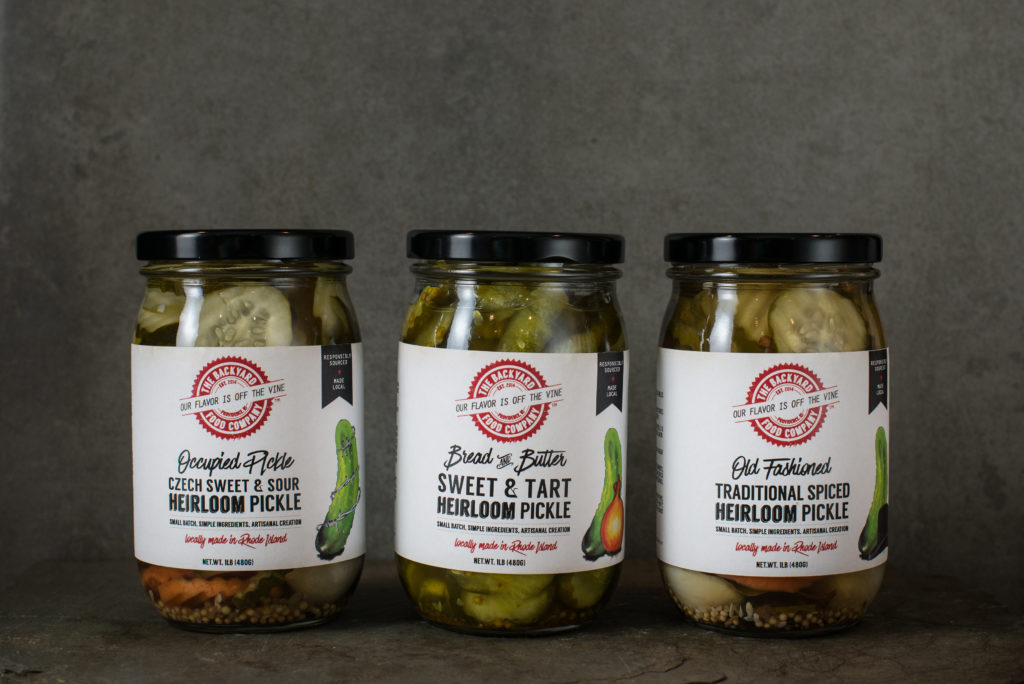 Two and a half years ago, Matt McClelland and Louby Sukkar were two PTO dads camped out in Louby's driveway, home-canning apple butter for gifts for Teacher Appreciation Week at their children's Warwick school.
"It looked like a meth lab the first time we did it, but it smelled delicious," says McClelland with a laugh.
"The apple butter was the first time we made something for somebody," says Sukkar. "They tried it and said, 'Wow, this is really wonderful.' "
Meanwhile, McClelland and Sukkar were also growing surplus tomatoes and cucumbers in Matt's backyard garden. The home cultivation all started with a goal to get healthier. McClelland was diagnosed with cancer four years ago and had a double bowel resection at age thirty-seven. Though he's on the path to recovery, getting scans every three months, he decided to clean up his diet for good. Once he was back on his feet after healing from surgery, planting an organic garden was the first step toward healthier habits. Sukkar helped McClelland terrace his garden and the two worked together on backyard harvesting.
Sukkar also runs a family pizza place called K and S Pizza in Charlestown. The restaurant buys from local farms and purveyors and grows its own produce in a greenhouse on the property, which led Sukkar and McClelland to join forces to see just how much they could grow.
"As summer went on, we had more and more produce," says McClelland.
"It got to the point where we were leaving bags of produce on our neighbors' doorsteps," says Sukkar.
"People were getting sick of it and freezers were full," says McClelland. "We started thinking about how far we could extend the harvest, so we gathered family recipes and started home-canning in the backyard, which is where the Backyard Food Company name came from."
The experience making Sweet Tomato Jam and relishes prompted the partners to launch a Kickstarter campaign to gain necessary funds to officially start the Backyard Food Company. They searched out commercial kitchen space and initially commuted more than two hours each way to Greenfield, Massachusetts, to learn about canning in a health department-certified center.
Louby Sukkar and Matt McClelland at the Best of Rhode Island party in 2015.
"That was not an ideal situation. We kept looking and looking and actually they pointed us toward Hope and Main," says Sukkar. "Once we found Hope and Main, we just knew it was going to happen and we were so thankful that we had that opportunity available to us in the state."
When Hope and Main officially launched its food business incubator program in 2014, they had access to kitchen space closer to home. Soon, this side project would turn into a lucrative business venture with their food products being sold locally.
In the beginning, the partners were conscious to start small, but now business is booming and they're ready for more growth. A new heirloom pickle line recently launched, and they've expanded regional distribution through a partnership with Chex Finer Foods, which delivers their products all the way from Maine to New Jersey and into Pennsylvania. The national restaurant chain Smashburger is also using its products across six locations (including Warwick), with more to come.
Smashburger contacted the Backyard Food Company about its Rhode Island red pepper relish, and now McClelland and Sukkar develop condiments just for the restaurants. "When we heard from them, Matt and I made a bunch of different seed levels of our product and we overnighted it to Denver," says Sukkar. "By 9 a.m. the next morning, it was on the desk of the head chef at Smashburger. We had all our products sitting there at all different heat levels, waiting for him to try them. They loved that responsiveness from us, and they loved how excited we were to work with them."
For a company that is all about backyard barbecues, a line of pickles also fit in perfectly. "Pickles were the first thing I made out of the garden before we even thought of starting a business," says McClelland. They chose to launch the collection with three varieties, including Sweet and Sour, Old-Fashioned and the Occupied Pickle in crinkle-cut slices that work well in sandwiches and on burgers. "We want it to be different. There's another local pickle business out there that we are sensitive about, so we didn't want to do exactly what they are doing," he says. "The crinkle cut gives the cucumber a little more surface area for that crispness you want when you bite into a pickle. The traditional bread and butter crinkle cut reminds me of my grandma."
McClelland grew up eating ham and pickle sandwiches after church at his grandmother's house. That's where the bread and butter version comes from. The Occupied Pickle's Czech sweet and sour recipe was scored through Matt's Brown University college roommate's mother, who lived in occupied Czechoslovakia and brought the recipe with her to the States. McClelland and Sukkar repurpose the brine from pickles to make slow-cooked pulled pork (you can find a recipe for that from "The Rhode Show" here).
Summer is prime time for this homegrown venture. "We are a condiment company," says McClelland. "The products lend themselves well to the grill and outdoors. This is our time of year."
The pair is always coming up with new ways to cook with trademark items like Sweet Tomato Jam, Whollypeno Relish, Rhode Island Red Pepper Sweet Relish, Rhode Island Red Pepper Hot Relish and the Big Apple Butter.
"What really resonates with shoppers is that our products are so easy to make food delicious with very little effort," says Sukkar. "So people who don't like to cook love our products. And people who are talented in the kitchen love our products because it's a wonderful starting point for being extremely creative."
For some easy dishes, the partners recommend adding the relish to a potato or macaroni salad, or spreading apple butter on a burger topped with cheddar and bacon. You can even make a pizza with apple butter and melted brie, and top it with fresh arugula. Sukkar recommends "the Backyard Bruschetta," a flatbread with a tomato jam base, topped with sliced cherry tomatoes, prosciutto, mozzarella and fresh basil.
Even as Backyard Food Company continues to grow, Sukkar still runs the pizza place in Charlestown. Many of the sandwiches and pizzas are made with Backyard Food Company products, and he's working on a special Backyard Food Company menu for this fall.
The local food company's expansion has been steady, and the partners have adapted to keep up with demand. It's involved some overnights in the Hope and Main kitchen making products to fill orders on time.
"We've had many opportunities a long time ago to get into the situation we are in now, but Matt and I really believed in sustained growth," says Sukkar. "We wanted growth that would support our future endeavors so we held off over a year and a half before we felt comfortable to move forward."
The products can be found locally at Dave's Marketplace, Whole Foods and many other local locations, as well as stores from New Jersey to Maine and into Pennsylvania. As they've grown, they've gotten more efficient along the way.
"We started out making twenty cases a day and now we can go in and knock out 320 cases a day if we have to," says McClelland.
"Matt and I are two students in the kitchen. We are always trying to improve our process every single time," Sukkar says. "It's a wonderful learning curve to be on because every time we get better. I love that feeling." thebackyardfoodcompany.com