The Dish: Food is Family at Lil and Gene's
The Manville restaurant feels like home to the Dumas family and their customers who return regularly for the best breakfast around.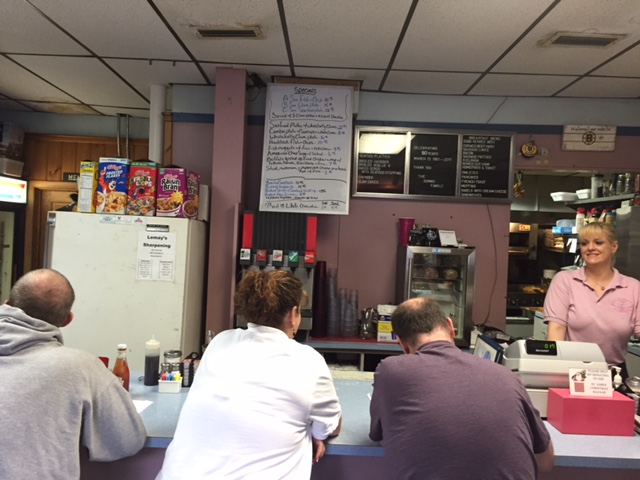 The scent of sizzling bacon and home fries lingers inside the door. Customers sit on stools along the counter while they sip from white mugs. The waitress whips around the corner of the counter with a giant stack of chocolate chip pancakes. Her blond ponytail bobs up and down. She smiles while she delivers the fluffy treats. Lil and Gene's Family Restaurant is a place where customers can always get a down-home breakfast.
"We really are the hidden breakfast treasure," says waitress Melanie Mendall. "We are the third generation to keep this restaurant the close community it is."
Mendall consistently recommends the same dishes to customers. "Our ham is cut right off the bone," she says. "You can't go wrong with a cheesy ham omelette or eggs Benedict with a nice thick cut of ham and homemade hollandaise sauce."
The restaurant serves breakfast all day and specializes in fresh market priced seafood on Wednesdays, Thursdays and Fridays. Besides the endless seafood platters, customers order enormous club sandwiches, cheeseburger patty melts and tuna melts with piles of French fries on the side. The owner ensures his customers that the food is almost all handmade including the soups, dinner specials and famous ham dishes.
Lil and Gene's was opened in 1961 by Lillian and Eugene Dumas. "My dad was a businessman who was always involved in food and my mom kept track of the numbers," says Gerry Dumas, son of Lillian and Eugene, and the second-generation owner. "It was no surprise they opened the place because it was what they loved."
The restaurant originally opened as a cafe on Fall Street, but moved a block over and has remained at 29 Winter St. in Manville, Rhode Island – a section of Lincoln – since then. "We have gotten a lot of the same customers for over forty years," says Gerry.
Lillian and Eugene Dumas ran the place for a few years and passed it on to their son Gerry when he returned from military service. "I wanted to keep it running for as long as I could for them; the restaurant is our way of life," Gerry says.
He ran the restaurant for forty years and then in turn, offered the business to his son, Corey Dumas, the third generation. Gerry struggled during the last five years of his ownership because of health problems.
Corey is over six feet tall, usually sports a thick beard and can almost always be seen working in his kitchen. "I will come in around five in the morning every day except Mondays and start prepping foods and making soups," Corey says. "Some days I am the cook and some days I am delivering food to tables. I won't leave until everything is cleaned at the end of the day."
The Dumas family has called this building home for their entire lives. Corey says, "I have more memories in this building than anywhere else, I have spent most of my life here since I was six years old."
Corey has four children and they are in and out of the restaurant every day. However, he emphasizes the importance of education to them. "I tell them they need to go to college first," says Corey. "The restaurant can come later."
The economy is constantly fluctuating and the price of keeping the restaurant open and having fresh food every day is hard on the family. "The community really is our biggest support and we always have the locals and faithful customers," Corey says. "It's never been about the money."
The Dumas family is well-known in Manville and people recognize Corey and Gerry almost everywhere they go. Gerry says, "It can be hard because we know all of our customers and their families and we have seen so many people get sick or pass away. Those moments really make you think about life."
The family members are not the only ones who create memories here. One of restaurant's regulars, Michael J. Cournoyer, sits in the same area every time he visits. "The crepes are out of this world, the fish and chips are amazing and you can always expect the best," he says.
The restaurant is more than food to Cournoyer. "My family is treated like kings and queens every time we come in this little old-fashioned diner," he says. Cournoyer dines at Lil and Gene's almost every day. "Every time I walk in, my coffee is ready and waiting for me," he says. "I am a loyal customer because I know the recipes were passed down through the generations of Dumas."
Lil and Gene's feeds his construction business as well as his stomach, he says. "The local independent businesses have to help each other out. We recommend the food to our people, and the owner at Lil and Gene's tells people to come to us. It's like we have our own sales team."
The eatery is a part of their families, too, say some of the regulars. Raymond DuPont is a retired engineer who has been going to Lil and Gene's since 1971. "My parents took me here, I took my kids here and even though my children are grown and live far away, they visit Lil and Gene's anytime they are in town."
Customers cut into stacks of pancakes with the side of their forks and syrup drizzles back down to the plate. Several men sitting next to DuPont order the "He-Man" breakfast platter, which includes a choice of pancakes or French toast, two eggs, a choice of sausage or bacon, home fries and toast.
"The breakfast omelettes are huge and sometimes I will skip breakfast at my own home to have one," DuPont says. "It's the best food all the time and you look forward to the holiday season for the traditional homemade meat pies they sell."
The meat pies are another staple of the restaurant. Every year they make more than 100 pies for people to take home to their families for the holidays. It is a secret Dumas recipe of beef, pork, onions, spices and no potatoes.
Corey wants to keep the restaurant open for as long as he can. He has no plans to ever sell. "I could hit the Powerball tomorrow and closing this restaurant would be the hardest thing I would ever do," he says. "My grandparents and their names are not for sale and I could never walk away from the memories I have made with my family."
Lil and Gene's, 29 Winter St., Manville, 401-765-2270, lilgenesrestaurant.com