The Dish: Edgewood Cheese Shop Fills a Cheese Void
Now you can get your chevre, cheddar and fromage blanc fix in Cranston.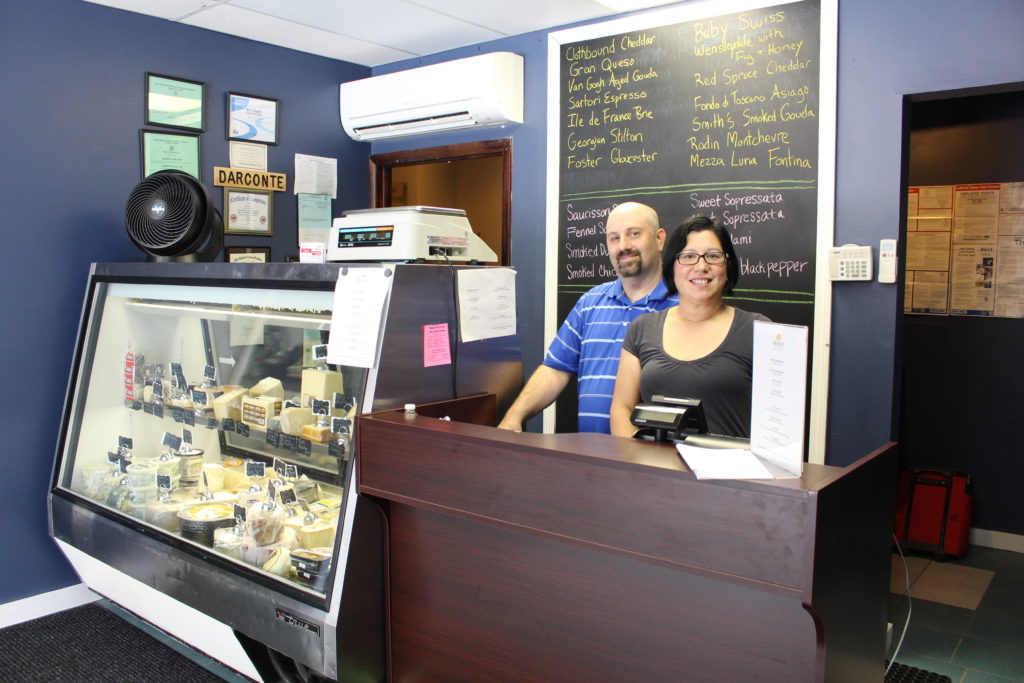 Casey and Adrienne D'Arconte's favorite meal to eat at home is a charcuterie and cheese board. "We get some cheeses, some meats and a bottle of wine," says Adrienne. "Our kids like it too. They call it snackie time."
So when the couple, parents to two boys, ages seven and ten, drove by a vacant storefront in Edgewood in Cranston, the town where they have lived for thirteen years, they pondered opening an upscale retail cheese and specialty food shop in the space. The D'Arcontes have owned a successful breakfast restaurant, the Breakfast Place in Attleboro, Massachusetts, for eleven years, and because Casey is a chef, they wanted to do something a little different in this spot, which they call a "passion project."
"This was always in the back of our minds, 'maybe someday we'll retire and open a small shop,' and then one day we looked at each other and we said, 'we can do this now,' " says Adrienne.
Casey D'Arconte has quite the culinary background. He graduated from the New England Culinary Institute in Vermont, and was a chef at the Columbia Gorge Hotel in Hood River, Oregon, then Chillingsworth on the Cape, and he spent about six years working his way up from sous chef to executive chef at Pot au Feu in Providence. After that, he spent time in marketing for Sysco and then bought the Breakfast Place with his wife.
With a little bit of paint and other renovations, they transformed the Cranston storefront into Edgewood Cheese Shop with more than 100 types of local, regional and imported European varieties, plus specialty food items from area purveyors like Fox Point Pickles, the Backyard Food Company and Daniele charcuterie. They turned a mirror into a chalkboard behind the counter announcing what they have available, and daily cheese tastings are held during store hours, from 10 a.m. to 5 p.m. Tuesday through Sunday.
They also offer four panini sandwiches on the regular menu (everything from grilled cheese to roast beef and brie with fig jam) and one special, such as the duck confit panini. You can savor the options right inside the shop. Bring your own bottle of wine, sit at one of the four tables and enjoy a cheese and charcuterie plate, or a sandwich for lunch. The paninis are generous in size and fancy enough for fine dining, but best enjoyed in a casual atmosphere. Edgewood Cheese Shop is also participating in Providence Restaurant Weeks, offering a three-course lunch that includes arugula salad with goat cheese and candied pecans, a choice of panini and cream cheese coffee cake for dessert for $14.95.
As part of the daily cheese tasting, the D'Arcontes put out three different cheeses in hopes that customers will try new varieties and expand their palates. "When people ask me about a cheese, I usually tell them the best way is to taste it. I can tell you where it's from and why it's so wonderful and its history, but it's really a taste thing," says Adrienne. "If you like it, you like it."
Customers can purchase specific cheeses from the counter, or they can order artfully arranged plates for entertaining. Cheese plates start at $7 for three varieties paired with fig cake, almonds and jam, up to $20 for a plate that will feed two for dinner and four to six for appetizers. Plates can also be doubled to satiate a bigger crowd. Hostess gifts like cheese boards and wine glass toppers (think hands-free appetizer plates) are also available for purchase.
And if you don't know what cheeses you like, you can taste from the case. "So often with fancy foods or fancy wines, it can be intimidating," says Adrienne. "You feel like you don't know enough or people are going to look down on your choices. We wanted to open a place that was fun, that didn't have that vibe where you feel intimidated."
1828 Broad St., Cranston, 401-941-2400, edgewoodcheeseshop.com