The Dish: Eat More Scup
Culinary students at Johnson and Wales University are promoting the underutilized, abundant fish species.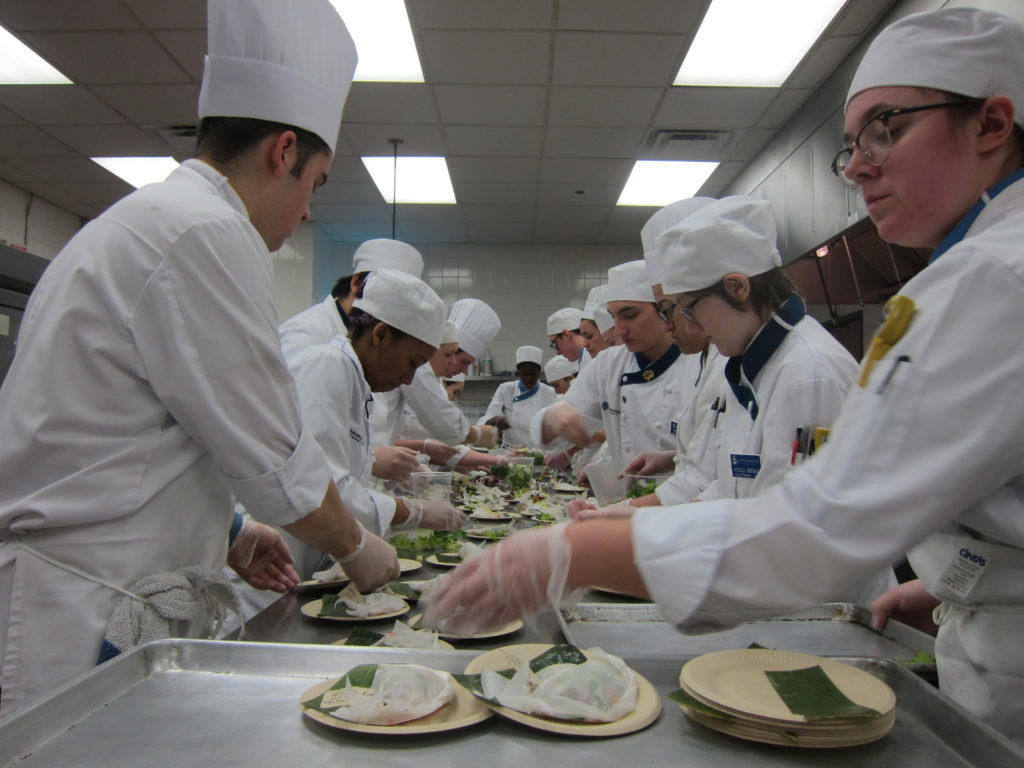 What's scup? Culinary students at Johnson and Wales University went over and above to answer the question last week at the Rhode Island Seafood Challenge. Three student groups introduced the fish, also called porgy, through a filleting demonstration, video and PowerPoint presentations, promotional brochures and recipes all in an effort to raise awareness of the local and sustainable yet underutilized species.
The event, in its second year, was established by chef Bill Idell, associate professor and department chair of JWU's College of Culinary Arts, and supported by Rhode Island Sea Grant and the Commercial Fisheries Research Foundation. The student groups were guided by Idell and culinary club faculty advisors, chefs Branden Lewis, Jonathan Poyourow and Michael Makuch. "Going to your local market and asking for scup can help Rhode Island fishermen and the local food economy," says Idell. It turns out, the fish is plentiful from Maine to North Carolina and available to Rhode Island fishermen year-round, but the demand for it is so low that it's not always a worthwhile catch. JWU hopes to change all of that by enlisting its culinary students to be spokespeople for the fish.
Janet Coit, director of the Rhode Island Department of Environmental Management, explained the importance of promoting scup. The local sustainable food movement is growing in Rhode Island, but there is still a lot of work to be done. "Ninety percent of what we eat is imported, and 90 percent of what we produce is exported," Coit says.
She explains that one of the reasons scup is hard to sell is because it is a small, bony fish that tastes great, but can be difficult to fillet. "We're working with many partners to develop a better market, more processing opportunities and consumer interest in the species," says Coit. "It's plentiful, it's healthy and it doesn't require a lot of energy to transport. You have a delicious opportunity in front of you."
JWU's student group, the Club of Culinary Excellence, demonstrated how to properly fillet the fish. Then the team invited the audience to taste the dish they created: Beer battered scup with kefir lime broth, ancho chicharon (crisped scup skin) and cauliflower lime puree, served over cauliflower couscous with dried cherries, pistachios and preserved lime zest.
The second student group and winning team, Cooking Asia, produced a video introducing scup to the average consumer. Students visited a local fisherman and crew aboard the boat Heather Lynn in Point Judith to explain how the underutilized fish fares in our local markets. "Around here people don't know what it is," says First Mate Kevin Jones. "…People in New York, New Jersey, eat a lot of it down that way, but up this way, they don't." Jones says more people should eat local fish. "They should ask their fish stores to get scup in the stores," he says. Cooking Asia also prepared porgy en papillote or "porgy in a pouch" with a mirepoix (thinly sliced carrots, celery and onion), sliced radishes, cilantro, kaffir lime leaf and lemongrass tied up in a neat little parchment paper pouch, and served with julienned ginger, shitake and enoki mushrooms, green bell pepper, snow pea pods and edible blossoms.
The third student group, the Nutrition Society, created an informational brochure highlighting flavor pairings, local retail availability, quality standards and nutrition facts. The brochure includes local markets that carry scup and signs of freshness (eyes should be clear with no sunken features; gills should be bright and clean; flesh should be firm and spring back when lightly pressed and fins should be intact, not torn). The Nutrition Society prepared a scup bouillabaisse using scup, lobster and clam stock, fingerling potatoes, chorizo, smoked mussels and more. The dish was originally made by Marseille fishermen using the bony rockfish, which they were unable to sell to restaurants or markets.
Left to right: beer battered scup, porgy in a pouch and scup bouillabaisse.
Peg Parker, executive director of the Commercial Fisheries Research Foundation, explained how the foundation is working with seafood processors to find easier ways to fillet scup since the fish is sold whole, which may deter consumers. They recently found that deboning machinery for salmon in Michigan also worked for scup, so they are that much closer to bringing a boneless fillet to the market. "So now we really need to create a demand for a fish like this," says Parker.
Parker also introduced a panel of local fishermen, including Chris Brown of Brown Family Seafood and Donald Fox of Town Dock, who explained the importance in driving consumer interest in scup. Because price and demand are so low, fishermen are not able to make a decent living landing it. "We could catch 50,000 pounds a day, every day, but to put in the effort is not a viable option," says Town Dock fleet manager Donald Fox. "We need people to find a market for it."