The Dish: Eat Drink RI Festival
Sample food from multiple chefs, restaurants and food trucks, as well as wine, beer and cocktails from local wineries, breweries and bartenders all in one weekend.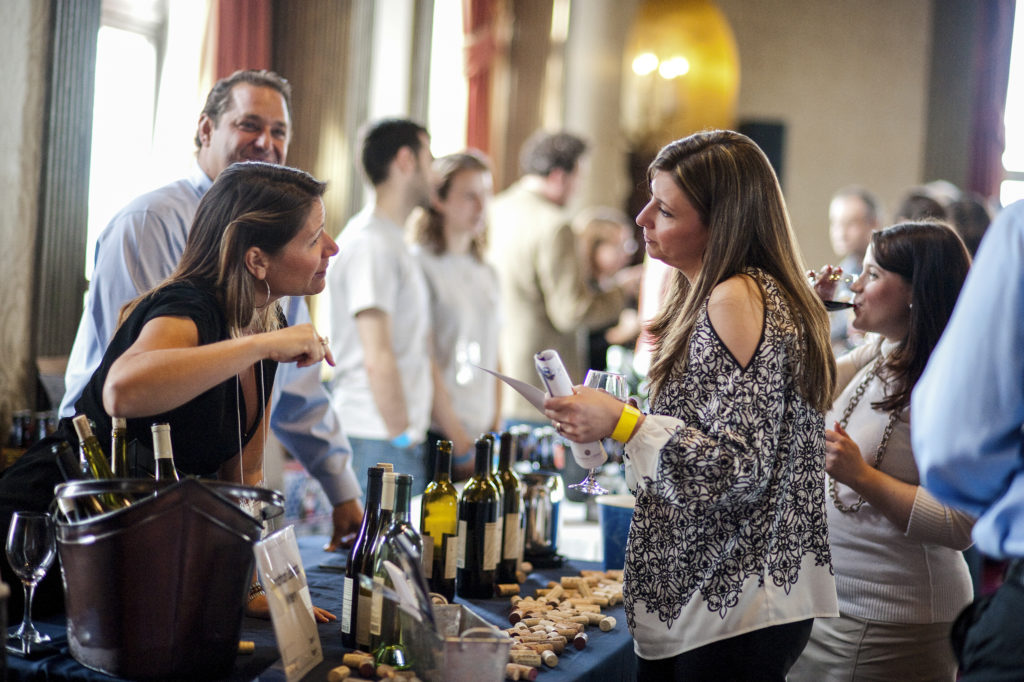 If you've always wanted to explore the Providence and Rhode Island restaurant and bar scene, but don't always get the chance to go back and forth (from wherever you live) to dine out, then the Eat Drink RI Festival is the event for you. It will allow you to sample food from dozens of chefs, restaurants and food trucks, as well as wine, beer and cocktails from local wineries, breweries and bartenders all in one weekend.
If you consider how many trips it would take to taste food from sixteen incredible Ocean State restaurants and instructors at Johnson and Wales, it might cost you at least a few weeks' pay. Attend the festival's kick-off event, the Rhode Island Chefs Feast at Gracie's, on Thursday, April 24 at 6 p.m. and you'll try canapes, breads and dishes created by sixteen of the state's all-stars, including Derek Wagner of Nicks on Broadway, Matthew Varga and Melissa Denmark of Gracie's and Ellie's Bakery, James Mark of north, Benjamin Sukle of birch, Champe Speidel of Persimmon and Persimmon Provisions, Ashley Vanasse of Easy Entertaining and many more at a six-course meal with wine and beer pairings from Jonathan Edwards Winery and Revival Brewing. Tickets are $250, including tax and gratuity. A portion of the proceeds from this event will benefit AIDS Project Rhode Island. Buy tickets.
On Friday, April 25, the Rhode Island Food Bank benefit Truck Stop: A Festival of Street Eats will take place at the Bank of America City Center rink in Kennedy Plaza from 5:30–8:30 p.m. It sold out very quickly, so unfortunately no more tickets are available. But lucky guests will get to sample food from sixteen of Rhody's best food trucks and carts, including Acacia Cafe, Championship Melt, Ellie's Bakery, Flour Girls Baking Company, Fugo, Gilded Tomato, Gotta Q, Like No Udder, Mijos Tacos, Mootza Deli, Noble Knots, Presto Strange O, PORTU-GALO, RISD's Rosie Eats to Go, Rocket Fine Street Food and Tallulah's Taquería, plus they'll enjoy live music from the swing and blues band, Superchief Trio. Proceeds will benefit the Rhode Island Food Bank.
Mijos Tacos serving the crowd at the 2013 Truck Stop. Photo by Peter Goldberg.
The Grand Tasting will be held on Saturday, April 26 at the Providence Biltmore from 11 a.m.–4 p.m. This is the place to be to try the food and drink of more than forty wineries, breweries and spirits companies, as well as food from local artisans including Narragansett Creamery, Daniele charcuterie, Dave's Coffee and many more. You can also learn from the chefs themselves at several chef and farm demonstrations, including birch's chef Benjamin Sukle and Indie Growers' Lee Ann Freitas; Easy Entertaining's chef Kaitlyn Roberts and Blackbird Farm's Ann Marie Bouthillette; and  Nicks on Broadway's chef Derek Wagner. Tickets are $75 and include unlimited food and beverage tastings from more than forty local vendors, as well as entrance to the food seminars. Buy tickets.
Chef Kaitlyn Roberts of Easy Entertaining gives a cooking demo with Blackbird Farm beef. Photo by Stacey Doyle Photography.
The festival concludes on Sunday, April 27, with the Grand Brunch at the Providence Biltmore from 11 a.m.–1:30 p.m. The brunch will feature ten stations of food and beverages from a great line-up of local chefs, including Christopher Champagne from 84 Tavern on Canal, Melissa Denmark from Ellie's Bakery, Kelly Dull from north bakery, Jennifer Luxmoore from Sin, Michael McHugh from Flask and Bindle, Maria Meza from El Rancho Grande, Kaitlyn Roberts from Easy Entertaining, Joe Simone from Simone's, Kevin Thiele from One Bellevue at the Hotel Viking and Ben Wood from Wildwood. Willa Van Nostrand of Little Bitte Artisanal Cocktails will serve some of her innovative libations and coffee will be available from New Harvest Coffee Roasters. Live music will be provided by the Rhode Island Philharmonic's jazz ensemble and include members of the Youth Jazz Program. Tickets are $65, with a portion of the proceeds benefiting the Philharmonic's Music Education programs. For more information or to buy tickets for any of these events, visit eatdrinkri.com/festival. Buy tickets.
Dave Lanning of Dave's Coffee serving coffee syrup cocktails at the 2013 Grand Tasting. Photo by Stacey Doyle Photography.