The Dish: Durk's Bar-B-Q Opening on Thayer Street
Jake Rojas and Jay Carr are launching a new spot for smoked meats, craft beers and cocktails.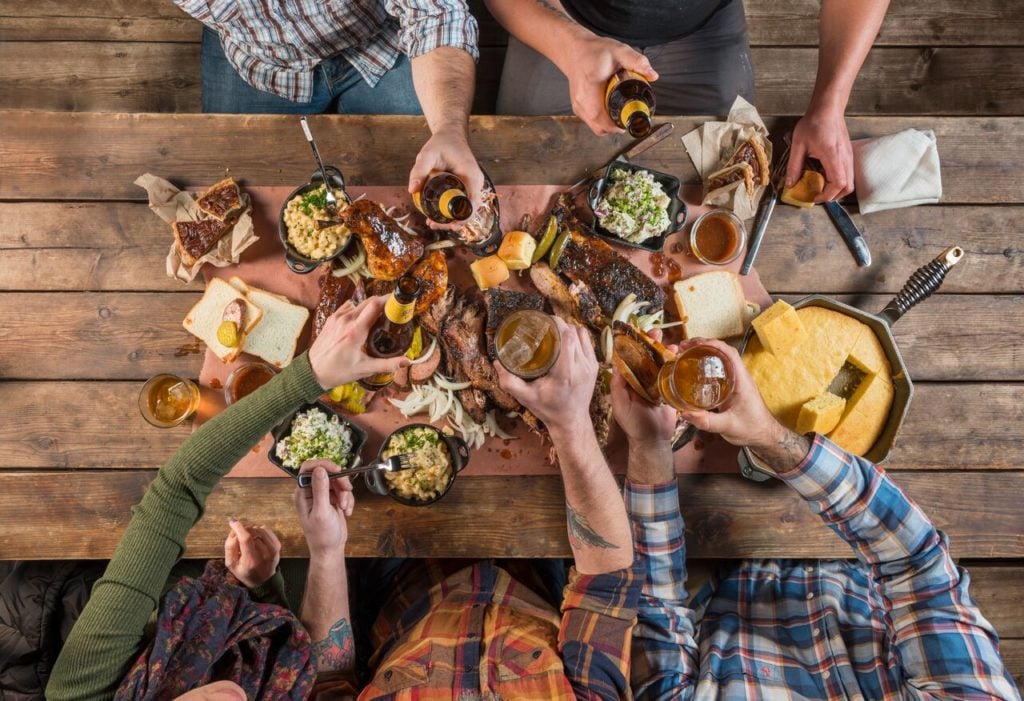 Editor's note: This article was updated on Dec. 30, 2016 to clarify some confusion and incorrect information. Tallulah on Thames is closed for the season and it is still in that space in Newport. It is to be determined what the team will do in late spring with that space. Also, Jake Rojas is not a partner at Durk's Bar-B-Q, he is the chef consultant for the menu creation and all back of the house operations.
A twelve-foot Ole Hickory indoor smoker shipped in from Missouri is installed in the spot where a giant fish tank teeming with sharks used to be. "We had to knock down a wall to get it in," says Jay Carr, general manager and partner of Durk's Bar-B-Q, which has moved into the former Shark Bar and Grill on Thayer Street in Providence. The actual sharks are off to their new home at Mystic Aquarium.
The space gained notoriety last year when it was stripped of its licenses because former House Speaker Gordon Fox admitted to accepting bribes from the bar's former partners, back in 2008. A new owner and partners secured the licenses and location, and it soft opened this month as a remodeled restaurant and bar.
Chef consultant Jake Rojas of Tallulah's Taqueria and Tallulah on Thames and Jay Carr of the Eddy worked together to launch Durk's. The restaurant is owned by architect Steve Durkee, who also owns the Eddy and helped design both spaces. The team is serving classic barbecue paired with craft beer and cocktails that complement the menu; think American whiskies, old-fashioneds on tap featuring barbecue bitters and smoky mescals and tequilas.
Rojas is the opening chef consultant while chef Brandon Teachout will manage and lead the kitchen. The team will use non-GMO, all-natural beef from Niman Ranch and Royalton Farms in Vermont, and local products whenever possible. Carr will serve as general manager while Pat Cull of the Eddy, and formerly the Dorrance, will be the bar manager. The space mimics the Eddy's minimalist design with wood details and showcases a horseshoe-shaped bar. String lights hang from above inspiring an Austin hangout vibe, a look and feel designed by Libby Slader Interior Design.
Durk's has been a long time coming, and it all started with "a food crush." Carr has been a fan of Rojas's cooking even before the Eddy helped support the Kickstarter campaign for the launch of Tallulah's Taqueria in Providence.
"I was like, 'I love your place,' and [Jake was] like, 'I love your place,'" says Carr. The friends vowed to do something together in the future.
To "pay back" the Kickstarter support, Rojas offered to do a pop-up event for the Eddy's two-year anniversary party with a whole pig head and all the fixings. "It was kind of a sneak peek, let's see what people think of this barbecue," says Carr. A visit to Tallulah on Thames on a Sunday barbecue-themed night with Carr, Steve Durkee and Carr's wife, Stefanie, solidified the idea. Meetings on how to make it happen followed.
As the Eddy celebrates its fourth anniversary and Tallulah on Thames closed its doors for the season in Newport this fall, Durk's will be serving a diversified opening menu with recipes developed by the renowned Rhode Island chef.
Rojas is famous for cooking slow and low. His barbacoa and carne asada tacos draw crowds to his Fox Point and Jamestown taquerias. Because barbecue requires intense preparation, Durk's is a twenty-four-hour operation, requiring someone to be there all night to turn the meat. The restaurant features briskets, ribs, kielbasa and more with sides like mac and cheese, beans and cornbread. "The inspiration is a classic approach to smoked meat influenced by various regions: Texas, Memphis, Carolina," Rojas says. "What we perceive to be the best styles of barbecue."
Durk's Bar-B-Q's smoker; a barbecue spread and ribs. Photos by Nat Rea.
Rojas hopes the menu will eventually incorporate a Rhode Island approach to barbecue, such as smoked bluefish, or something like it. "We want to be able to showcase local ingredients but hopefully use smoke as our method of translating the abundance," he says.
Durk's hopes to diversify the neighborhood, pulling people from all over the state and beyond. "The Thayer Street area is a busy food/beverage district and I hope our new family-friendly restaurant will appeal to the East Side neighborhood and college students alike," says Durkee. "It is a different kind place on Thayer." 275 Thayer St., Providence, durksbbq.com
Check Durk's Bar-B-Q's Facebook page for updates.