The Dish: Chef Welbi Genao Inspires at Blend Cafe
A passion for cooking diverted this restaurant owner from a briefly troubled past.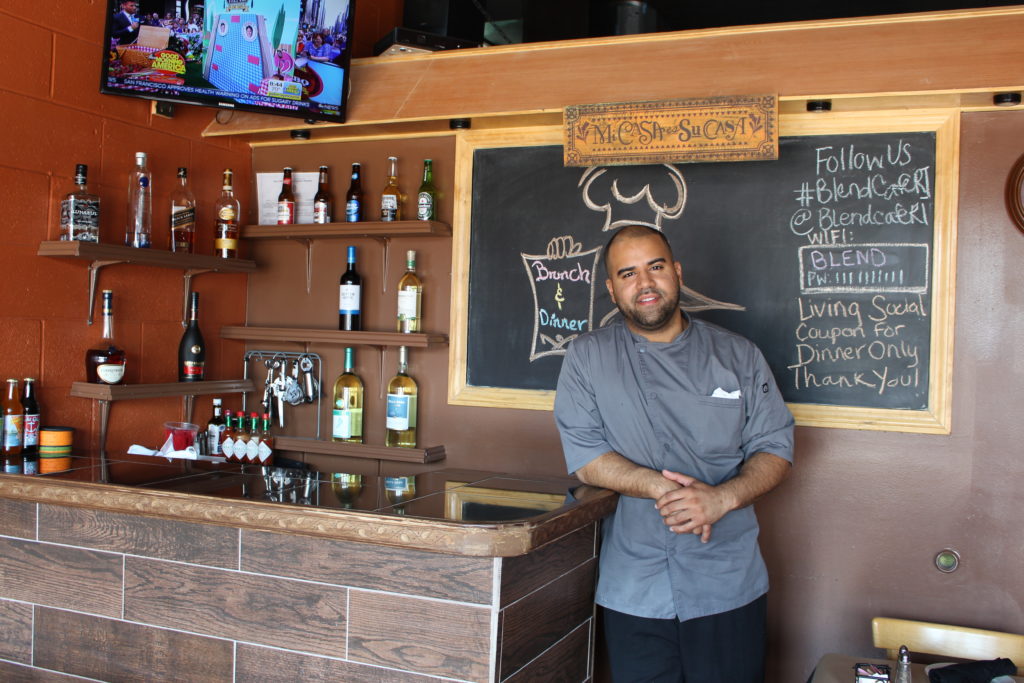 Welbi Genao has a passion for food. It's his passion for food that diverted him from a briefly troubled past and later launched his career as chef and owner of Blend Cafe in Cranston.
Genao grew up helping with his family's Dominican store, Reyes Market, which sells products from the Dominican Republic and Puerto Rico. Later, his mother and father launched a buffet and deli within the market, including Dominican dishes cooked by his mother. "My mom is a great cook," he says. "My inspiration in learning was from her." Meanwhile, Genao also deejayed hip-hop and Latin music at various clubs on Broad Street, followed by gigs at Ultra, Sequel and Roxy.
But in 2011, things changed. "I got into some trouble, and I got arrested in September of 2011," says Genao. He went to jail for four and a half months, but used this time to ponder his future. "While I was incarcerated, I started studying about restaurants and how food was prepared. I went to the library and read books about restaurants, business and accounting," he says. "I wanted to know what it would cost to open a restaurant, and what I would have to do."
As soon as he was released in 2012, Genao was ready to take the first step. "First off, you have to have experience," he says. Genao enrolled in the culinary job training program at the Genesis Center, which provides adult education, job skills, life skills and childcare to people who want self-sufficient lives and more promising futures. "Chef Josh [Riavi] is an instructor there, and he took me in and heard my story," says Genao. "He said, 'I think this would be a great program for you because you have a passion for food.' " Right away Genao showed promise, passion and dedication in the eyes of a man who worked as a sous chef at Providence's famed Al Forno.
"He is the type of student that every chef craved as an intern," says chef Joshua Riavi, a mentor in the Genesis Center's culinary department and workforce training program. "He was interested to learn, he was willing to work any and all hours, and you could tell, even though he had some knowledge about the food industry, he went in with a receptive mind." Chef Riavi taught him about high-end cooking techniques and local produce, using the Genesis Center's onsite organic garden. "He latched on to the fact that he could cook Dominican food for his culture but apply high-end techniques," says Riavi.
Genao proved himself, earning a three-month internship at Al Forno, where he worked under executive chef David Reynoso. There, he broadened his knowledge and appreciation of local ingredients and mastered advanced techniques. After completing the internship, he gained employment as a back line cook at Gregg's restaurant. Then he went on to work at Bertucci's, followed by a stint helping his father with catering. But he missed working in high-end restaurants. He had the chance to cook with more fresh ingredients at Not Your Average Joe's, where he learned to multitask on the line by directing other cooks while sauteing or grilling ten dishes at once.
As Genao gained skills and management experience, he began touring available restaurant spaces in Providence and Warwick, looking for a spot that might work for him. A vacant restaurant became available for rent on Reservoir Street in Cranston, and its smaller size seemed like a good fit. Genao's father agreed to lend him money to help fund the opening of Blend Cafe, a name that represents both the blending of American and Latin cuisine, while also paying homage to his background as a deejay. Riavi continued to mentor him, discussing menu development and price points, and guiding him in what he needed to know about health department inspections.
Genao adopted practices learned at the Genesis Center, Al Forno and Not Your Average Joe's and is using as many local ingredients as possible. He shops the Armory and Pawtuxet Village farmers markets, takes advantage of the Farm Fresh Rhode Island Market Mobile, and works with individual farms like PV Farmstand and Baffoni's Poultry Farm. He is also taking on interns from Amos House and Providence Career and Technical Academy (PCTA) vocational school. "I went into the class and said some speeches, trying to inspire kids from high school to be in this business. You can't just want to cook, you have to have a passion for it," he says. "I tell them I've been into some trouble, and I wanted to change my life. I'm trying to inspire kids not to go that path."
Scallops with polenta.
Genao's path is leading to success. Blend Cafe is gaining popularity thanks to his posts on Facebook and Instagram that entice diners to bite into the Blend Burger with local, grassfed beef from PV Farmstand, fried Dominican cheese and salami, an over-easy egg and guacamole on brioche. Try the Dominican breakfast with two eggs, Dominican salami, fried cheese and mangu. "Mangu is green plantains mashed with milk, butter, olive oil and salt, and topped with pickled onions," Genao says. "It's like mashed potatoes but it's green plantains." He also has many specials including halibut or sea bass from Tony's Seafood in Warren, and scallops with polenta, chipotle glaze and edible blossoms. "We try to add a Latin touch to every single dish," he says.
Blend Cafe will celebrate its one-year anniversary in July. And Genao's daughter recently celebrated her first birthday, too. "I compare the two because they are very similar," he says. "I see how a human is born and they learn and it's the same way, compared to a restaurant. You open and then you take baby steps. It's learning how to walk right now. It's learning to sustain itself, just like my daughter."
745 Reservoir Ave., Cranston, 401-270-5533, blendcaferi.com